Nearly 50 smuggled orangutans rescued from a Thai amusement park began the long trip home to their native Indonesia on Tuesday as one of the world's largest cases of great ape trafficking finally drew to a close.
Two years after a raid on Bangkok's Safari World theme park, where many of the endangered apes had to stage mock kick-boxing bouts, 48 orangutans were loaded into metal cages at a rescue center in Ratchaburi, 80 miles west of Bangkok.
Indonesian officials wearing T-shirts emblazoned "Welcome Home" watched the loading.
The orangutans were taken by road to the Thai capital to be put onto an Indonesian C-130 military transport plane for the flight to Jakarta. They were to be met on arrival by Indonesia's first lady Ani Yudhoyono.
For Thai and Indonesian wildlife officials, the departure of the apes was a moment they thought would never happen as investigations into the background of the threatened reddish-brown primates became mired in the courts, corruption and delay.
27 died or vanished
Safari World's owners said originally the 115 orangutan seized by wildlife police were the result of a successful domestic breeding program, even though DNA tests eventually proved many had been brought illegally from Indonesia.
The test results set in motion their eventual departure from Thailand, a hub of the international illegal wildlife trade.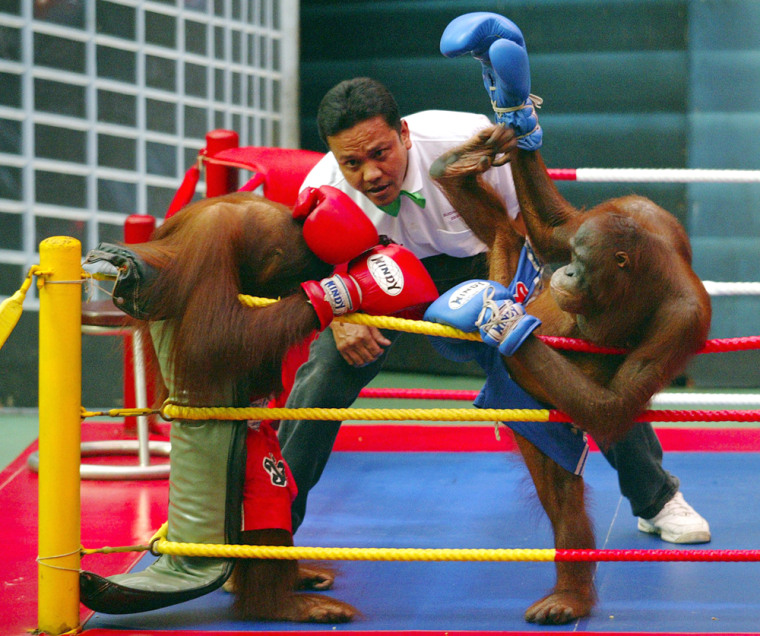 However, at least 27 of the animals died or disappeared from custody and a string of legal battles involving wildlife activists, the forestry police and the National Parks department threatened to delay their departure indefinitely.
The orangutans had been due to leave in September, but a military coup against Thai Prime Minister Thaksin Shinawatra scuppered those carefully laid plans.
Two-year rehab planned
"We've had to wait for a long time for the long process of courts, quarantines and DNA tests, but it's a great success," said Pornchai Patumrattanathan, head of the Khao Pratubchang Wildlife Breeding Center, where the animals have been housed.
Indonesian officials said the apes would spend two months in quarantine before undergoing a two-year rehabilitation program prior to their release back into the jungles of Borneo island.
Fewer than 30,000 orangutans are thought to be left in the jungles of Malaysia and Indonesia, and environmentalists say the species could become extinct in 20 years if the current rate of decline continues.