/ Source: The Associated Press
Archaeologists said Tuesday they have unearthed 22 graves in northern Peru containing a trove of pre-Inca artifacts, including the first "tumi" ceremonial knives ever discovered by archaeologists rather than looted by thieves.
The find, which prominent archaeologist Walter Alva called "overwhelmingly important," means that scientists can study the tumi — Peru's national symbol — in its original setting to learn about the context in which it was used.
"This discovery comes as an important contribution to know the burial rites of the elite of this culture," said Alva, who was not involved in the dig. He confirmed that no tumi had before been unearthed by archaeologists.
The tombs, more than 900 years old, were found next to a pyramid in the Pomac Forest Historical Sanctuary, 420 miles (680 kilometers) northwest of the capital, Lima. They are from the Sican culture, which flourished on Peru's northern desert coast from A.D. 750 to 1375.
The occupants "are clearly from the social elite, and therefore some of them have gold objects, some of them have copper-gilded objects, but they are quite complex, well-endowed tombs," said Izumi Shimada.
Shimada, an anthropology professor at Southern Illinois University, began excavations at the site in July with Carlos Elera Arevalo, director of Peru's Sican National Museum. He said 10 tumi knives were found, including a 14-inch (34-centimeter) copper alloy tumi bearing the image of the Sican deity.
"The tumi has for many years been the symbol of Peru, and yet no decorated tumi has ever been found or documented scientifically," he told The Associated Press.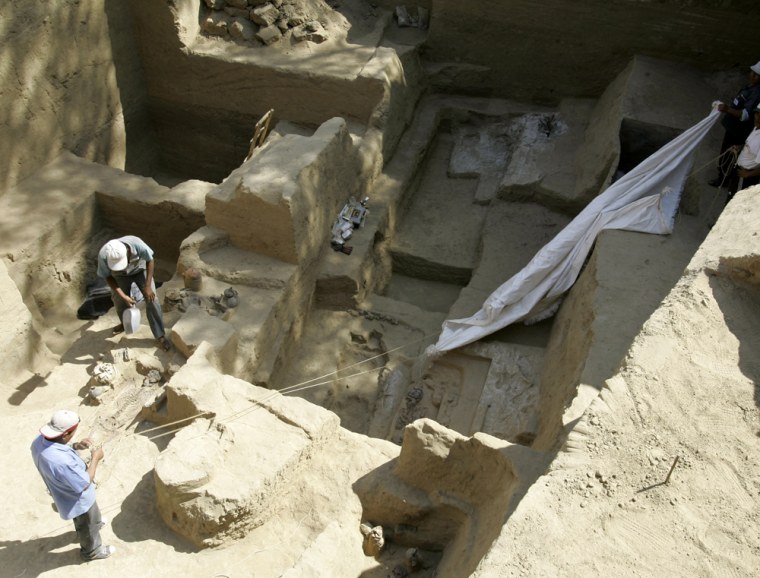 All known tumi knives were looted by grave robbers, Shimada said. Sican artifacts, he has argued in his research, were often misidentified as coming from the later Inca Empire because they were always seen out of context.
"It is the first time that such a tumi has been found in context, in a scientific manner, and therefore we will be able to speak a lot about the cultural significance of this object," he said.
Alva agreed that the discovery could help explain the history of these ceremonial weapons, with their figurine handles and arched-shaped blades.
"Finally, archaeologists have the opportunity to show a scientifically excavated tomb where the context can be known for these objects," said Alva, who led one of Peru's most famous archaeological digs, which uncovered the Lords of Sipan tombs in the late 1980s.
The archaeologist gave President Alan Garcia a tour Tuesday of the Pomac Forest excavation site, where Shimada said his team has found 22 tombs at up to 33 feet (10 meters) below ground level.
"This is an extraordinary find," Garcia said.
One grave contains the remains of a woman about 25 years old buried with 120 miniature clay "crisoles" or crucibles, Shimada said, which he believes were made by each member of the funeral ceremony "as a sort of last offering to be placed in the burial chamber."