/ Source: The Associated Press
At a campus sometimes divided by cliques and racial splits, students put aside their differences to grieve the loss of four classmates killed in a school bus crash.
"It was black, white, all hugging and crying together. It didn't matter — it didn't matter at all what race we were, and we were all just telling each other that we loved them and that we cared," said Lee High School sophomore Megan Ford, who lost her cousin, Nicole, in the crash on Monday.
Nicole Ford, a 19-year-old senior, and Christine Collier, 16, a sophomore, both died when the bus plunged 30 feet off a highway overpass and smashed nose-first on the street below. Senior Tanesha Hill, 17, was pronounced dead later that day at a hospital, and Crystal Renee McCrary, 17, died Tuesday at Huntsville Hospital.
Twelve other students remained hospitalized Wednesday morning — three in critical condition — with injuries including fractured elbows and damaged kidneys, said hospital spokeswoman Pam Sparks.
The driver also was hospitalized, Sparks said. She said the driver was seriously injured but somehow ended up off the bus before it hit the ground.
Car driven by student involved
Witnesses said a car struck the bus on the I-565 overpass, causing it to swerve and plow into and over a concrete railing.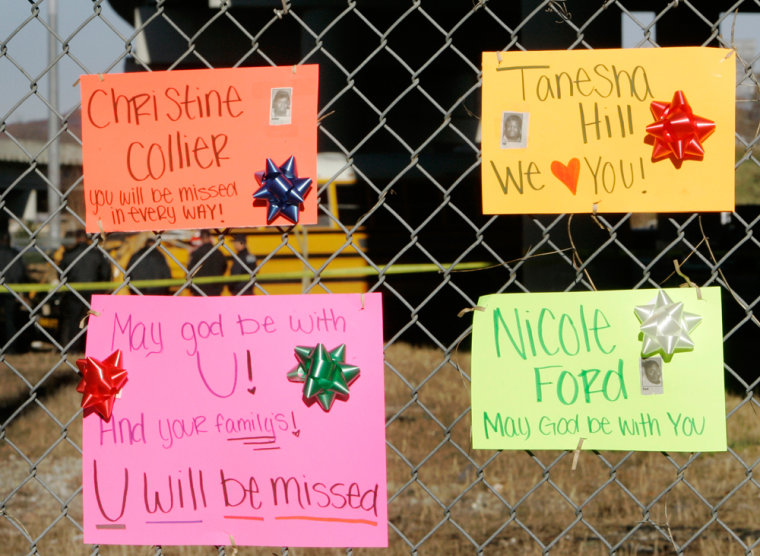 One witness said the car possibly blew a tire. Another said the car was speeding up and trying to pass the bus as lanes merged on the interstate ramp. The car was driven by another Lee student, Police Chief Rex Reynolds said.
Chelsea Walker, 17, who described herself as a friend of the car's driver, said she had spoken to him Tuesday morning.
"He's real upset. He thinks it's his fault," she said.
Authorities have not released the name of the driver in what police said is a criminal investigation. Police spokesman Wendell Johnson said evidence will be presented to a grand jury to decide if charges such as vehicular homicide or manslaughter are warranted.
He stressed that a criminal investigation "does not mean a crime has been committed."
Unclear how bus driver survived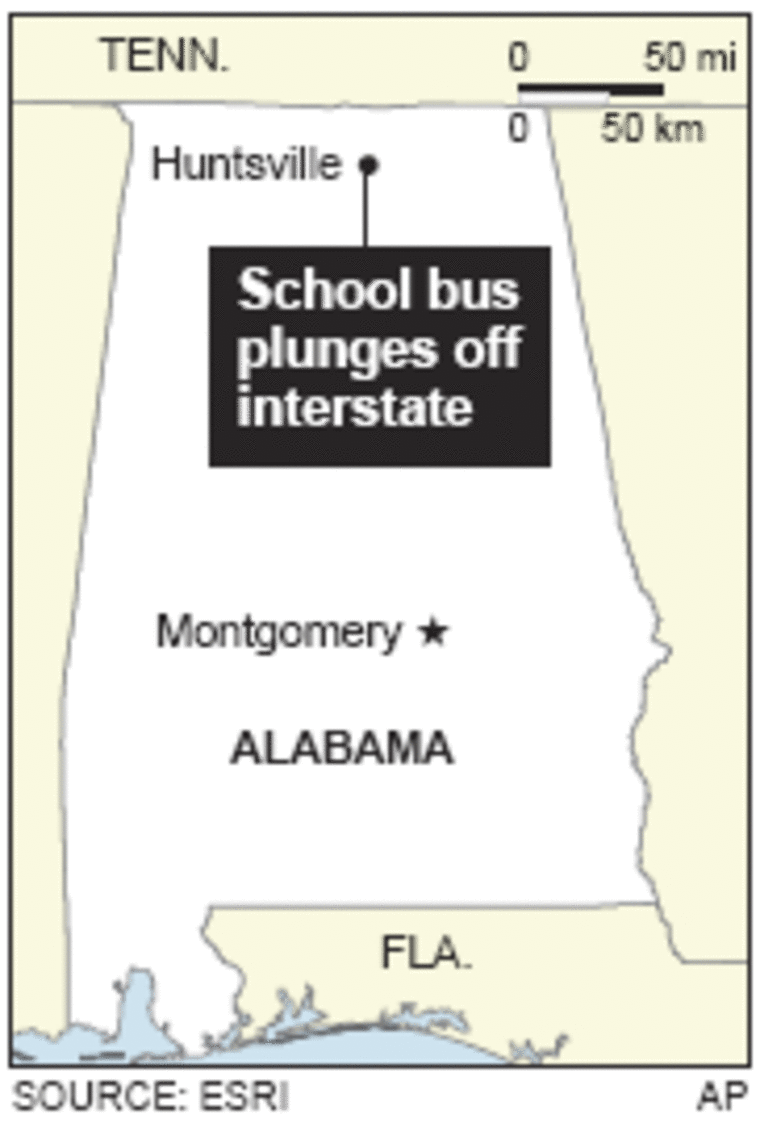 Debbie Hersman, a spokeswoman for the National Transportation Safety Board, said the bus driver was found on the overpass and investigators were trying to determine what happened that allowed the driver to escape the devastating impact that crumpled the front of the bus.
Lee High School, nestled deep in a quaint neighborhood of this city built on the space industry, attracts a range of students with its heavily sought college-prep courses and technical programs, such as cosmetology and car repair.
The bus was carrying 40 students to classes at the district's technical center when it crashed.