/ Source: msnbc.com contributor
This month, Kristen Rozell will hop on her computer at her remote home in Fairbanks, Alaska, and buy most of her Christmas presents online. She says there's one key to making her a satisfied, if not loyal customer: free shipping.
"Free shipping is a huge bonus," said the 35-year-old mother. "I will always choose a retailer that has free shipping when buying something."
Her sentiments ring clear to online retailers, which will offer more free shipping promotions this holiday season than ever before. Though free shipping offers tend to dwindle during the rest of the year, they will return in force this holiday season, with 83 percent of online retailers surveyed offering the promotion, according to a study released by Shop.org, an association of online retailers. Two years ago, only 64 percent of online retailers offered free shipping.
Credit savvy shoppers like Rozell who comparison-shop and often pick their retailer based on free shipping. Three-fourths of shoppers surveyed in the eHoliday Mood Study said free shipping offers are one of the most important factors when they decide where to buy online. Consumers are expected to spend as much as $32 billion online this holiday season, up 18 percent from 2005, according to JupiterResearch.
"Online retailers see free shipping as a necessary evil during the holidays," said Ellen Davis, spokeswoman for Shop.org. "They know it motivates customers."
Retailers also justify free shipping by imposing conditions for the deals, requiring customers to meet certain minimums to get the offer. Consequently people tend to spend more and make unplanned purchases to qualify for free shipping, said Davis. Most free shipping offers end in mid-December, so people who want to take advantage of the discounts need to shop early, she said.
The $35 threshold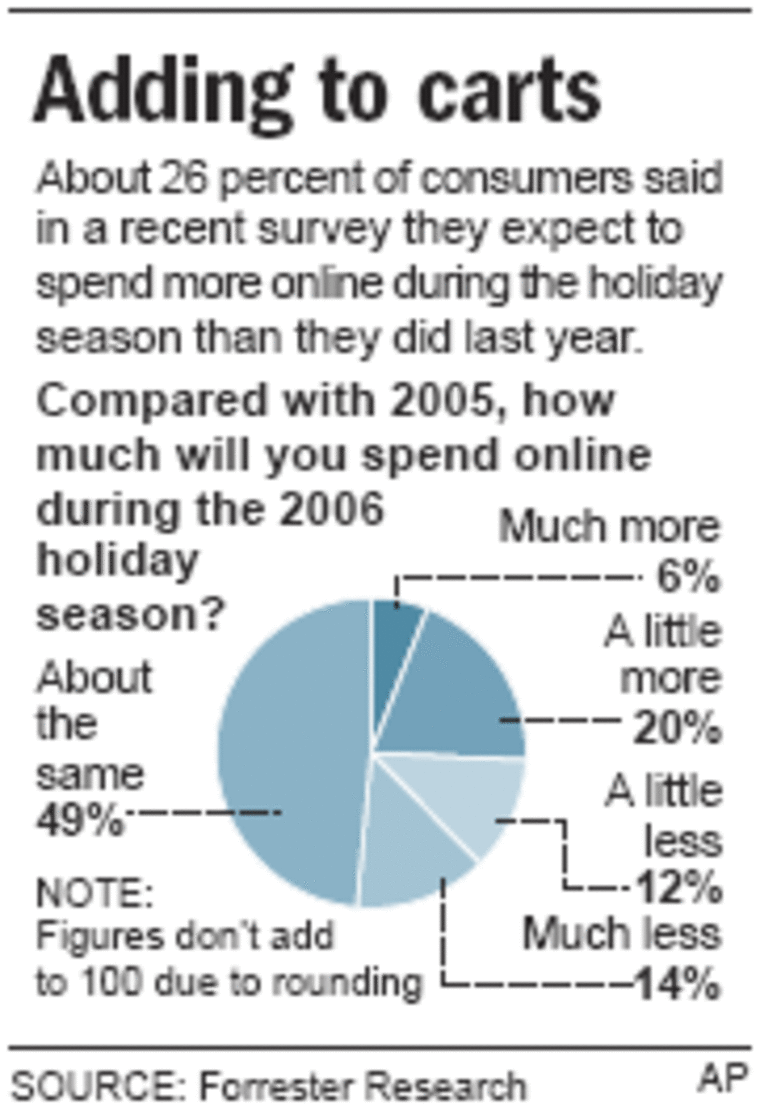 At Ebags.com, buyers must spend $35 or more to get the perk.
"It's a money-loser if we do it under the $35 threshold," said Jon Nordmark, CEO of the Denver-based online bag retailer. He said free shipping typically costs the company 10 percent of the sale price, but boosts overall sales by 50 percent.
At Amazon.com, customers can find free shipping on specific items and purchases over $25. Consumers can also buy unlimited shipping with a $79 annual Amazon Prime membership. Members qualify for two-day shipping on every product at no additional charge.
Separately, Amazon has started a new holiday promotion that lets consumers vote for the discount or sale they want to be offered the following week. Most recently customers were voting on whether the company should offer discounts on a Mongoose mountain bikes or Dancing Princess interactive Genevieve doll, among other products.
Sites such as RadioShack.com, CircuitCity.com and REI.com promise free shipping — if consumers pick up their merchandise at a nearby store. And some stores, including shoe retailer Zappos.com, even offer free return shipping if customers need to send back items.
Most retailers subtract the return shipping fees from the refunded amount.
Procrastinators win, too
Customers at BlueNile.com, a Seattle-based jewelry retailer that sells everything from $50 bracelets to $100,000 engagement rings, get free shipping year-round. But late shoppers this holiday season also get free shipping upgrades. Beginning Dec. 15, every order is upgraded to free two-day Federal Express shipping.
On Dec. 21, every order is upgraded to free FedEx overnight, and Dec. 22, every order over $100 is upgraded to free Saturday FedEx. December accounts for about 20 percent of BlueNile's $234 million in annual sales.
Other sites, including Buildabear.com and RedEnvelope.com, are letting customers "buy now, ship later," — not necessarily a free shipping deal, but the offers let someone shop early and have their gifts shipped closer to Christmas so the box isn't sitting in someone's garage for two weeks.