It took a six-mile drive from McMurdo Station, the largest of any research base on the white continent, for my senses to really key in on how cool, massive and globally important the white continent is.
There we were, standing atop the Ross Ice Shelf – an area of solid ice as big as Texas. The ice at this spot is 250 feet thick, or almost as long as a football field, followed by 3,000 feet of ocean and then the sea floor.
Next to us was a huge rig that's been pulling sediment cores from the sea floor for what's known as the ANDRILL program.
The goal is to go back seven million years in time, using indicators in the sediment to see what's happened to the ice shelf over that period. Next year, coring at another site on the shelf should take the record back to 17 million years – and together the core results will fill a hole in the sediment record.
Already, the evidence points to a Ross Ice Shelf that forms and then disappears repeatedly over time. And because it's so vast, the shelf and its swings are able to impact not only ocean currents but also sea levels since the shelf holds back the ice that's actually on top of Antarctica's land mass.
Over the next few days, and for a more in-depth package in January, we'll be interviewing some of the dozens of ANDRILL scientists here from five countries – Germany, Italy, New Zealand, the United Kingdom and the United States. Stay tuned!
--------------------
A few words about my first-day "meltdown":  As I finished my first dispatch yesterday, it did occur to me that colleagues back home would give me a hard time. But I had no idea that it would become a topic of conversation – and ribbing – at McMurdo Station.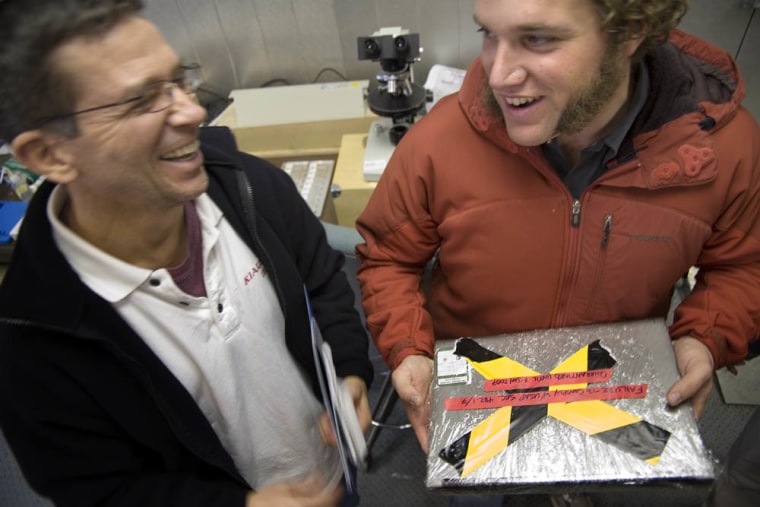 The fun started when photojournalist John Brecher and I handed over our laptops in order to set them up for wireless Internet access. Ten minutes later, lab techs Matt Charnetski and Craige Mazure returned them wrapped in cellophane and marked with an X made out of warning tape, on top of which was written: "Failure to comply" and "Quarantined".
During dinner, I was asked if I'd like a hug – apparently to help me survive here.
That's where I also learned of an infamous Nicholas Johnson and his all-about-Antarctica Web site, which now includes a Llanos-watch section: .
With all that attention, I'm thinking about trying to extend my stay here and become Antarctica's unofficial whiner. Anyone willing to sponsor me?