/ Source: The Associated Press
Wildlife inspector Bryan Landry can spot threats everywhere at Hartsfield-Jackson Atlanta International Airport.
A backpack carried off a flight from Nigeria contains plastic bags of meat from the bush that could harbor the lethal Ebola virus.
Those salted duck eggs from South Korea, a delicacy not easily found here, could carry the dreaded bird flu.
And the exotic birds taped to a passenger's legs and the pair of monkey paws concealed in a bag could harbor any one of several diseases that jump to humans.
Landry and fellow inspectors with the U.S Fish and Wildlife Service are a last line of defense against such risky items before they come across the border, often with unsuspecting people intending only to bring back a taste from home, an exotic pet or a travel memento.
"The issues surrounding disease are quickly becoming a daily event," Landry said.
Potential carriers are multiplying. Some 210 million wild animals were brought legally into the country last year, and many more were smuggled. The net of protection is thin.
There are just 120 inspectors like Landry to cover 39 airports and border crossings full time. Though Customs and Border Protection inspectors help monitor some smuggling, the wildlife inspectors are left to check passenger baggage, shipments of hunting trophies, cargo containers destined for the pet trade and suspicious boxes.
"It's tough to cover all the things we have to do on a daily basis with so few inspectors. Now throw in disease-fighting duties and it's really tough," Landry said.
Threats from exotic foods
When Landry is not in a cargo hold, he is on the airport passenger floor scanning weary international travelers as they pour off flights from North Korea, Paris and Nigeria to collect their luggage.
"We don't profile people," Landry said. "We profile bags."
After most international flights, mainly from Asia and Africa, containers overflow with seized products including raw chicken, salted duck eggs and pungent meat.
"They want a taste of home," Landry explained, "so they bring these products in."
A passenger from Nigeria carried two plastic bags filled with bushmeat and blackened fish in his backpack — a present for his wife and daughter. They missed the flavors of their native country, he explained.
A woman traveling from South Korea carried several bright red bags of moonpies, which are cake-like patties with yolks in the middle. And she brought some salted duck eggs. She had no idea that they might harbor the deadly H5N1 bird flu virus.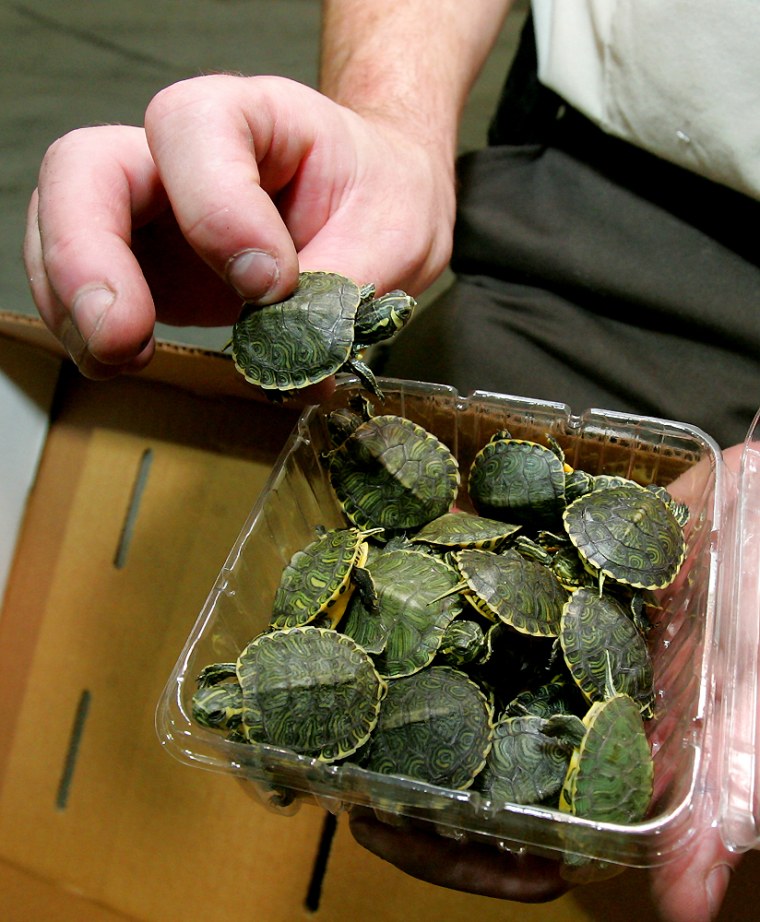 Human consumption of virus-laden animals or animal products can mean trouble. Most scientists believe HIV/AIDS started in Africa with human consumption of a primate that carried simian immunodeficient virus. SARS, or severe acute respiratory syndrome, is believed to have originated from the handling and consumption of wild animals in China.
Heather Eves, director of the Bushmeat Crisis Task Force, said there are hundreds if not thousands of pounds of bushmeat coming into the United States every day with little or no tracking.
In one of the first cases of its kind, New York federal prosecutors charged a woman who smuggled bushmeat into the country with fraudulently importing goods. The woman imported 12 boxes from West Africa with 65 pieces of smoked antelope and monkey parts buried beneath smoked fish.
Smuggled animals
An "Intel Alert" flier was stuck on a door deep within the Atlanta airport, featuring a picture of a small tranquilized finch stuffed into a hair curler. The alert warned inspectors to be on the lookout for birds smuggled into the United States from Asian countries in unconventional ways.
"When I see hair curlers," Landry said, "I look a little bit closer."
That's because it takes only one bird to bring bird flu to the United States, said Simon Habel, head of Traffic North America, a group that monitors illegal wildlife trade.
Birds imported legally go through quarantine.
Many exotic birds are banned from importation because they are endangered, so collectors pay a steep price on the black market. And smugglers are increasingly creative.
One squeezed 44 Cuban melodious finches into small plastic tubes and taped them to his legs for a flight into Miami. Another carved large boxes with air holes into car seats so he could smuggle dozens of colorful Amazon parrots across the Mexican border to San Diego.
Animal trophies
Diseases don't just travel in food or live animals.
Recently, Landry examined some medicinal Asian herb packets used to make teas. He noticed dried bird feet, claws, feathers and even bird skulls with dried blood and brains. "If anything will carry avian flu, it will be that," Landry said.

Another day, Landry spotted a woman arriving from Ghana. Her bags didn't look right, but more importantly they didn't smell right.
Landry asked whether she was carrying any plants, animals or food. The woman said that she was not, but Landry sent her to be inspected by agriculture specialists.
When her bags were opened, plants and fruits spilled out. So did a pair of monkey paws.
Landry asked why she didn't declare them. The woman said she forgot about the paws, which she planned to display in her living room.
The paws violated the Convention on International Trade of Endangered Species. They also posed a potential disease risk since primates can carry pathogens, from Ebola to tuberculosis. So Landry carefully placed the paws in a plastic bag to be incinerated.
"In this job, you don't know what kind of diseases you'll be exposed to," said Landry, a father of three young children. He worries he might unintentionally bring a deadly bug home to his family.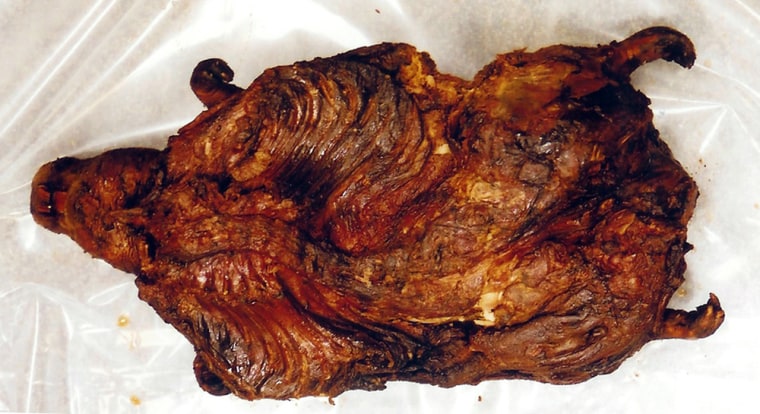 Recently, an inspector found dried but chemically untreated civet cat and primate skins smuggled in the lining of a bag. Civet cats are a potential carrier of SARS.