/ Source: The Associated Press
After jamming malls on Friday for discounted flat-screen TVs and toys, shoppers clicked onto their computers at work Monday as retailers ushered in the start of the online shopping season with bargains and marketing hype.
With an increasing number of online players trying to outdo each other, shoppers are being bombarded with even more generous discounts, free shipping offers and other enticements this holiday season.
For the Monday after Thanksgiving, coined Cyber Monday by the National Retail Federation, plenty of retailers like Circuit City Stores Inc. offered special one-day coupons. Meanwhile, Walmart.com began on Monday a five-day special on such online-only items as certain flat-screen TVs and cashmere scarves. And Barnesandnoble.com is wooing shoppers with a free tote bag if they spend $75 or more.
"It is a very promotional holiday shopping season," said Scott Silverman, executive director of Shop.org, the online arm of the National Retail Federation. "Many are using today as the platform to launch promotions." He noted that more retailers offered incentives starting as early as last week.
To fuel the hype surrounding Cyber Monday, NRF launched a new site last week called CyberMonday.com, which pulls together online discounts for both Cyber Monday and through the holiday season from nearly 400 retailers.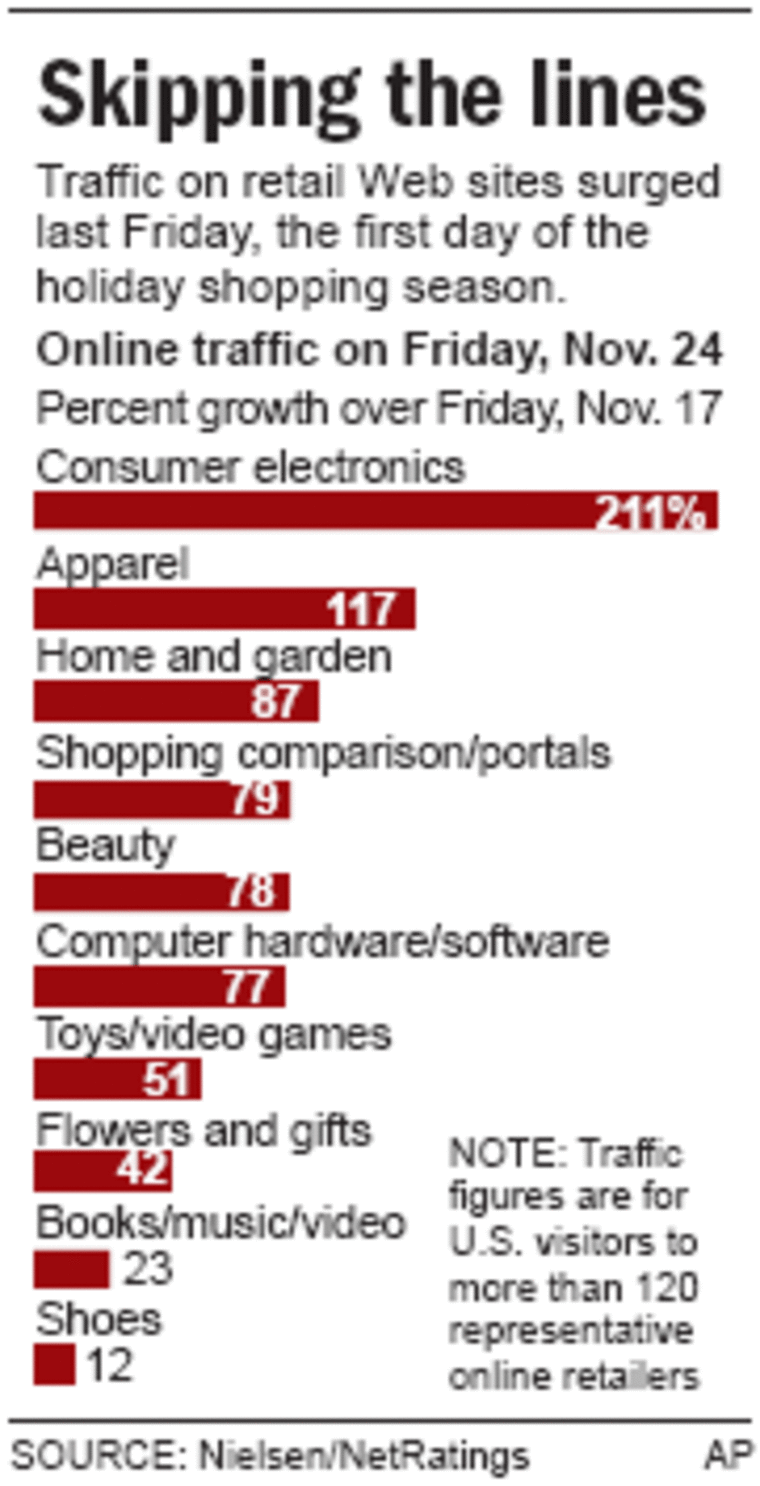 So far, the incentives seemed to be working, according to early reports.
Jewelry retailer ice.com reported a 60 percent increase in traffic and an 80 percent increase in sales through noon Monday, compared to the same period a year ago, according to Pinny Gniwisch, founder of ice.com. Walmart.com reported a 60 percent increase in traffic through noon Monday compared to a year ago.
While the first Monday after Thanksgiving kicks off the online holiday shopping season, it's not the busiest day for retailers. Internet research firm comScore Networks Inc. expects that honor to fall to either Dec. 11 or Dec. 12, making Cyber Monday either the ninth or tenth busiest online shopping day. Last year, the first Monday after Thanksgiving was the ninth busiest day.
Still, Cyber Monday marks the first big online shopping surge for many merchants for the season.
ComScore, which excludes travel, auctions and corporate purchases in its results, expects online sales to increase by at least 24 percent to $599 million, from $484 million a year ago. ComScore reported a better-than-expected 42 percent increase in sales to $434 million on the day after Thanksgiving, from the same day a year ago.
The online shopping surge Monday follows a strong start to the holiday shopping season for brick and mortar stores over the Thanksgiving weekend.
One exception was Wal-Mart Stores Inc., which announced Saturday that November's same-store sales would be more disappointing than expected. The glum outlook sent its stocks down on Monday, as investors worried about the strength of the retail sector.
Nevertheless, analysts are expecting a robust holiday season for stores and in cyberspace, though business will be slower than a year ago. The National Retail Federation expects total sales for the November and December period to be up 5 percent, but not as high as the robust 6.1 percent pace seen a year ago.
As for online holiday sales growth, Jupter Research forecasts an 18 percent increase for online sales to $32 billion. That is slightly below the 23 percent pace in the previous year.
Analysts are carefully monitoring the rivalry between online-only stores and brick and mortar stores, which are overtaking the lead in the online market share wars. According to comScore, from 2003 to 2005, sales growth for brick and mortar stores' online divisions grew twice the rate of that of online-only merchants.
Stores that operate both e-commerce sites and physical stores are realizing they can "use the Internet to not only sell product but also drive traffic to their stores, " said Gian Fulgoni, chairman of comSCore Networks.
Consumer electronics retailer Circuit City offered special coupons just for Monday, including additional savings of $100 on TV purchases of $1,700 and up, as well as an additional $50 savings on home audio systems purchases of $400 and up.
Throughout the holiday season, Circuit City is giving $24 gift cards to customers if their online order is not ready for pick up at the stores in 24 minutes.
Walmart.com, which redesigned its Web site earlier in November, unveiled Monday 50 online only specials offers, from cashere scarves to flat-panel plasma TVs, that will be available through Dec. 1. Carter Cast, CEO of walmart.com, said it will be replacing sold-out items with new offers this week.
Among the most popular items Monday on walmart.com were $289 GPS units by Garmin and 3 megapixel digital cameras by Philips.
The pure online players are fighting back with free shipping and other deals.
Online retailer Amazon.com pushed shoppers to get started early by holding an ongoing poll to select one steeply discounted gift item to be offered in limited supplies beginning on Thanksgiving day, on top of other deals.
Online jewelry retailer Bluenile.com is offering for the first time free overnight shipping to its best customers, a program that will run through Valentine's Day. It also sent out e-mails Monday offering 10 percent discounts to customers through Dec. 7.
Online closeout retailer Overstock.com for the first time offered free shipping offers, which started Thanksgiving Day and ends Tuesday, according to Patrick Byrne, CEO of overstock.com.
"We're all competing on shipping promotions," Byrne said.