Internet registries of rapists or pedophiles are available in every state, but a new breed of criminal now is experiencing the notoriety of being outed online — people convicted of making or selling methamphetamine.
"It lets the community know that there's someone like this in their community, because the likelihood of them going back and doing it again is high," said Georgia state Rep. Mike Coan, who is spearheading meth registry legislation. "It's no different, really, from the sex offender (registry). If there's one living near me, I want to know it."
The idea of posting the names of meth offenders online is gaining momentum. Four states have put in place laws to create Internet meth offender registries, two are putting final touches on similar laws, and several other proposed bills are in limbo until the state legislatures start the new session.
But critics say the registries raise legal questions, do little to protect the public and may have unintended consequences.
"The problem with these registries is that we're creating a class of untouchables within our society who cannot rent apartments or secure employment," said Jonathan Turley, a criminal defense attorney and law professor at George Washington University. "When you diminish the likelihood that ex-felons can live and work in society, you increase the chances that they will return to criminal behavior."
Desperate times in rural America
Tennessee, which set up the first meth offenders registry in March 2005, has one of the highest rates of methamphetamine use in the country, as well as the personal tragedy and crime associated with it.
The drug's impact has been especially shocking in otherwise peaceful rural areas, where addiction problems are compounded by the danger posed by people "cooking" meth in their homes. The use of toxic chemicals and the risk of explosion imperil not just the producer but family, neighbors and law enforcers, and the cost of cleaning up a production site ranges from $2,000 to $10,000.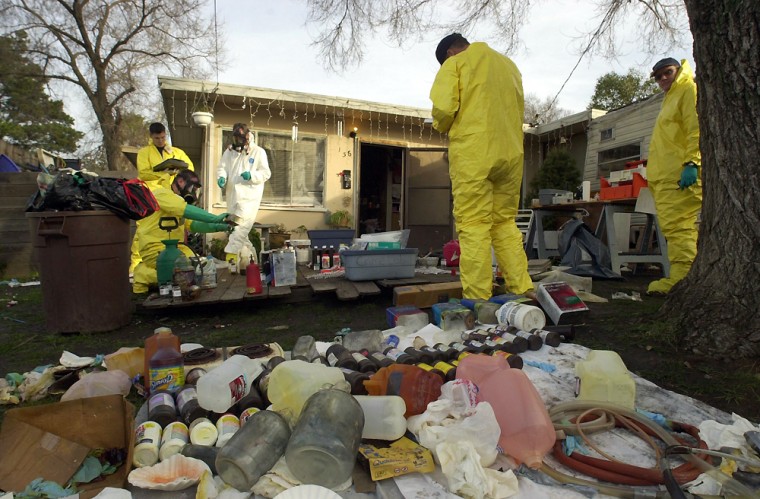 "Unlike other drugs where it is really harmful to you and your family, meth is hazardous to all around you," said Jennifer Johnson, public affairs officer at the Tennessee Bureau of Investigation, which maintains the state's database. "… That's why we don't foresee a heroin or cocaine registry."
To date, Tennessee lists the names of about 400 offenders. As in other states creating similar laws, it includes only people convicted of producing or trafficking in the highly addictive stimulant, not those convicted of simple possession. In the methamphetamine landscape, however, that often means that even people who are cooking meth in their kitchen sink for personal use could be ensnared in the registries.
Property owners were the most forceful backers of legislation to create the meth registry, viewing it as a tool to screen prospective tenants.
But since the list does not include photographs, lists offenders by the location of their offense rather than their current addresses, and doesn't require them to notify authorities when they move, critics say it is little use to the general public.
"It's symbolic," said Bill Piper, director of national affairs at the nonprofit Drug Policy Alliance, which advocates reform of harsh drug laws. "It makes politicians who are really not doing anything look like they are."
Diversion of funds?
Even worse, he said, it diverts funds that could be better used elsewhere.
"We need to invest scarce public resources into educating the public about the use of meth and providing high quality treatment options to fight addiction, not create an intrusive public registry," he said.
Georgia is contemplating a tougher registry law, which would require meth makers or sellers to be listed on the Internet for seven years. As set out in the pending legislation, the registry would include photos and current addresses of the offenders and require them to update their address with each change of residence.
In Indiana, which is considering a meth registry, lawmakers are trying to decide how far to go.
"Do you require the offender to update where they are located, where the crime was committed?" said Ralph Ayres, who led the push for a registry last year before retiring. "It could possibly include photos (if the legislature chooses) but many states do not require those."
"It's easier to (start) with lesser requirements," says Ayres. "But the legislature may want to craft it similar to sex offender registry, which is much more detailed."
Minnesota is slated to launch its registry by the end of the year and Illinois is aiming for March 2007, though it is still working on the content. Montana includes meth offenders on its Internet registry of sexual and violent offenders.
Meth offender registries have also been proposed in Oklahoma, Washington, Kentucky and West Virginia.
Federal bill founders
The Drug Policy Alliance and other critics have expressed the concern that the use of registries will be expanded to cover more drugs and lesser offenses — leading to the publication of information that could make it harder for drug users to put their lives back together.
Their fears came to life briefly in the federal Clean Town Act, which was introduced in September by Rep. Steve Pearce, R-N.M., but now appears to be dead.
Pearce's bill proposed creation of a national registry that would list anyone convicted of manufacturing, distributing or dispensing any illegal drugs, or possessing controlled substances with the intent to manufacture illegal drugs.
The bill called for online publication of current addresses and license plate numbers, listings that would remain online for a minimum of five years and up to life, depending on the number of offenses after the subject had served his sentence. And because many search engines maintain archives of cached Internet pages, the information would likely be available long after that.
The 300,000-strong Fraternal Order of Police, endorsed the bill, citing high rates of recidivism among crack and meth dealers.
But the Clean Town Act is dying in committee as the Republican-controlled Congress concludes its term. Though Pearce plans to reintroduce it, the bill's chances are seen as virtually nil under incoming chairman of the House Judiciary Committee, Rep. John Conyers, D-Mich., who opposes it.
Will they stick?
So for now, the use of registries to cover meth crimes will be tested at the state level. What remains to be seen is whether these new laws stick, particularly those that include current residences of offenders.
There are legal and practical reasons why they may not.
The American Civil Liberties Union questions the registries on the grounds that they amount to unconstitutional "double jeopardy" by imposing additional punishment on offenders after they have served their time.
A court challenge to sex offender registries on those grounds failed when the Supreme Court ruled in 2003 that they were a legitimate way of protecting the public. But it is not clear that the threat posed by drug offenders will be deemed as serious, said Turley, the George Washington University professor.
He also warned that publicizing the whereabouts of former drug offenders after they are released from prison could put them at risk, including former gang members or others simply trying avoid getting sucked back into the drug lifestyle.
"The registry (with their addresses) would present a clear and present danger to them," he said. 
That's not a frivolous concern.
In April this year, Ralph Marshall, a 20-year-old Canadian, found two sex offenders through Internet registries and gunned them down in their homes in Maine before killing himself.
The year before, in August, a Washington man posed as an FBI agent to enter the apartment of three registered sex offenders near Seattle and later killed two of them, authorities said.