More than 20 production and concept vehicles will debut at this year's L.A. Auto Show, which officially opened to the public Friday.
The highlights follow:

2008 Audi TT Roadster
Actors Molly Sims and James Denton helped introduce a convertible variant of the completely redesigned two-door Audi TT. The new TT Roadster retains its arched roll bars behind the seats, but like the previously unveiled coupe, it's now slightly longer, wider, lower, lighter and has more trunk space than its predecessor.
The Audi TT Roadster features a folding fabric top with a glass rear window. Pricier models equipped with the 250-hp 3.2-liter V6 engine and quattro all-wheel drive will have power-operated tops that raise and lower at the push of a button. Models that carry the 200-hp 2.0-liter four-cylinder base engine will have manually operated tops with power operation optional.
2008 Chrysler Sebring Convertible
At the press conference covering the redesign of America's best-selling convertible, the new Sebring itself seemed a sideshow to acrobats dangling and contorting above it, the slightly awkward stage banter between actress Jennifer Love Hewitt and a Chrysler executive as well as a demonstration showing that two golf bags could fit in the convertible's trunk with the top down.
The new front-wheel-drive Chrysler Sebring Convertible is longer, wider and taller than its cloth-topped predecessor. It will also offer the option of a folding metal hardtop — a first for the Sebring — in addition to vinyl or cloth soft-tops. All will be power-operated and fold into the trunk at the press of a button. The Sebring Convertible comes with a standard 2.4-liter four-cylinder engine that achieves 23 mpg city/31 mpg highway.

2008 Ford Escape Hybrid
One-quarter of all Ford Escape Hybrids are sold in California, according to company spokesman Jim Cain. So it's no great surprise that Ford chose to debut the latest version of this green compact SUV at the L.A. Auto Show. A conventionally powered Escape also was shown.
Both of the Escapes have been redesigned and boast a higher hood and beltline for a more rugged look. Their interiors each feature seats made entirely of post-industrial, recycled materials — more eco-cred. Both vehicles also contain a suite of airbags and are the first Fords to utilize the automaker's new Ice Blue dashboard lighting color scheme. The Hybrid carries a four-cylinder engine and an electric motor; the non-hybrid, a three-liter V6.

Ford Giugiaro Concept Mustang
Ford Racing showed off a Mustang concept created by famed automotive designer Giorgetto Giugiaro, director of Turin's Italdesign studio. Strictly for show, Giugiaro's concept marries the raw power and attitude of the classic American muscle car with his own brand of sleek European design.
The concept car boasts a supercharged 4.6-liter V8 engine delivering more than 500 hp. Natural horsehair and hide adorn the interior. A single glass panel drapes the roof from windshield to rear window. Delicate wing doors replace the heavy slammers of stock Mustangs, and the familiar front-end, rear window louvers and menacing-looking low body stance pay respect to the classic Mustang with a tip of the hat to the 2007 Shelby GT500.

2008 GMC Yukon Hybrid
Forget about who may or may not have killed the electric car. General Motors executives, including Chairman and CEO Rick Wagoner, spent the majority of their time at the L.A. Auto Show depicting their company as green as a Vermont summer. Among the eco-friendly highlights was the 2008 Yukon Hybrid, which will incorporate a full hybrid system (called "two-mode") as opposed to the more basic electric generator of the 2006 GMC Silverado Hybrid pickup that only powered down the gasoline engine during temporary stops and provided no electric propulsion on its own.
The full-size GMC Yukon Hybrid's battery-powered electric drive motors will provide motivation for stop-and-go city driving, allowing the truck's Vortec V8 combustion engine to remain dormant and thus save fuel during low to moderate acceleration at lower speeds. The gas/electric propulsion system promises a 25 percent increase in fuel economy over standard gasoline-only versions. Depending on the engine and drive layout, the 2007 Yukon gets between 14 mpg and 16 mpg city and between 18 mpg and 22 mpg highway, according to EPA estimates.
Hyundai Hellion Concept
This cartoonish show car is, at a glance, an all-wheel-drive, two-plus-two, three-door sporty cross between a car and an SUV. But its builders have something deeper in mind.
"It's kind of the bad boy of the family," said Joel Piaskowski, Hyundai's chief designer. "Hellion is a sibling with a mischievous demeanor, outspoken — the one who gets more than his share of attention."
The gold-colored concept carries a logo with an impish pitchfork that forms part of the letter "H" and the entire "E" in its name. The Hyundai Hellion's form was inspired by a backpack. On a hiking-related note, in lieu of cup holders, the vehicle's interior features a portable bladder with a long straw, reminiscent of hydration devices used on hiking backpacks.
The concept car's soft-top features a light camouflage pattern. In a hypothetical production version, buyers could send in their own patterns for manufacture, Piaskowski said.
Honda Step Bus Concept
Take a Scion xB, mix it with an old Volkswagen micro-bus and something made with Legos and the result would resemble this right-hand-drive styling concept, the Step Bus.
It's designed for the "urban, active, MP3 generation," said John Mendel, a Honda North America senior vice president.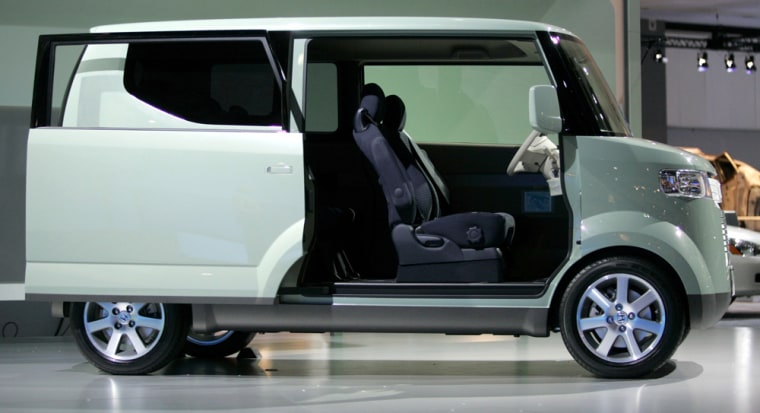 Descended from the Japanese Honda Step Wagon, this modular, minimalist, boxy vehicle has a mid-engine, rear-wheel-drive layout and seats five. Headroom is abundant on this tall, slab-sided vehicle.
The Honda Step Bus also employs three drinking cups that resemble large-mouthed beakers in a science laboratory, and it offers up "picture holders" — translucent sleeves for displaying photos, which featured pictures of puppies at the show.
Mazda Nagare Concept
Mazda's Nagare (pronounced "Na-ga-reh") is the latest of its Japanese-named design concepts, this one apparently with far-reaching implications. Designer Franz von Holzhausen said the Nagare may never become a production vehicle, but that certain styling cues, including "expressive eyes" and a five-point grill, may offer a "glimpse into the future — the future around 2020" of what Mazda vehicles will look like.
Nagare means "flow" in Japanese. The vehicle's textural, rippled sides resemble a windswept desert. The rear brake lights, likewise, look like a sort of sunburst — with six red, radiating lines.
2007 Nissan Altima Coupe
Nissan's first two-door version of the popular Altima, previously only available as a four-door, is lighter, shorter and sportier looking than the recently updated sedan. Both models share only the hood — every other exterior body panel is different.
The front-wheel-drive Altima Coupe is scheduled to arrive at dealerships next summer and carries either a 3.5-liter V6 or a 2.5-liter four-cylinder engine, the same engine options available on the sedan.
2007 Nissan Sentra SE-R
Nissan unveiled two high-performance versions of its small sedan, called the Sentra SE-R and SE-R Spec V. They are primed to compete with Honda's hot Civic Si sedan and are targeted primarily at single males, said Bill Bosley, vice president and general manager of Nissan North America.
Both vehicles have a 2.5-liter four-cylinder engine, but the Spec V churns out 200 hp and the SE-R generates 177 hp. The Spec V also rides on upgraded brakes and a sport suspension with stiffer springs and shocks than the SE-R's, which are themselves an upgrade over the base Sentra sedan's components.
2007 Saturn Aura Green Line
Saturn's all-new midsize Aura sedan gains a gas/electric hybrid variant called the Aura Green Line that will start around $23,000, a premium of less than $2,500 over a comparably equipped gasoline-powered Aura XE.
The Aura Green Line will feature a 164-hp 2.4-liter four-cylinder gasoline engine paired with an electric motor/generator. This setup, which is the same as on the soon-to-be-replaced 2007 Saturn Vue Green Line compact SUV, is considered a "mild hybrid" powertrain, meaning it cannot run on battery power alone.
The system will boost fuel economy by 25 percent versus a Saturn Aura XE by shutting down the gasoline engine during temporary stops and upon deceleration. The electric motor will also supplement the gasoline engine during full-throttle acceleration. Production will likely begin in March.
2008 Saturn Vue Green Line
2008 Saturn Vue Green LineSaturn completely redesigns its Vue compact SUV for 2008 and has announced that it will eventually produce a plug-in version of the Green Line hybrid variant. Plug-in hybrids have larger battery packs to allow more electric-only driving and, unlike current hybrids, can be plugged in to charge up. But for now, the front-wheel-drive Vue Green Line will feature a two-mode hybrid system that incorporates a 3.6-liter V6 combustion engine and two electric motors powered by a NiMH battery pack for a 45 percent boost in combined city/highway fuel economy compared to the non-hybrid Vue.
Visually the new 2008 Saturn Vue, which will include all-wheel-drive non-hybrid variants, looks completely different and more sophisticated, both inside and out, than the first-generation model it replaces.