State and local officials in Ohio are considering an incentive package that would lead the Canadian-American rocket venture PlanetSpace to put the manufacturing and landing facilities for its suborbital spacecraft at a former military air base near Columbus, participants in the discussions told MSNBC.com Friday.
The discussions are in a "very preliminary" stage, said Melissa Ament, a spokeswoman for the Ohio Department of Development. However, economic development officials at the Columbus Regional Airport Authority and the Columbus Chamber said a decision on the incentive package could be reached within the next few weeks.
Such a package could include tax credits, financing programs and training grants amounting to millions of dollars, said Matt McCollister, the seven-county chamber's vice president for economic development. PlanetSpace's chairman, Indian-American entrepreneur Chirinjeev Kathuria, told MSNBC.com he expected the incentives to amount to "somewhere in the neighborhood of $20 million."
If PlanetSpace goes ahead with plans to put its suborbital facilities at Rickenbacker International Airport, which was once known as Lockbourne Air Force Base and now serves primarily as a cargo transport hub, Ohio would add another dot to a U.S. spaceport map that already includes sites in California, Florida, Oklahoma, Alaska, Virginia and Texas (plus perhaps New Mexico and even Wisconsin someday).
PlanetSpace is up against some stiff competition in the commercial space race — including Virgin Galactic, backed by British billionaire Richard Branson; Blue Origin, created by Amazon.com billionaire Jeff Bezos; Virginia-based Space Adventures, the company that helped send four millionaires to the international space station; and California-based SpaceX, founded by millionaire Elon Musk.
But Kathuria is also a millionaire, with a good entrepreneurial track record in telecommunications and the medical equipment industry. Steve Tugend, the Columbus Chamber's vice president for governmental relations, said it was that track record — as well as Kathuria's confidential list of partners and backers — that persuaded the chamber to take up PlanetSpace's cause.
"We believe that these folks are the real deal," Tugend said.
Although PlanetSpace has not yet launched a full-fledged spacecraft, it has already struck a deal with the Canadian province of Nova Scotia for an orbital launch facility. The Ohio facilities would serve as a complement for suborbital space operations.
Two golden oldies
For its launch system, PlanetSpace would update two golden oldies of the space age: Its Canadian Arrow rocket is based on Nazi-era V-2 technology, and its Silver Dart hypersonic glider is based on the FDL-7 design pioneered by the U.S. Air Force in the 1960s.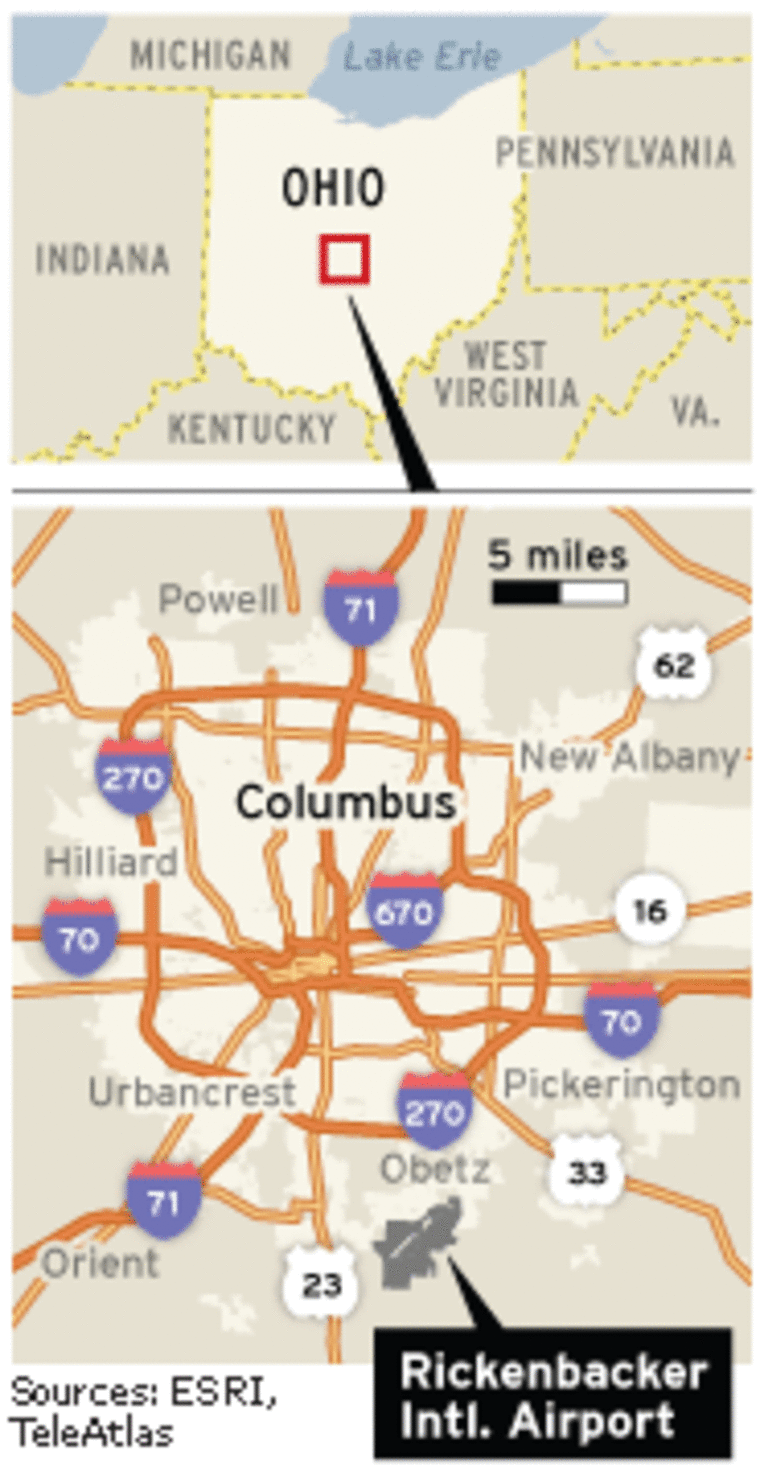 For suborbital flights, the Silver Dart would be mounted on a standard Canadian Arrow booster and launched either from a floating barge or from a land-based pad. Kathuria said the company had not yet selected a site for the pad, but it could conceivably be built in Ohio, with an air corridor connecting the launch site to Rickenbacker International Airport.
The Silver Dart would be lofted to altitudes in excess of 62 miles (100 kilometers), giving up to eight fliers a view of the curving Earth beneath the black sky of space. Then the craft would glide down to a landing. Either one of Rickenbacker's twin 12,000-foot-long (3,650-meter-long), 200-foot-wide (60-meter-wide) runways would make "a perfect return runway," Kathuria said.
The launch pad and the landing site, as well as the spacecraft itself, would have to receive permits or licenses from the Federal Aviation Administration. Kathuria said neither PlanetSpace nor authorities in Ohio have begun that long and involved process.
In addition to providing the landing strip, Rickenbacker could also house PlanetSpace's manufacturing facilities for orbital as well as suborbital components. The orbital version of the spaceship would be sent to Nova Scotia, for launching aboard a Canadian Arrow with several sets of clustered engines.
'Connecting the players'
The Columbus Regional Airport Authority, which operates Rickenbacker as well as Port Columbus International Airport and Bolton Field, spearheaded months of discussions over bringing PlanetSpace to Ohio, Kathuria said.
David Whitaker, the airport authority's vice president for business development and communications, told MSNBC.com that his organization couldn't offer tax incentives or grants — but is instead serving as a liaison with state and local governments that can.
"We've been trying to connect the players," Whitaker explained.
Matt McCollister, the Columbus Chamber's vice president for economic development, said his group is playing a similar role. "Basically we work together," he told MSNBC.com.
McCollister emphasized that Ohio economic development officials were primarily interested in the jobs, investment, construction and tourism that would be brought to the state, rather than the romantic allure of spaceflight. "The real 'today' elements are the testing and the manufacturing," he said. "There are real dollars and real jobs associated with that. What's to come could very well be the icing on the cake."
With respect to those issues, Kathuria said Ohio officials were told PlanetSpace would create 512 jobs directly and lead to 850 more indirect-impact jobs by the third year of operation. The venture was projected to spend $147 million on local goods and services in the first five years, he said, and generate cumulative gross revenues of $367.5 million by 2012, he said.
Decision by January?
None of the Ohioans was willing to speculate on whether any incentive offer might meet or exceed Kathuria's expectation of $20 million. Ament said PlanetSpace's plans have been under discussion at the Department of Development, but she declined to predict when a decision might be made.
From a launch out of the weeds to a special delivery in orbit, see the best space offerings from January 2014.
Whitaker was more hopeful about a timetable: "Certainly within the next month or two, we would expect a conclusion of some sort."
Kathuria echoed that forecast, saying he expected to have a proposal for incentives from state and local governments by the end of January. PlanetSpace wants to begin tests of the suborbital Silver Dart by the end of 2008, and demonstrate the orbital version of the Silver Dart by 2010.
The timetable is dictated by PlanetSpace's ambition to compete in the second phase of NASA's Commercial Orbital Transportation Services program, or COTS, which would purchase private-sector spaceflights to resupply the international space station after 2010. SpaceX and Oklahoma-based Rocketplane Kistler are receiving $500 million for their phase-one demonstration flights, but PlanetSpace hopes its own privately funded COTS demonstration will put it back in the running for phase two.
"We are going to be competing for COTS 2," Kathuria pledged.