/ Source: The Associated Press
Emboldened by a resounding re-election, President Hugo Chavez pledged to shake up Venezuela with a more radical version of socialism and forge a wider front against the United States in Latin America.
Opposition contender Manuel Rosales accepted defeat Sunday night, but promised to continue countering a leader whom he accuses of becoming increasingly authoritarian.
Touting his victory in a speech to thousands, Chavez said Venezuelans should expect an "expansion of the revolution" aimed at redistributing the country's oil wealth among the poor.
"Long live the revolution!" Chavez shouted from the balcony of the presidential palace. "Venezuela is demonstrating that a new and better world is possible, and we are building it."
With 78 percent of voting stations reporting, Chavez had 61 percent of the vote, to 38 percent for Rosales.
Loyal following among the poor
Chavez has won a loyal following among the poor through multibillion-dollar social programs including subsidized food, free university education and cash benefits for single mothers.
Chavez, who says he sees Fidel Castro as a father, dedicated his victory to the ailing 80-year-old Cuban leader, and called it a blow against President Bush.
"It's another defeat for the devil, who tries to dominate the world," Chavez told the crowd of red-shirted supporters, who listened to him under pouring rain. "Down with imperialism. We need a new world."
Even before polls closed, Chavez supporters celebrated in the streets, setting off fireworks and cruising Caracas honking horns and shouting "Chavez isn't going anywhere!"
Since he first won office in 1998, Chavez has increasingly dominated all branches of government, and his allies now control congress, state offices and the judiciary. Current law prevents him from running again in 2012 but he has said he plans to seek constitutional reforms that would include an end to presidential term limits.
Chavez has posed a growing challenge to the United States while leading a widening bloc of Latin American leftists, influencing elections across the region, and allying himself with U.S. opponents like Iran and Syria.
The United States remains the top buyer of Venezuelan oil, but Chavez has sought to gradually diversify to new clients in Latin America and as far away as China.
Partial results from Sunday's vote showed Chavez had nearly 6 million votes versus 3.7 million for Rosales. Final turnout figures among the 15.9 million eligible voters weren't available but an official bulletin of partial results showed turnout at more than 70 percent.
"We recognize that today they defeated us," Rosales told cheering supporters at his campaign headquarters. "We will continue in this struggle."
'My country is being stolen'
Some aides wept. Others were angry.
"We have to do something," said 36-year-old Dona Bavaro. "My country is being stolen. This is the last chance we have. Communism is coming here."
Rosales, a cattle rancher who is now expected to return to his post of governor of the western state of Zulia, called the election a choice between freedom and increasing state control of people's lives. He also decried rampant crime and corruption, widely seen as Chavez's main vulnerabilities.
Venezuela is the world's fifth largest oil exporter and soaring oil prices have made it the continent's fastest-growing economy — a fact that some voters said helped tilt them toward Chavez.
Many who voted for the president said they think the leader's oil-funded social programs are making a difference.
"We're here to support our president, who has helped us so much," said Jose Domingo Izaguirre, a factory worker who lined up to vote and whose family recently moved into new government housing.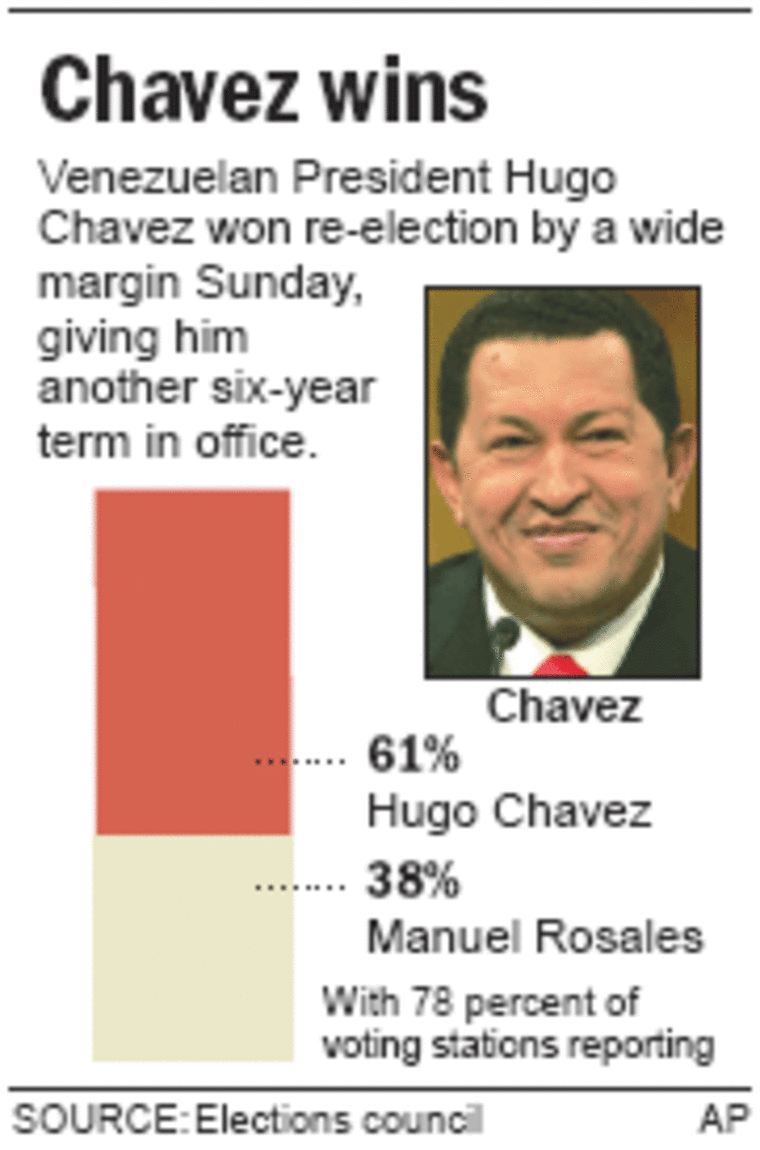 Some Venezuelans had predicted street protests and possibly violence after the vote, but Rosales' quick concession appeared to defuse tensions. Venezuelan society remains sharply divided along class lines, with many middle- and upper-class Chavez opponents saying they fear what may be next in the president's play book.
Conflict and ambition have marked the rise of Chavez, 52, from a boy selling homemade sweets in a dusty backwater to a failed coup commander in 1992, and now a leader who could set the tone of Latin American politics for years to come.
Constitutional reforms he oversaw in 1999 triggered new elections the following year that he easily won. Loyalists helped him survive a 2002 coup, a subsequent general strike and a 2004 recall referendum.
The president insists he is a democrat and will continue to respect private property — though he has boosted state control over the oil industry and has said he might nationalize utilities.