/ Source: The Associated Press
The desert winds that stoked a destructive wildfire diminished Monday, easing the threat from flames in this Southern California city where the blaze gutted five homes.
The fire burned about 21 square miles after erupting early Sunday, but the remaining homes in hilly Ventura County northwest of Los Angeles were safe, fire officials said.
"It seems to be dying down, but we're not taking any chances," said Michael Jarvis, spokesman for the California Department of Forestry.
The Santa Ana winds had earlier gusted as high as 50 mph. The improving weather allowed aircraft, including water-dropping helicopters, to join more than 1,500 firefighters battling the flames.
"We're expecting to hit it hard from the air and from the ground," fire Capt. Barry Parker said.
The fire was 70 percent contained. With winds still gusting to 40 mph atop ridges, fire officials remained concerned about 500 properties, including citrus and avocado farms and cattle ranches. But they predicted the fire would be completely under control by Tuesday evening.
Firefighters sought to keep the fire boxed in a canyon. If the flames advanced south, they could move toward the small city of Camarillo. If they spread northward, the blaze could threaten the city of Fillmore.
The cause of the fire had not been determined.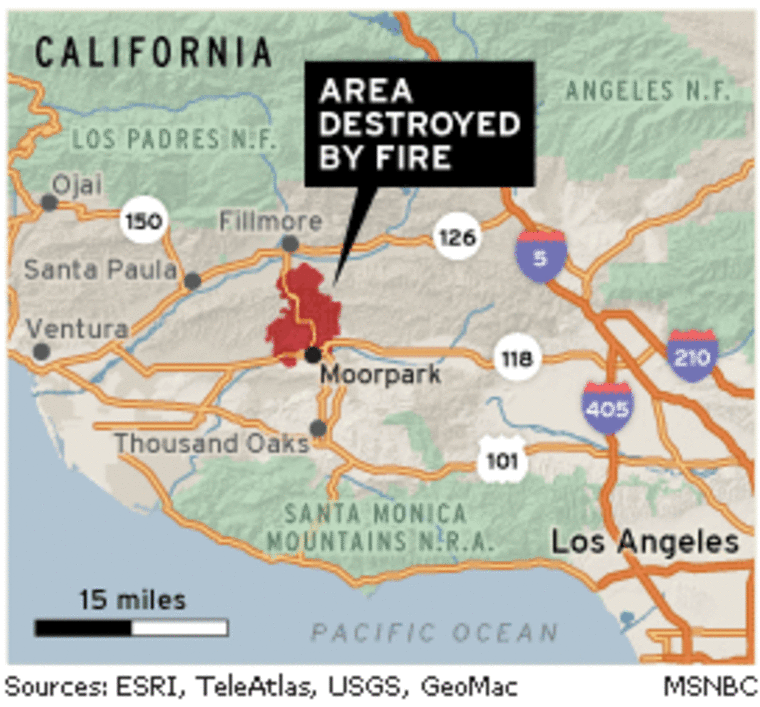 On Sunday, authorities urged residents to leave their homes, but some stayed to soak their roofs with water.
The fire fed on heavy brush and spread quickly across hills and canyons dotted with horse ranches and eucalyptus, avocado and citrus groves. No one had been injured.
Piles of compost continued to burn at Peach Hill Soils, an organic recycling facility overrun Sunday night by the fire. The owner estimated $500,000 in losses.
"Like a wave, it came over that ridge and engulfed everything. It was overwhelming. There was nothing you could do," said owner Robert Medrano.
Two other fires also erupted early Monday about 90 miles to the east in the dangerously windy conditions, but those blazes were tackled by firefighters.
In San Bernardino County, some firefighting equipment was being released from a 525-acre fire in Fontana, but fire crews planned to keep an eye on the site for several hours.
"In this kind of wind, you really can't say that it's completely out until it's completely out," said Battalion Chief Ron Walls.