/ Source: The Associated Press
Troops in the South Pacific island nation of Fiji moved in on at least two police compounds Monday and removed weapons from one of them, raising fears the military was acting on its threats to overthrow the government.
But Prime Minister Laisenia Qarase insisted the civilian government was still in charge, and police at the barracks being disarmed said troops were proceeding with the government's permission.
Troops did not move on the main police barracks in downtown Suva, the capital, and the city remained quiet.
It was unclear if the troops' actions were the first steps in a military takeover of the government, or fit within concessions Qarase has already offered to the military to avoid a coup.
Military commander Commodore Frank Bainimarama has threatened to topple Qarase at any time, after saying last week that a deadline to meet his demands to "clean up" the government had expired.
Bainimarama has demanded the government kill legislation that would grant pardons to conspirators in a 2000 coup and quash two other land rights bills that he says unfairly favor majority indigenous Fijians over the ethnic Indian minority.
He also is demanding the removal of Fiji's police chief, who has threatened to charge Bainimarama with sedition for his comments about toppling the government.
U.S. threatens to cut aid
Washington has expressed deep concern at Bainimarama's threats and warned U.S. aid to the country could be cut if a coup occurs.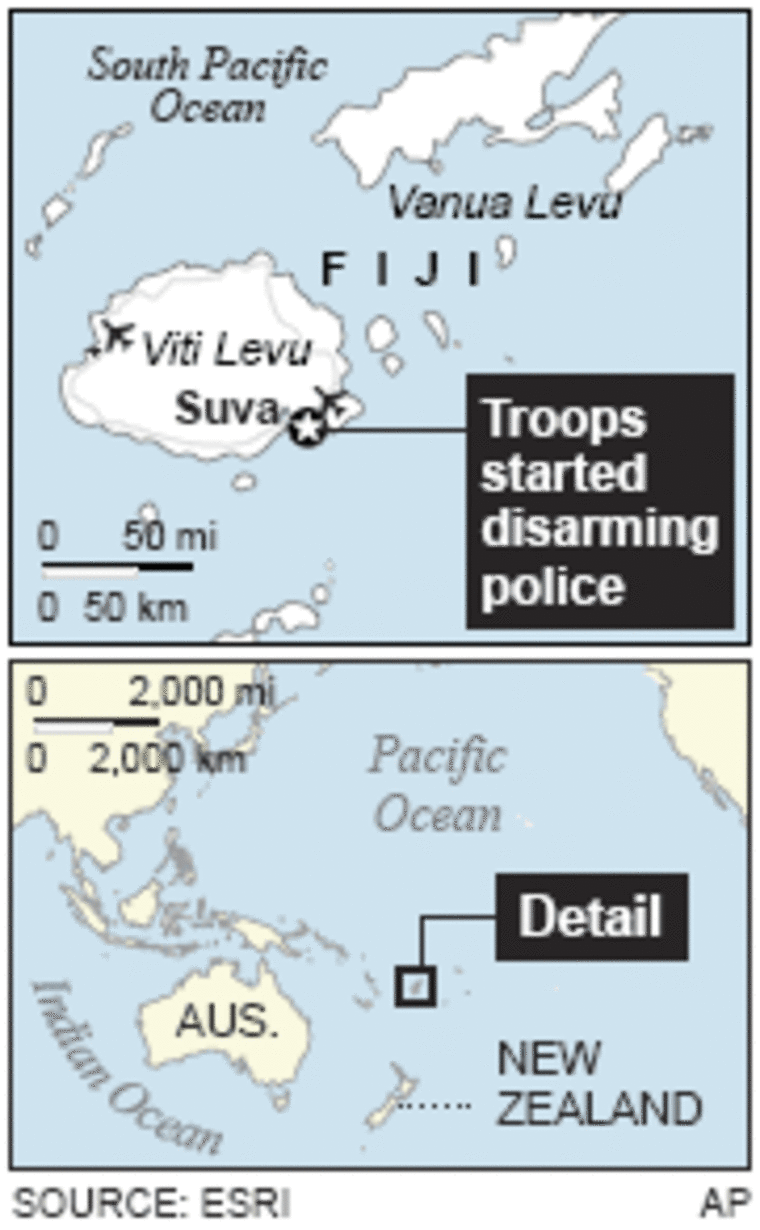 As many as six truckloads of soldiers went to the police tactical unit's headquarters outside Suva and began loading weapons onto a truck Monday. Soldiers also showed up at the police training academy in Suva and surrounded a building reported to be a disused armory.
Police Commissioner Moses Driver denied reports the military had taken over the compound, reportedly calling it a "friendly visit."
"There is no confrontation of any sort," the Legend radio network also quoted Driver as saying.
On Monday morning, Qarase said he was in his office in Suva and the government was still in charge. He said he was willing to hold more talks with Bainimarama on his demands but warned a coup would amount to treason.
Fiji, a nation of about 900,000 people, is about 1,800 miles northeast of Sydney, Australia. Fiji was rocked by two military coups in 1987 and the civilian-led coup in 2000.