/ Source: The Associated Press
My teenage daughters, Emma and Lilly, are both surrounded by babies.
Lilly, the 15-year-old who will only baby-sit back home in Kansas City, Mo., if she's desperate for cash, has 4-month-old Vlad in one arm, and Mihaela, about nine months, in another. Little Abel is at Lilly's feet making gurgling noises. Everybody's smiling.
Emma, 17, vowed years ago (when she was 12) that she would never have kids and that little girls especially bugged her. Today she's helping supervise the toddler room, tossing Dumitru into the air, while two other young ones howl because now they want a turn on this new carnival ride called Emma.
"Wait a minute," she tells them all. "I only have two arms. I'll get to you, don't worry. Just chill a minute."
Two weeks earlier we were home in Missouri getting ready for Christmas. Now the whole Fisher family — my husband, Hal, Emma, Lilly and I — are in Romania, at Tutova Hospital's Failure to Thrive Clinic with seven other people from Global Volunteers. We're one of the largest Global Volunteer teams to make the trip to the hospital in Tutova, a tiny town in northeast Romania.
Our purpose is to help the staff care for 42 infants and toddlers, ages about four months to 4-years-old. We bring a lot of enthusiasm, but no special expertise, though our team does include one pediatric nurse whose pockets are filled with Twizzlers and Cheerios.
Although my daughters' low-lying nurturing instincts might have pointed us in another direction — say building houses or picking trash off trails — we signed on with Global Volunteers' Romanian program after surfing the Internet looking for family volunteering opportunities. Our criteria were pretty straightforward: It had to be the first week of January — because that was the week the kids had off from school, post-Christmas. It had to be affordable and something we could all do.
I was initially hesitant about the Romania program even though it was the only one that had dates that worked for us. Not only did taking care of a lot of children seem like less than a natural fit for my daughters, but I also remembered the horror stories about Romanian orphanages in the 1990s.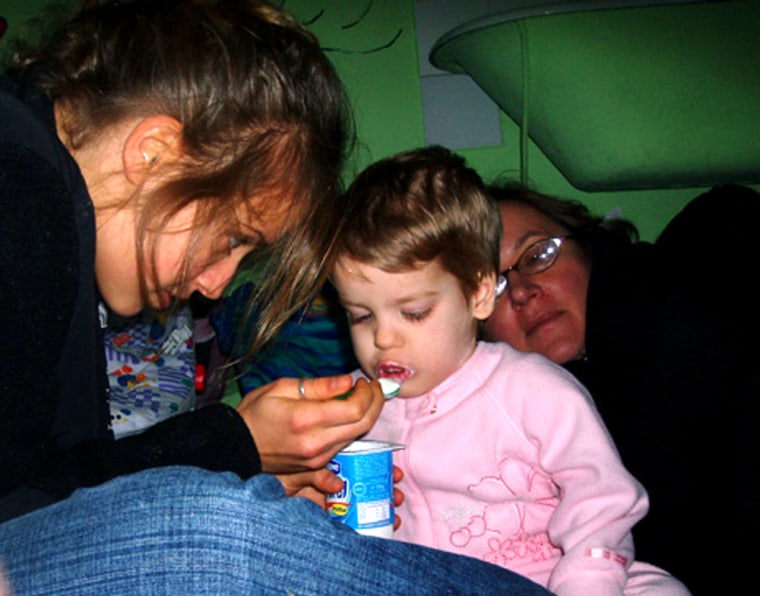 But Global Volunteers' Web site made it clear that Tutova was not like that. Yes, Tutova hospital was poor, ill-quipped and understaffed. But it also appeared to be a place where children were cared for, and where some children — all of them at risk — did well. It's also one of Global Volunteers' more popular programs.
And then I mentioned the idea to Emma and Lilly.
"Are you kidding? Yes!" was the way Emma, who doesn't really care for kids, put it.
"That would be so amazing," said Lilly, who groans out loud when someone asks her to baby-sit.
My kids are not saints. They get excited about the usual stuff. A new Dane Cook CD, jeans that fit just so and getting a later curfew. But they're adventurous. I saw the Romania volunteer trip as a chance for our family to visit a new part of the world, maybe lend a hand and spend some concentrated time together — which has been getting pretty tough to come by these days.
Sussing out my daughters' nascent maternal instincts would be a side benefit.
About two months after those first Web searches, there we were in our stocking feet — each of us up to our ears in little kids. Hal and Lilly worked in the non-mobile (baby) room. Emma worked with the toddlers, and I had the special needs kids.
Most of the children at Tutova have been brought to the clinic because they were severely underweight or their families were simply too poor to adequately care for them. They typically stay until they are 3 years old or until they can either return to their families, get adopted or move on to another facility.
We spent our days, starting about 9 a.m., awash in children. We all held, played with, fed, soothed children until lunch. Emma and Lilly pitched in like the other volunteers. They rose to the task of dealing with babies begging to be taken out of their cribs, even though their arms were already filled with other children needing to be held.
They patted their backs, held their bottles, and ran around the halls with them, even when they were exhausted and could have used a break.
Emma wrestled her toddlers, fed them, searched out more for them to eat, wiped tears and runny noses and gave out what she hoped would be plenty of hugs. So many cried when she put them down.
Lilly cuddled and soothed her babies, paying close attention to Ramona, who didn't have quite the focus of the other babies. Little Emil always wanted to be near Lilly, and she always obliged. "Come on over here," she'd say balancing a baby in each arm and one in her lap. "We have lots of room."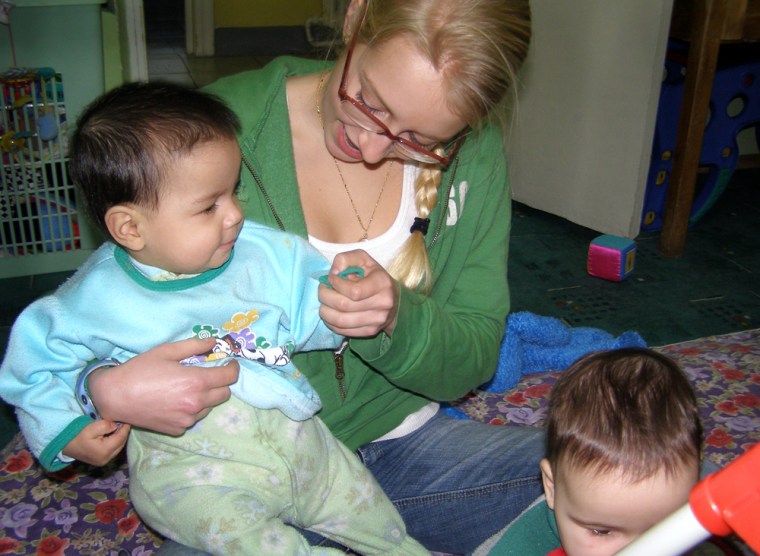 Neither Emma or Lilly spent much time doing diapers. The staff were pros at wrestling the bulky cloth and pin contraptions into shape. Anyway, Emma and Lilly seemed to feel diapering was a low priority when there was so much hugging, playing and goofing around to be done.
At 4 p.m. our bus would be waiting to bring us back to the hotel for dinner. We would all compare notes about the babies. Who was cranky, who ate a lot that day, who needed more attention? Emma and Lilly wanted to know again and again, if I was sure Romania doesn't allow international adoptions any more. Any of the children could have been a new Fisher. But, it's true, no more international adoptions for now in Romania.
On our last day, Emma stood over tiny Ana Maria's crib and cried. I told Emma that the babies would be cared for, and some would find good homes. I wanted to mean it.
I told Lilly the same thing on the train to Bucharest as she cried quietly with her head in her hands.
"What's going to happen to all of them?" she wanted to know.
Again, I didn't have a perfect answer. But I wanted her to understand that the days she and her sister spent with the babies were happy ones for all of them, and that meant something.
We have since returned home. Emma has her toddlers' names taped to her wall where she sees them every day. Lilly's Facebook is filled with photos of her infants.
They both remain skeptical about having kids — thank God. But each night before dinner, they end grace with a new simple prayer, one any mother knows: "Bless our babies."