/ Source: The Associated Press
Schoolteacher Theresa Ryan sensed an eerie presence behind her as she sat at a picnic table at her boyfriend's rural home. Then she heard the breathing.
"I turned around and there was a panther 15 feet away. We were face to face," she said. "It had no place to go except at me or by me."
She flailed her arms and screamed to scare the cat. "It just sauntered away. No hurry. It was never afraid," she said. "It was very freaky."
For decades, such encounters with Florida panthers were extraordinarily rare, like the endangered animals themselves. But in recent years, panthers have rebounded from the brink of extinction to about 100 on the southwestern edge of the Everglades, prompting officials to warn residents to be aware of the cats and to keep their children close at dusk and dawn.
The big cats have since killed emus from a zoo, and goats and dogs from rural back yards. Documented panther attacks on livestock jumped from two in 2004 to six so far this year, and 10 panthers have been killed on highways this year alone.
Habitat surrounded
But biologists fear the increased panther encounters may be short-lived as the cats' remaining habitat — 2.5 million acres in the Florida Panther National Wildlife Refuge, Big Cypress National Preserve, Everglades National Park and a few strands of wild state land — becomes surrounded by some of the fastest-growing areas in the nation.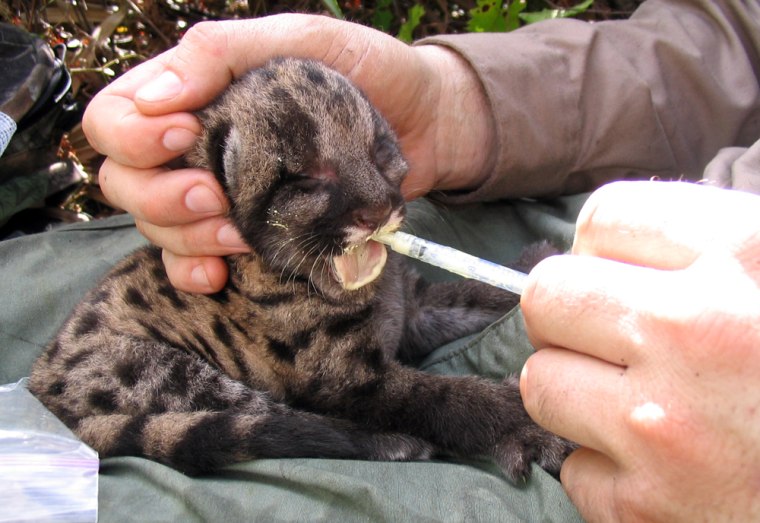 "The way we're building, we're going to push the panthers out," said biologist Larry Richardson of the U.S. Fish and Wildlife Service. "My big concern is the panther will become a zoo relic."
He added: "If we build out even half the potential of what the state says we can, forget about the panthers."
Florida panthers, which can weigh up to 155 pounds, are one of several subspecies of cougar in the United States and the last type still roaming east of the Mississippi. Thousands of these panthers once ranged throughout the Southeast.
By the 1950s, the panther had been hunted to near extinction, leading to their eventual protection, beginning in the 1970s, under the federal Endangered Species Act. But continued loss of habitat caused its numbers to dwindle to about 30 as recently as the mid-'90s. Those that remained showed signs of inbreeding and disease.
A deeper gene pool
It was not until wildlife biologists introduced eight female Texas cougars in 1995 that the gene pool began to broaden and the numbers started creeping back up.
Even that small increase in population has heightened the threat to suburban back yards, since each male cat can range up to 200 miles.
At a recent town hall meeting in Collier County, state and federal officials gave residents safety tips, even though there has never been a documented attack on a human in Florida.
The tips included trimming scrub from property to remove food sources that attract deer, the panther's favorite prey, and to deprive the big cats of places where they can hide and stalk. Among the other advice: Don't let children play outside in known panther areas at twilight, when the cats are most likely to feed.
That wasn't what everyone wanted to hear.
"I personally want humans to stay on top of the food chain," said Barbara Jean Powell of the Everglades Coordinating Council, an umbrella group of sportsmen associations that strongly supports private property rights.
For some, 'a dangerous animal'
"It's an assault on rural America to say, 'Don't let your kids outside at night,"' Powell said. "It's got no place being here. It's a dangerous animal."
Ryan's close encounter with a wild animal took place last month in a hamlet inside Big Cypress National Preserve. Wildlife experts are not convinced she saw a Florida panther and say it may have been a bobcat. But the schoolteacher was shaken: "We don't need them here. This animal does not need to be protected anymore."
However, Elizabeth Fleming with Defenders of Wildlife said that people are the problem and that state and federal governments aren't doing enough to protect panther habitat from urban sprawl, in part because of a lack of money to acquire land. Federal funding for the Fish and Wildlife Service is expected to drop by 20 percent in 2008.
"It's death by a thousand cuts," she said. "The Endangered Species Act wasn't set up to stop development, but the panther has extremely large territorial requirements. If that area becomes suburbanized, it doesn't take much to see that there won't be any more panthers."
Darrell Land, lead panther biologist for the Florida Fish and Wildlife Conservation Commission, said that day is nearing fast.
"We've hit the slippery slope and we're closing in on the bottom," Land said. "We're all getting frustrated with congestion and high cost of housing, but we've got to achieve a balance. We simply cannot afford to take over every square foot of Florida and put a house on it."