Listening to a portable music player anytime, especially on a long flight, is one of the best reasons to own one of those devices. Unfortunately, the earphones you get when you buy a player usually sound horrible. They're sometimes called throw-aways — because that's what you should do with them.
Luckily, you can buy a set that sounds one billion percent better than those throw-aways.
These days you have many choices in almost every price range. Usually you get what you pay for (my favorites are Shure's E500PTH, which currently retail for $499).  But recently I found two units which score very high on my "bang-for-the-buck" scale.  They sound great and make terrific holiday gifts.
I never know who I'm going to meet when I get on an airplane. A while back I sat next to a gentleman who was listening to music on a set of noise-canceling headphones. Being naturally inquisitive I asked what they were. He told me they were JVC's and asked if I wanted to listen.  I did – and now I'm telling you about them. 
It turns out that the gentleman next to me was the boss at JVC's headphone division. It also turns out that he was right — the NC-100s sound very good. Then he really floored me by mentioning the price.
The NC-100's are over-the-ear stereo headphones with an active noise-canceling circuitry.  That means the headphones electronically create low-level sounds that mask ambient noise from interfering with the music. Ambient noise can be anything from the drone of airplane engines to road noise in a car to ventilation hum.  Electronic-noise canceling is a simple technique that works quite well.
The headphones themselves are cleverly designed. The cord can be reeled in to the left earphone enclosure and the active circuitry's single AAA battery hides in the right earphone. The headphones fold and collapse to fit into a nifty faux-leather pouch. And the NC-100s are super-lightweight: All told the headset (cord and battery) weighs only 7 ounces.
The NC-100s sound very good.  They really do reduce airplane background sounds — and the reduction circuitry is not as obtrusive as some of the first models that hit the market more than a decade ago. The headphones were comfortable  to wear and a pleasure to use for extended periods of time. And that says a lot.
The best part is the price. The JVC NC-100s retail for $79.95 and usually sell in the $40-60 price range. That's hundreds and hundreds less than similar headphones you see being sold in TV infomercials and at airport kiosks. Save your money and try the JVCs.
On the other hand (or ear) you should also consider the Stax SR001-Mk2 earspeakers. Stax calls their headphones earspeakers. A little bit of personal history here, too. I owned a pair of Stax headphones more than 30 years ago.  They were amazing back then, and in the decades that followed. But these days, you've gotta hear Stax's modern-day portables!
Stax earspeakers don't have little woofers and tweeters in each ear — they reproduce music with electrostatic drivers (just like my beloved Quad ESL-57 loudspeakers).  All Stax models have drivers made of stretched Mylar (a special plastic sheet) that are moved back and forth by high-voltage electrical force fields. The more elaborate (expensive) Stax earspeakers need to plug into specialized boxes which in turn plug into an AC outlet for power. These portable headphones are powered by a small controller box which runs on two AA batteries.
These Stax are open-back, "in-the-ear" earspeakers. They don't rest very far into the ear canal (like the Shures) but just enough for the silicone earbud to create a good seal from outside disturbances.  That means you might hear a little background noise while listening on an airplane but not enough to interfere with the music.
The earspeakers themselves can be used with or without the supplied headband. When attached to the headband — the SR001-Mk2's weigh 0.4 ounces. That is not a typo. These things weigh less than one-half of one ounce. There's a 5-foot long cable which attaches to the power unit — a ribbon of low-capacitance, oxygen-free copper wires.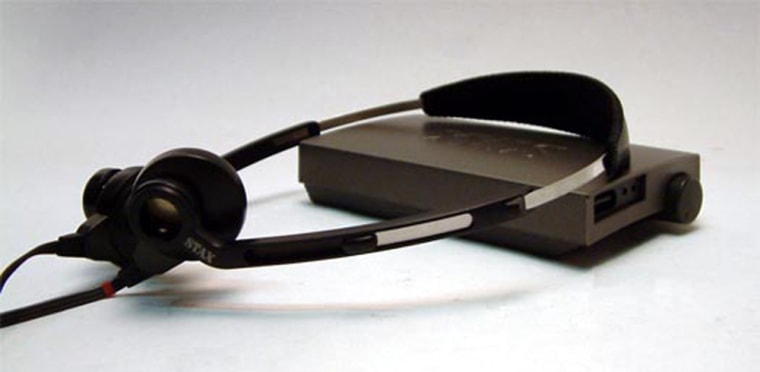 The Stax 001s don't come with batteries (the U.S. importer suggests high-capacity, rechargeable nickel-metal hydrides) or a cord to connect the battery power supply to your source (iPod, mp3, radio, CD, etc.)  I tried a cord from Radio Shack which was of average quality. After a quick search I found the best, shortest connecting cord available and the people at Cardas wire were kind enough to send me one to play with. It's a 6-inch Headphone Connect cable with a 1/8-inch mini jack on each end. It costs $14 and makes a huge difference in the sound quality.
Because the headphones plug into their power box (4.7 by 2.4 by 0.9 inches, 4.5 ounces) which plugs into your music device – this is not the most portable of designs.  But, that's the price you pay for near-perfection.  The 001-Mk2's are just plain fabulous.
The Stax SR001-Mk2 earspeakers are — to my ears — some of the best sounding headphones I've ever heard, regardless of price. When you feed it with a high-quality signal (from a CD, DAT or WAV file) the Stax respond by providing some of the best-sounding music I've ever experienced. However, the Stax can't compensate for the poor quality from heavily compressed file formats like MP3, AAC or Windows Media. Let's just say the deficiencies of these files will be all the more apparent on these high-quality earspeakers.
Although these portable Stax sound great they're not for everyone mainly because of their lesser degree of portability when compared to, say, the Shures. On the other hand, the Stax are something of a super high-end audio bargain. They have a suggested retail price of $325 and you can find them selling for around $300 when you shop online.