/ Source: The Associated Press
Yahoo Inc. is tackling its most difficult challenge since the dot-com bust with sweeping organizational changes aimed at cleaning up a mess of the Internet icon's own making.
The overhaul, announced Tuesday night, represents Yahoo's mea culpa for meandering aimlessly during the past year, to the chagrin of investors and the delight of competitors like Google Inc. that lured away online traffic and advertisers.
Yahoo has fallen out of favor on Wall Street largely because Google — the Internet's search leader — has done a far better job of figuring out which ads are most likely to elicit clicks. That action generates more profits for Google and its partners while keeping advertisers happy with a steady stream of prospective customers.
To compound its misery, Yahoo has been introducing a mishmash of products with no clear strategy on how they blend into the rest of the mix on its Web site. The scattershot approach appears to have aggravated and confused many consumers who are gravitating to new Internet hot spots such as News Corp.'s MySpace.com and YouTube, which Google just bought for $1.76 billion.
Sunnyvale-based Yahoo believes it can get back on track by consolidating its operations into three groups focused on its audience, advertising network and behind-the-scenes technology.
The shake-up will reshuffle top management, entrusting Chief Financial Officer Susan Decker to fix the problems bedeviling Yahoo's advertising system and opening a job for an executive who will be hired to guide efforts to make Yahoo's Web site more useful and relevant.
At least two top executives won't be part of Yahoo's new agenda.
Lloyd Braun, a former television executive hired two years ago to run Yahoo's media division in Southern California, has already left the company. Dan Rosensweig, Yahoo's chief operating officer since 2002, will step down in March once the reorganization is complete.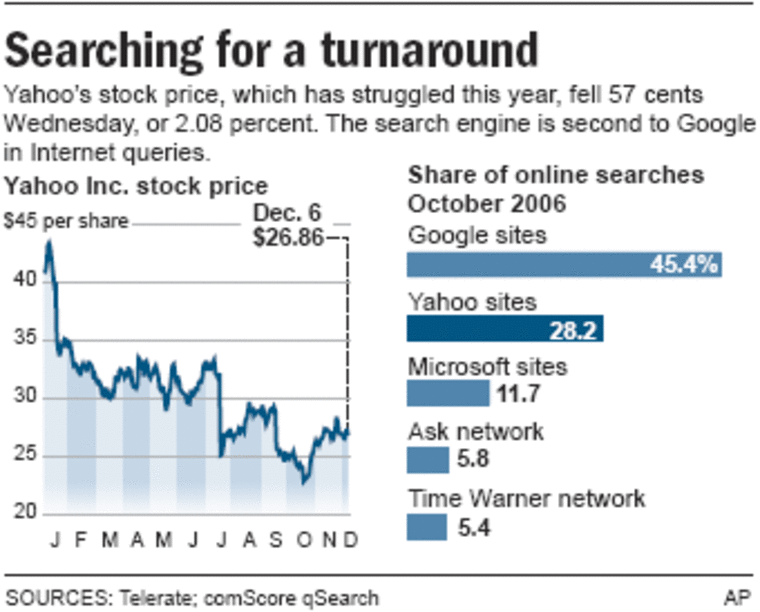 Yahoo Chairman Terry Semel remains chief executive, although his job security and legacy at the company may be riding on how well this makeover pans out.
Once revered on Wall Street for reviving Yahoo after the dot-com meltdown, Semel has come under fire this year amid slowing profit growth that has battered the company's stock price.
Semel's fix-it strategy didn't impress investors Wednesday. Yahoo shares fell 57 cents to close at $26.86 on the Nasdaq Stock Market. Yahoo's stock price has plunged by more than 30 percent so far this year, to wipe out nearly $20 billion in shareholder wealth.
The fallout might include pink slips for some of its 11,000 employees. Banc of America Securities analyst Brian Pitz predicted in a Wednesday research note that Yahoo will consider pruning its payrolls next year as part of an effort to boost its profits.
Standard & Poor's analyst Scott Kessler also thinks Yahoo might clean house in its media division now that Braun is gone. "You have to wonder about the long-term future there," Kessler said. "You could see some paring down there."
Yahoo spokeswoman Kelly Delaney declined to comment about the chances of future layoffs, but Semel downplayed the possibility in a statement posted on the company's Web site. "Let me stress that we're organizing the company for growth and are continuing to hire great talent," he wrote.
Brad Garlinghouse, a Yahoo senior vice president in charge of the company's communications products, made a case for 1,500 to 2,000 layoffs in a recent memo that was leaked to the media.
"For far too many employees, there is another person with dramatically similar and overlapping responsibilities," Garlinghouse wrote. "This slows us down and burdens the company with unnecessary costs."
That memo, which likened Yahoo's business recipe to peanut butter spread too thinly over toast, foreshadowed some of the actions taken in Tuesday's shake-up. But in his Web posting, Semel indicated that the reorganization began to take shape before Garlinghouse wrote his memo.
In an attempt to address it most pressing problem, Yahoo has been working on a series of improvements to its advertising formula. After promising to unveil the advertising change by the crucial holiday shopping season, Yahoo encountered unexpected hiccups that delayed any financial gains until next year.
Decker, a former Wall Street analyst who has been Yahoo's CFO for six years, is being entrusted to make sure the advertising upgrades pay off. The decision to put her in such a crucial job makes her a prime candidate to succeed the 63-year-old Semel.
"It's obvious Sue Decker is now the heir apparent," Kessler said. "I think (the board) may want to see how she does in an operational capacity before letting her move in as CEO."
Decker will be up to the challenges ahead, predicted Rob Solomon, a former Yahoo executive who left the company nearly a year ago to become CEO of SideStep, a Silicon Valley search engine focused on travel. "Sue Decker is brilliant, always the smartest person in whatever room she walks into," Solomon said.
Semel may have held on to his job for now because a change-in-command during the final weeks of the holiday shopping season probably would have rattled investors already antsy about the forthcoming improvements to the advertising model, Kessler said.
A former movie executive, Semel still has a residual of goodwill for lifting Yahoo out of the dot-com doldrums after he joined the company in May 2001.
Back then, Yahoo was floundering along with just about every other company whose business relied on the Internet. Semel turned things around in a traumatic reorganization that eliminated hundreds of jobs before engineering a series of key acquisitions that paid off as advertisers shifted more spending to the Internet.
This time, though, Yahoo's troubles seem to be largely self-inflicted, raising questions whether the company needs new blood to heal the wounds.