/ Source: The Associated Press
The toll in one of the U.S. military's deadliest days in Iraq rose to 11 when the military said Thursday that another soldier had died in fighting west of Baghdad.
At least seven Iraqis — six policemen and a 7-year-old girl — were killed in a series of bombings and shootings.
The U.S. soldier was shot Wednesday while manning a machine gun nest on the roof of an outpost in Ramadi, 70 miles west of Baghdad, the capital of the volatile Anbar province, according to an Associated Press reporter on the scene.
The death came on the same day that 10 other U.S. troops were killed in four separate incidents in Iraq, and a blue-ribbon panel in Washington recommended gradually shifting U.S. forces from a combat to a training role.
The military released details about five of the other troops killed on Wednesday, saying they were Task Force Lightning soldiers who were struck by a roadside bomb while conducting combat operations in the vicinity of the northern city of Kirkuk. The soldiers were assigned to 3rd Brigade Combat Team, 25th Infantry Division.
The U.S. military gave no further details about identities or the other deaths, pending notification of relatives.
Rising U.S. toll
The attacks followed a particularly bloody weekend and raised to at least 31 the number of U.S. troops who have died in the first week of this month. At least 69 troops were killed in November and 105 soldiers were killed in October — the highest monthly toll since January 2005.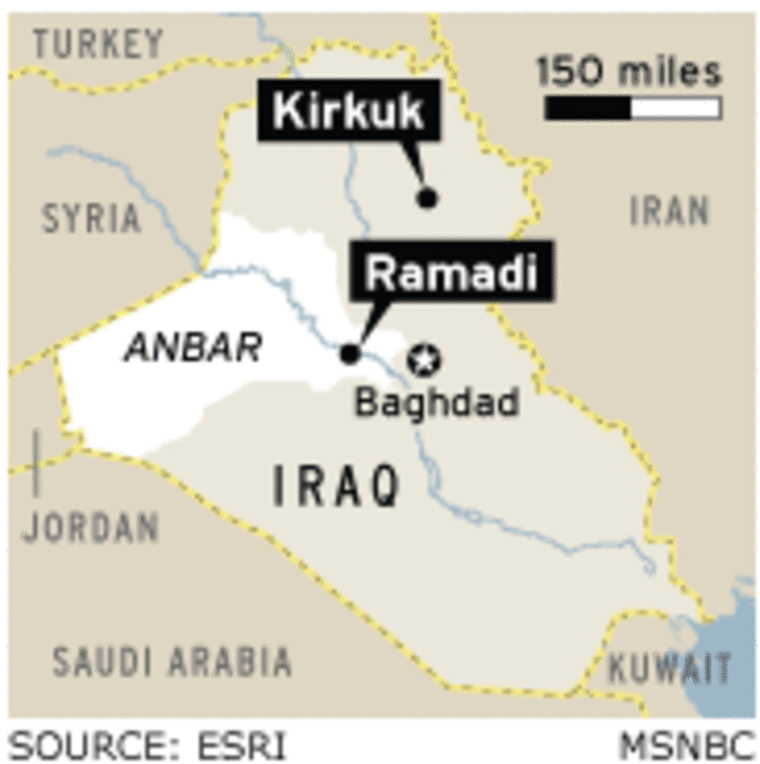 "Our thoughts are with all 11 families who lost family members yesterday. Taking care of them right now is the military's highest priority," U.S. spokesman Lt. Col. Christopher Garver said. The last time 11 Americans were killed in one day was Oct. 17.
At least 2,919 service members have been killed since the war started in 2003, according to an AP count.
At least 75 people were killed or found dead across Iraq on Wednesday, including 48 whose bullet-riddled bodies were found in different parts of the capital.
Sunni headmaster
Gunmen also broke into a school in western Baghdad, killing its Sunni headmaster in his office, then instructing teachers not to return, an Iraqi army officer said, speaking to The Associated Press on condition of anonymity due to security concerns.
Prime Minister Nouri al-Maliki on Tuesday urged university professors and students to ignore a Sunni Arab insurgent group's warnings to avoid class, calling them "desperate attempts."
The group had sent e-mails to students and posted signs at schools and mosques saying students should stay away while it cleanses the campuses of Shiite death squads, according to a statement from al-Maliki's office late Tuesday.
The Iraqi government said the U.S. Iraq Study Group's report recommending a change of course in Iraq did "not come as a surprise," and it agreed that Iraq must take the lead in its own security.
"The situation is grave, very grave in fact, and cannot be tolerated," Deputy Prime Minister Barham Saleh said on the pan-Arab satellite TV channel Al-Arabiya. "Absolute dependence on foreign troops is not possible. The focus must be on boosting the Iraqi security forces."
Iraqis greet report with skepticism
Regular Iraqis on the streets of Baghdad greeted the Iraq Study Group report with widespread skepticism.
"This report is no different than others we have received from national unity conferences or regional conferences in the last three years, ones that came up with nice words that had no effect," said Khalid Abdel-Rahim, 42, a Sunni Arab employee of Iraq's Industry Ministry.
The U.S. report warned "the situation in Iraq is grave and deteriorating."
It recommended the United States reduce political, military or economic support for Iraq if the government in Baghdad cannot make substantial progress toward providing for its own security.
On the highly emotional issue of troop withdrawals, the commission warned against either a precipitous pullback or an open-ended commitment to a large deployment.
"Military priorities must change," the report said, toward a goal of training, equipping and advising Iraqi forces. "We should seek to complete the training and equipping mission by the end of the first quarter of 2008."
Saleh said the government agreed with the broad recommendations of the panel but acknowledged "there may be some details on which we differ." He did not elaborate.