/ Source: The Associated Press
A month after distribution began, the over-the-counter version of the morning-after pill is now available at pharmacies nationwide. Planned Parenthood celebrated Wednesday with a free giveaway of the emergency contraceptive, while critics insisted that Plan B's accessibility will soon be a cause for regret.
Plan B was the focus of bitter debate for years before the Food and Drug Administration, after repeated delays, declared in August that customers 18 and older should be able to buy it in pharmacies without a prescription.
The manufacturer, Barr Pharmaceuticals Inc., then needed to develop new packaging for the over-the-counter version; it announced the start of national distribution on Nov. 6.
Plan B, a high dose of a drug found in many regular birth-control pills, can lower the risk of pregnancy by up to 89 percent if taken within 72 hours of unprotected sex. Girls 17 and younger still need a prescription to buy Plan B, though an older person — male or female — could buy it over the counter on a teenage girl's behalf.
Supporters of Plan B had sought over-the-counter approval on the premise that wider availability would reduce the number of unplanned pregnancies and abortions.
Critics of the drug challenge those claims, arguing that Plan B instead will promote promiscuity and unsafe sex; they warn that men might coerce their underage sexual partners into using it. Some critics also consider the pill tantamount to abortion, although it differs from the abortion pill RU-486 and has no effect on women who are already pregnant.
Carol Cox, a Barr Pharmaceuticals spokeswoman, said the Plan B distribution went smoothly, but she would not specify how many pills were issued. She said the company does not expect detailed sales information until February.
The cost of a standard two-pill pack varies. Kate Horle, a Planned Parenthood official in Colorado, said prices there range from $30 at her organization's clinics to $61 at some supermarket-based pharmacies.
While some independent pharmacies are not stocking Plan B because of moral objections or perceived lack of demand, the pill is widely available. Major pharmacy chains such as CVS Corp., Rite-Aid Corp. and Walgreen Co. not only offer the pill throughout their networks, but also pledge to ensure that customers can buy Plan B onsite even if a given employee declines to provide service for reasons of conscience.
A CVS pharmacist who has qualms about selling Plan B must arrange for another employee to sell it, and the pharmacist must ensure that the customer "is served promptly and treated with respect," the company said.
Jackie Payne, government relations director for the Planned Parenthood Federation of America, said some pharmacy chains were less explicit in their commitments, but overall she was pleased by the industry's reception of over-the-counter Plan B.
"It's been a dramatic change in terms of access, of commitment to stock the pills and ensure that women receive service in the store without delay," she said.
Pill giveaway
On Wednesday, in celebration of Plan B's expanded availability, the pills were being given away free at more than 350 Planned Parenthood centers in 30 states.
Planned Parenthood's vice president for medical affairs, Dr. Vanessa Cullins, urged women to back up their regular birth control by keeping emergency contraception in their medicine cabinet "in case the condom breaks, you miss two or more birth control pills or have unprotected sex."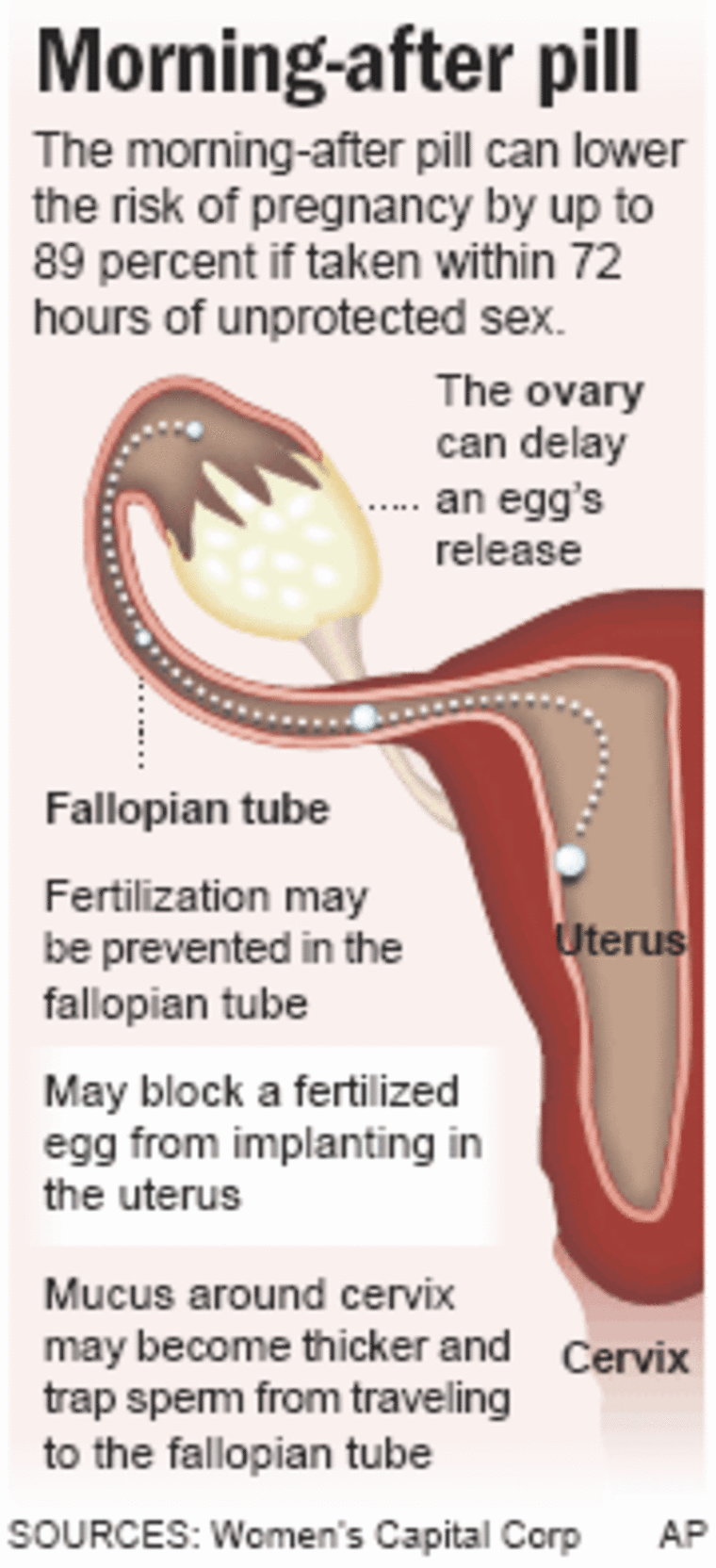 Planned Parenthood centers also sell the pill; as a clinic operator, the organization gets a discount from Barr that helps it undercut pharmacy prices.
The pill giveaway was denounced by some Planned Parenthood critics.
"They're using this to drive customers to their clinics and drive up their profits," said Jim Sedlak, vice president of the American Life League.
Dr. Joe DeCook of the American Association of Pro-Life Obstetricians and Gynecologists said he worries that sexually active women using Plan B will feel less need to see a physician, reducing the odds of early detection of sexually transmitted diseases.
DeCook pronounced Plan B's over-the-counter status a "done deal" that would be hard to reverse, but some other opponents said they would carry on the fight. They said future studies may cast doubt on the pill's merits, and they spoke of pushing legislation on the state level to curtail access to it.
"The battle is not over," said Wendy Wright, president of Concerned Women for America. "There are more things we can do and will be doing."
Already, four states — Arkansas, Georgia, Mississippi and South Dakota — specifically allow pharmacists to opt out of providing emergency contraceptives.
Because of the prescription requirement for younger buyers, Plan B is actually kept behind pharmacy counters — not on display. NARAL Pro-Choice America is one of several groups working to broaden awareness of it.
"We're not seeing many TV ads for it, like you see for Viagra," said NARAL's president, Nancy Keenan. "Folks have to know it's there."