Thinking about giving the gift of fitness this year? There are plenty of healthful options at a range of price points.
Before you buy, though, just a word of caution: Make sure you don't send the wrong message with your gift, however well-intentioned. If it's your opinion that this person needs to start exercising, and your gift is a way of nudging him or her, well, bah humbug to you!
On the other hand, if this person actually exercises (and you've witnessed it) or you have talked with this person about his or her genuine intentions to start exercising in the new year, OK, start shopping. Here are some ideas:
Running coach
Tech-loving runners will likely enjoy this latest fitness gadget, the Nike + iPod running system, which allows users to transfer data on distance, time, pace and calories burned from specially equipped Nike sneakers to their iPod nano.
The shoes, which run about $100 or so at nike.com, have a special flap in the sole for a wireless sensor that transmits data to a receiver that's inserted into the iPod. During a run or walk, users can see that information on their iPod or they can opt to hear periodic feedback through their earbuds, along with their favorite tunes, of course.
The sensor and receiver must be purchased separately from the shoes, in the Nike + iPod Sport Kit, which sells for $29 at nike.com or apple.com. The Sport Kit also allows users to choose among specially programmed workouts.
Back at home, users can connect their nano to a computer and track their results over time at nikeplus.com.
Unless you're a really big spender, you'd probably want to give this gift only to people who already own the nano, which costs an additional $149 to $249.
Yoga with an attitude
What do you get the yogini who has everything? How about a sassy new mat?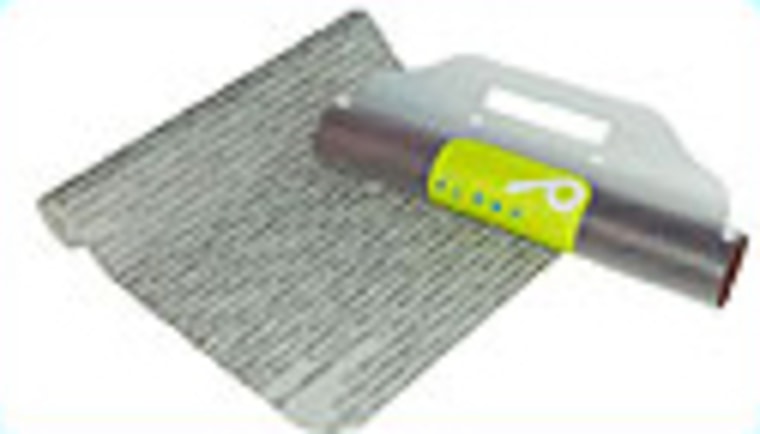 Plank Designs has a "text series" that makes a bold statement. The "me" mat, pictured left, has the words "me, me, me, me" repeated over and over again from the top of the mat to the bottom. You can also choose from the "bling" or "chocolate" mats, all of which sell for $65 at plankdesigns.com.
The company also has a "photo series" with one mat that features a giant photo of a wooden plank with a seashell at the bottom and another of dark shag carpet with two hand prints. Bizarre, indeed. Both sell for $125 and are sure to help the recipient strike a pose.
Making a game of it
Game lovers might find inspiration in "The Fitness Challenge," a board game aimed at helping people to shape up.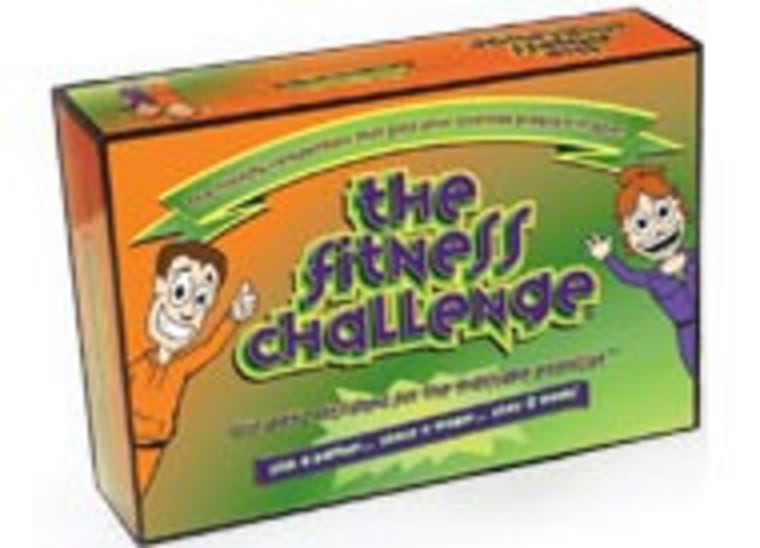 The concept is that two people challenge each other to exercise at least three days a week for eight weeks. Players keep a scorecard and if they hold up their end of the bargain are rewarded with "star points" as well as coupons for enjoyable things such as dinner out (on the other player's dime). If they fail, they take a penalty in the form of a coupon with instructions to perform a task for the other player, such as washing that person's car or mowing their lawn (no mercy in this game!).
It's a fun idea that may motivate some people to stick to their fitness resolution this year. The game, which sells for $29.95, loses a few points with us though because to get your star, you have to exercise for 20 to 60 minutes continuously, depending on your fitness level and the intensity of the exercise. Breaking up the exercise into two separate bouts of activity during the day doesn't count, even though health experts say, in fact, it does.
Of course, if you just want to buddy up with a partner for exercise, you don't need a board game to do it. You could simply offer to be a friend's workout partner in the new year. Write your intentions on a note, wrap it up with a bow and give that as your gift. Fitness pros say pairing up is a great way to keep a workout program on track.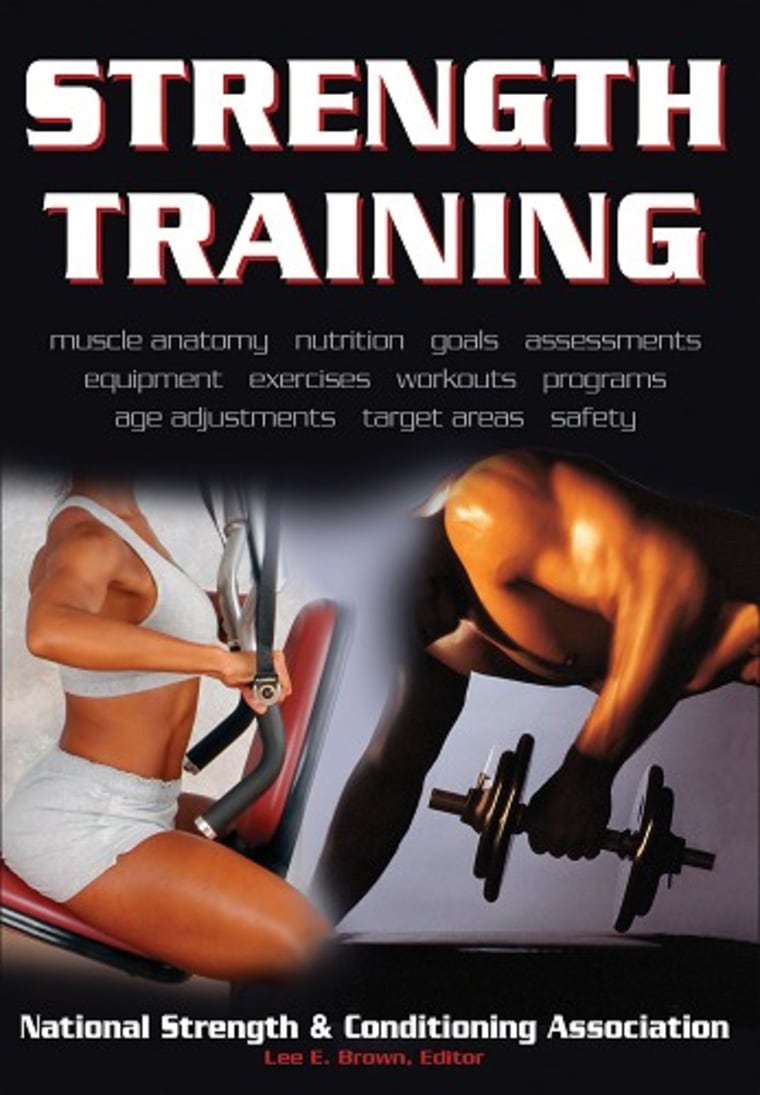 A book for the muscle-bound
...or those who aspire to bulk up — or just firm up.
The new book simply titled "Strength Training" is by the people who know how to do it best, members of the National Strength and Conditioning Association.
Edited by NSCA president Lee Brown, the book's contributing writers include more than a dozen other fitness authorities from across the country who discuss everything from proper technique to the specifics of sets and reps that will help you achieve your goals. Published by Human Kinetics, the book lists for $22.95.
Sports gift baskets
A fruit basket seems like a perennial good gift for a health nut. But it's not all that creative. Instead, how about a sports-themed basket?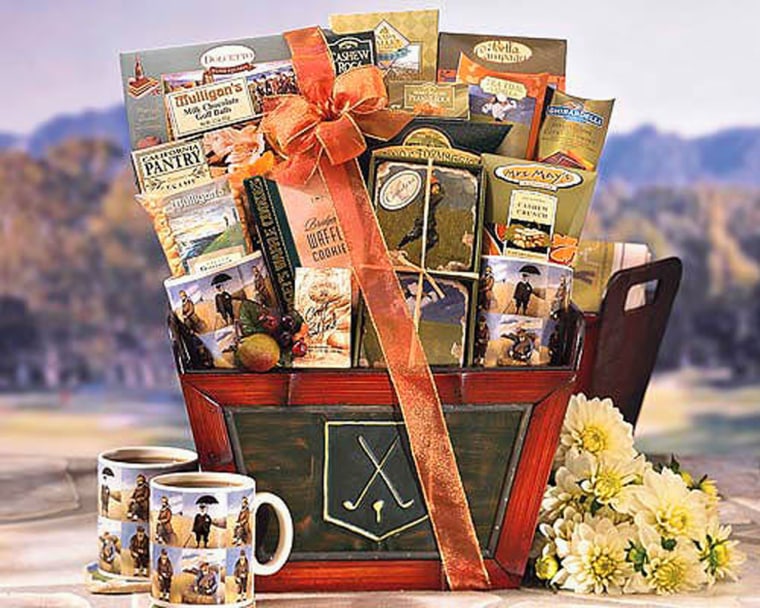 Wine Country Gift Baskets offers the "Hole in One," which — although all of the contents aren't exactly health food — would probably get a high-five from your favorite golfer. Packaged in a golf-themed magazine rack are pretzels, peanuts, crackers, cookies, toffee, coffee, tea, chocolate golf balls and two golfer coffee mugs, among other goodies. Available for $39.95 plus shipping.
The company also sells the "Gridiron Classic" for $29.95. With chocolates, cheeses and salami, it's more for coach potato football fans than participants. But it comes in a snazzy football tin.
Stocking stuffers and more
If you just can't find the perfect fitness gift, you could always stuff a stocking with a gift card. Outdoor enthusiasts surely could find some cool gear at REI or Dick's Sporting Goods.
Thinking about buying someone a gym membership? Make the offer but don't sign anyone up until you consult with them about which gyms appeal to them and are convenient to either their work or home. Plus, there will no doubt be specials running Jan. 1 that weren't available before the holidays, as gyms try to sign up all those people newly resolved to shape up in '07.
It's OK, however, to purchase someone a few sessions with a personal trainer since there's no long-term commitment involved.
You could opt to throw some trail mix and sports bars in a stocking. But come on, it's the holidays and even health nuts let loose once in awhile. Everyone but the most hard-core fitness buffs will be wondering why they didn't get chocolate Santas instead!
Smart Fitness appears every other Tuesday.