/ Source: msnbc.com staff and news service reports
Lost in the snowy wilderness and seeking help for his stranded family, James Kim probably traveled more than 10 miles on foot before he died, believing he could find a nearby town, authorities said Thursday.
An autopsy showed that he died of hypothermia. His body was found in a creek's shallow water, about a mile away from his family's car.
Dr. James Olson, a deputy state medical examiner, was unable to determine the exact time of death, said Lt. Gregg Hastings of the Oregon State Police.
But at a news conference, authorities tried to chronicle Kim's last days in the snowy wilderness.
Kim, 35, was a senior editor for the technology media company CNET Networks Inc. He and his family had been missing since Nov. 25. They were heading home to San Francisco after a family vacation in the Pacific Northwest when he, his wife and two young daughters became stranded on a remote mountain road.
Hastings said the family got stuck after they missed an interchange, and ended up going through Grant's Pass, an area the Oregon Department of Transportation does not recommend driving through during wintertime.
"They got lost, the weather started to turn bad. They stopped at a forked intersection and called it a night," Hastings said.
Used car for heat
In the first four days that they were stranded, Hastings said, the Kims "occasionally started up the car for heat" until they ran out of gas. They then used a spare tire to start a fire to try to attract attention and stay warm, he said.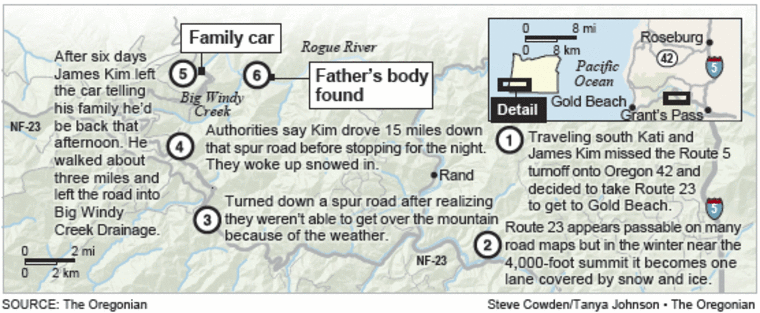 Last Saturday, Kim went for help at 7:46 in the morning, Hastings said.
"He built a fire for Kati (his wife) and the kids before he left on foot," he said. Kim told his wife he would be back by 1 p.m. the following day.
"James Kim did nothing wrong. He was trying to save his family," said Hastings. "He thought that if he could get to the river, he could make it to the town."
Kim thought the nearby town of Galice was only 4 miles away, although it was really 15 miles from where he was, Hastings said.
Kati Kim, 30, and her daughters, Penelope, 4, and Sabine, 7 months, were rescued Monday after waving an umbrella for helicopters to see, according to Hastings. She told officers that with only a few jars of baby food and limited supplies, she nursed both children.
The key to finding the family's car, police said, was a "ping" from one of the family's cell phones that helped narrow down their location.
After scouring the mountains of southern Oregon for days, a search helicopter hired by his family spotted Kim's body midday Wednesday. He was found fully clothed on his back in Big Windy Creek near the Rogue River, authorities said.
James Kim's body was found at the foot of the Big Windy Creek drainage, a half-mile from the Rogue River, where ground crews and helicopters had been searching for days.
Investigators believe he traveled about eight miles in total, and said there was no way he could have reached the car directly from where he was found.
Searchers said they believed Kim had shed clothing and arranged it to give searchers clues to his whereabouts. They had planned to drop rescue packages with clothing, emergency gear and provisions.
A tearful Josephine County Undersheriff Brian Anderson announced the discovery of Kim's body on Wednesday, his voice breaking at one point.
"He was very motivated," Anderson said. "We were having trouble in there. He traveled a long distance."