I really like Apple MacBook computers. What's not to like? They're beautiful to look at and wonderful to work on. They run on Apple OS X and also let you use Windows XP. They're well designed, fast and sleek. That's what I wrote six months ago, when I was lucky enough to get to test what was then a brand new black MacBook.
So when Apple asked me if I'd like to try their new MacBook model — this time with an Intel Core 2 processor and a built-in iSight video camera — I figured why not? The additions could only make for a better computing experience.
I was right.
Apple's MacBook is their most portable and least expensive laptop. It comes in three configurations: the 1.83GHz model (512 MB memory, 60 GB hard drive, $1,099), the 2.0GHz (1 GB memory, 80 GB drive, $1,299) and the top-of-the-line, 2.0 GHz (1 GB memory, 120 GB drive, $1,499). The two lower-end models are white, while the top-of-the-line MacBook is sleek and black.
All MacBooks ship with all sorts of bells and whistles inside, such as:
Intel GMA 950 graphics processor
13.3-inch (diagonal) TFT, 1280 by 800, widescreen display
One FireWire 400 port
Two USB 2.0 ports
Built-in stereo speakers
Built-in omni-directional microphone
Combined optical digital audio input/audio line in
Combined optical digital audio output/headphone out
Built-in 10/100/1000BASE-T (Gigabit) Ethernet
Built-in 54-Mbps AirPort Extreme Wi-Fi (802.11g)
Built-in Bluetooth 2.0+EDR
Apple Remote control
60W MagSafe Power Adapter
If you haven't yet experienced this MagSafe power adapter, you should give it a try. Unlike the horrible power jack and plug from every other laptop (including Apple's slightly older models) this one attaches at the computer end with a light magnetic touch. If, by accident someone happens to trip over the power cord, the MafSafe device gently unattaches itself. No more flying laptops, no more worrying about clumsy people who cause flying laptops.
The big change here is the new, faster Core 2 processor.  I thought the older MacBook was a speed demon compared to other laptops I've owned and tested, but Apple clams these new babies are up to 25 percent faster than the previous-generation MacBook.
My personal laptop speedometer is out for repair, but I can tell you that in my informal testing (that means using the MacBook a lot) I found it to be really fast. I don't know the exact percentage of improvement but it loads Web pages, opens files and crunches Excel files really quickly. When running Windows, the new MacBook puts my current Win XP hardware favorite to shame.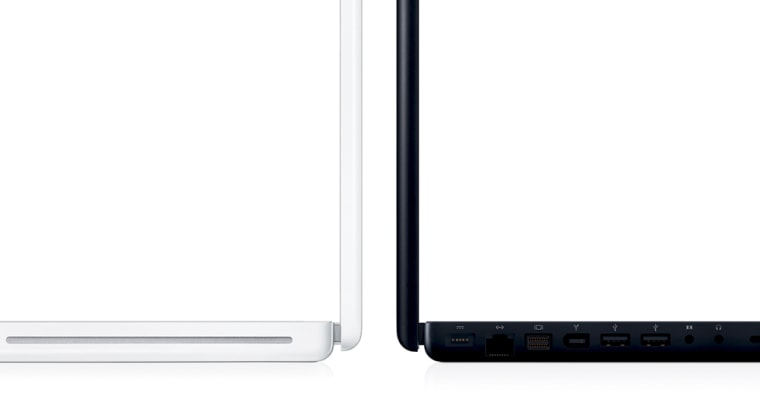 If you're into being seen on the Internet then the addition of the iSight camera (just above the screen) will be a good thing. And if you use your MacBook on plane flights, the optional MagSafe Airline Adapter ($59) is another worthwhile addition. On a recent overseas flight, I never ran out of power.
As for running Windows, with the proper software from Apple (BootCamp Beta), a fresh copy of Windows XP Service Pack 2 and an hour for installation, you can use your MacBook as a dual-boot computer. Both operating systems run perfectly on new Macs. There are other software solutions (not from Apple) which allow you to run both OSes at the same time.
Installing Windows Vista on a Mac is another story. Apple doesn't say on their Web site when they might support Microsoft's forthcoming operating system. Stay tuned.
Overall, I found that the new MacBook is just like the old MacBook — only better.  It seems faster and has some new bells and whistles — all for the same price.  Back then, I said I could heartily recommend it to anyone who needs a modern, new portable. Nothing has changed.