/ Source: The Associated Press
Down to our last match, we lit nine candles and unveiled the final batch of gifts and chocolate coins. The alarm already set for 5:30 a.m., we planned to watch the flickering menorah for a few moments before tucking in the kiddies.
Then the smoke alarm went off.
Hanukkah in Honduras. In a series of hotels, in a restaurant on the beach. Next to a pool festooned with Christmas lights. Sometimes a challenge, always a nice way to end a day of vacation.
The eight days of Hanukkah conveniently coincided with Christmas vacation last year, so we were able to spend the entire holiday in Honduras. In addition to swimsuits and bug repellant, we loaded our bags with presents and a box of candles.
Luckily, our daughters are young. Talia had just turned 6 at the time, and Daniela was 3. So they were happy with hair clips and crayons as presents. The iPods and cell phone accessories can wait for later.
We usually search for holiday spots off the beaten path. Vacation packages are not our style — and neither are fancy hotels. We fell in love with the Honduran island of Roatan on the Internet, and built the vacation around that.
Getting to Roatan took some work. There is nonstop service on certain days from Miami, Atlanta, Houston and Newark, N.J.; but the best deal we found last year was taking TACA airlines to San Pedro Sula, with a long stopover in San Salvador. We left for San Salvador on the morning after Christmas, spending our eight-hour layover at the sparkling Atlantis water park just outside El Savador's capital. We arrived in San Pedro Sula at night.
Early the next morning, we took a pair of puddle jumpers (the on-board safety cards were in Russian) to La Ceiba and then Roatan. A taxi took us to the western tip of the island, to the Luna Beach Resort. The last part of the drive was on a pockmarked dirt road through town, then onto the beach. The cab had to stop short of the hotel because high tide had swallowed up the beach path.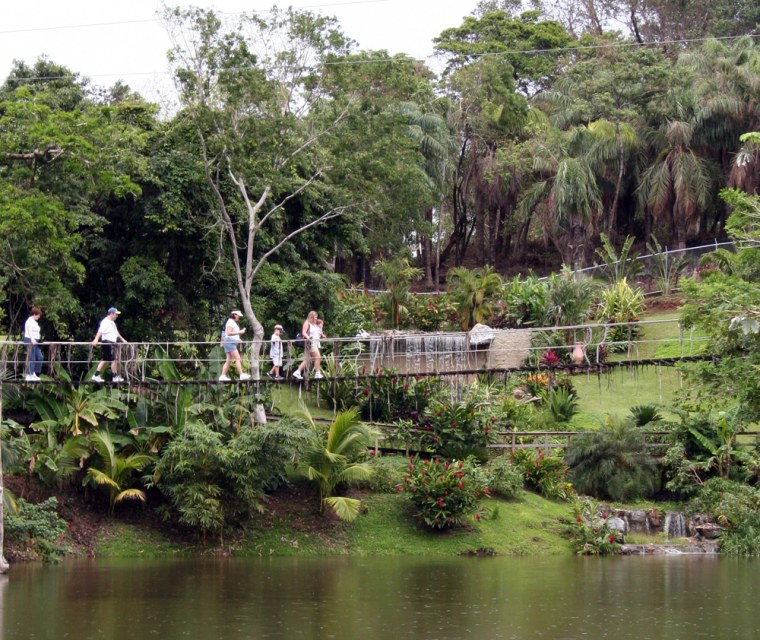 After an afternoon on the beach and in the shallow Caribbean water, we strolled about a half-mile into West End town for groceries and had a picnic dinner on the deck at our hotel. Then we went to our bungalow and lit the Hanukkah candles next to the bathroom sink. We sang a few songs, played with a dreidel and ate some cookies.
The next day we braved an onslaught of cruise ship day-trippers and took a tour in a glass-bottom boat. We bought groceries and bargained with a street vendor for some ripe melons, then tortured the macaws and other caged birds at the Luna Beach Resort by having a picnic of fresh tortillas, cheese, avocado and melon right under their beaks.
For dinner, we walked about 100 yards up the beach to The Lobster Pot, which consists of plastic tables and chairs sitting in the sandy backyard of Maud and Lorna Watler. Maud does the cooking and her daughter is the waitress. The food is great — we had chicken, kingfish, conch fritters and coconut shrimp. We ignored the crab crawling past our table.
Make sure you bring a flashlight for the walk home, or you might stroll into the Caribbean.
Our third day on Roatan was spent mostly at the just-opened Gumbalimba state park, where monkeys and macaws sit on your shoulder. There's also a pirate cave that featured doubloons. In keeping with the holiday spirit, Daniela asked innocently if the gold loot was Hanukkah gelt.
We had dinner by the pool at the Luna Beach Resort, lighting our menorah right next to a tree decorated with Christmas lights. The bartender asked if we were celebrating a birthday.
Breakfast the following day included excellent banana pancakes and a mocha smoothie at Rudy's, which would fit well in Key West, Fla. Most people in Roatan speak English, so it's not quite as exotic as you'd expect from a sliver of land off the Honduran coast. The day was spent on the beach and we returned to The Lobster Pot at night for chicken, tuna and a memorable slice of lemon pie. We brought the menorah to dinner, but a strong wind prevented us from lighting it.
On Dec. 31, we flew back to San Pedro Sula and hung out at a street market watching row after row of vendors make tortillas. We ate meat pies and began a long van ride to Copan, where we got a guided tour of the fascinating Mayan ruins. After dinner, we walked through crowds of firecracker-laden New Year's Eve revelers.
We lit the menorah in our comfy room at the Marina Hotel and put the kiddies to sleep. My wife and I shared a wine spritzer and danced in the hallway while a band played poolside. Those wild and crazy American tourists!
The new year began with a visit to Macaw Mountain and its dazzling array of tropical birds and butterflies. Then we hung out in the Copan town square, cooling off with homemade ice cream from a street vendor, before being taken by van back to San Pedro Sula — where we set off the smoke alarm at the Microtel.
The last day of our trip was supposed to include an early flight to San Salvador, a long stopover during which we planned to find a beach, and an evening flight back to New York. But we didn't realize that the radio station to which our alarm was tuned didn't go on the air until 6 a.m., so we woke up late and missed our flight.
We rented a car and headed toward the coast, taking a cratered dirt road to nearly empty Ensenada beach and its gentle waves. The bonus day in the sun was great, but then it was back to reality — a late-night direct flight to JFK that meant we didn't get into bed until 4 a.m. A few hours later, Talia was back in first grade showing off her tan.