/ Source: NBC News and news services
A Muslim convert who talked about his desire to wage jihad against civilians was charged Friday in a plot to set off hand grenades at a shopping mall during the Christmas rush, authorities said.
Investigators said Derrick Shareef, 22, was acting alone and never actually obtained any grenades.
"He fixed on a day of December 22nd on Friday ... because it was the Friday before Christmas and thought that would be the highest concentration of shoppers that he could kill and injure," said Robert Grant, the agent in charge of the Chicago FBI office.
Shareef, of Rockford, was arrested when he met with an undercover agent in a parking lot to trade a set of stereo speakers for four hand grenades and a handgun.
Shareef had no accomplices and was not part of a terrorist cell, sources told NBC News.
Officials said Shareef had been under investigation since September, when he told an acquaintance that "he wanted to commit acts of violent jihad against targets in the United States as well as commit other crimes."
The acquaintance immediately informed the FBI, officials said.
Federal officials said Shareef planned to set off four hand grenades in garbage cans at the CherryVale Mall in Rockford, about 90 miles northwest of Chicago.
He was charged with one count of attempting to damage or destroy a building by fire or explosion and one count of attempting to use a weapon of mass destruction.
"While these are very serious charges, at no time was the public in any imminent peril," U.S. Attorney Patrick J. Fitzgerald said in a news release.
Other possible targets
Other potential targets that Shareef allegedly discussed included government facilities such as courthouses and city hall, authorities said.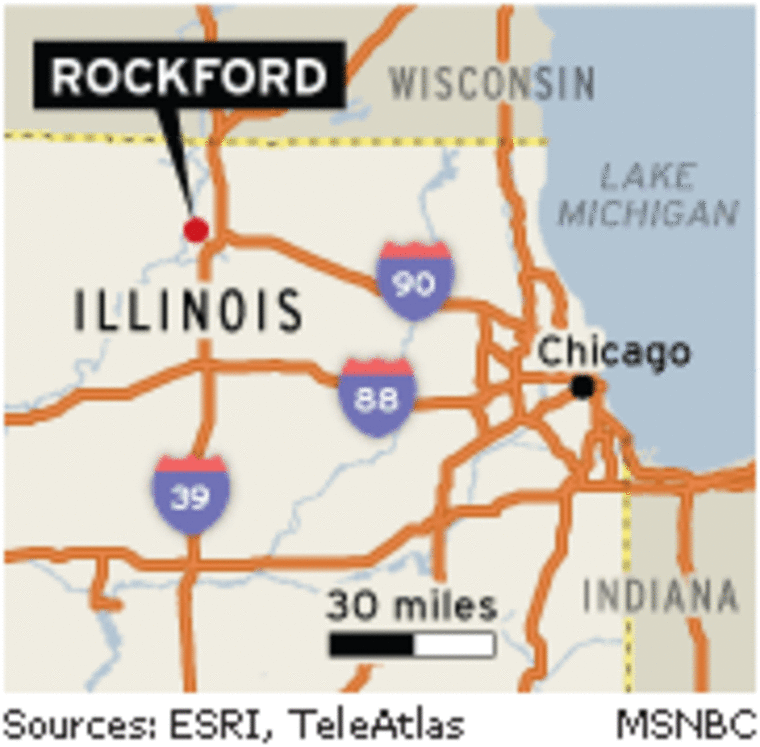 Shareef and his acquaintance cased the CherryVale Mall on Nov. 30, discussing the layout and spots where they might set off several grenades simultaneously to create more pandemonium, according to an FBI affidavit.
A spokeswoman for CherryVale Mall said officials there are cooperating with the investigation but referred all other questions to the U.S. attorney's office.