/ Source: Forbes Traveler.com
The Draw
• Picturesque beyond postcard-perfect, the Greek Isles are a dream of deep blues and brilliant whites.
• Spectacular hotels with drop-dead gorgeous views, but also plenty of hidden coves and bays to invent your own paradise.
• The perfection of a Mediterranean climate—warm enough to swim all summer, with cool, crisp and sunny days all winter.
The Scene
Idyllic almost to the point of being clichéd, the beauty of the Greek Isles leaves nothing to be desired. It's all there in the lushness of color, narrow cobblestone streets, whitewashed churches and beachside tavernas. Hip backpackers mingle effortlessly with sophisticated travelers, as well as Athenians escaping the sticky heat of their city. The more glitzy islands (Mykonos, Santorini, Corfu) boast pulsing nightlife scenes and are impossibly crowded in July and August. Skyros, Folegandros and Sifnos are more laid-back, with higher local populations.
To Be Seen
• Delos. Spend a day discovering one of Greece's richest archaeological sites, a tiny island open only to day-trippers. The birthplace of Apollo, Delos was the most sacred place in ancient Greece and is the geographical center of the Cyclades.
• Hiking for hours (or hiring a small motorboat) to find your own secluded bay or cove for a day of private sunbathing.
• Akrotiri. On Santorini, marvel at the remains of this Minoan city dating back to 3,000 B.C. Akrotiri is rumored to be the lost city of Atlantis.
For the VIP
• Forget ferries or other modes of public transport, and charter your own sailboat or yacht crewed with skipper, chef and butler. Create your own itinerary of island hopping around the Greek Isles.
• Rent a spectacular luxury villa fully staffed, and you don't have to worry about the crowds. Most villas come with private pools and panoramic views.
• Opt for the honeymoon suites at any of the luxurious hotels on the islands, and you'll buy yourself privacy and space. At the divine Astra Hotel on Santorini, the honeymoon suites come with their own plunge pools.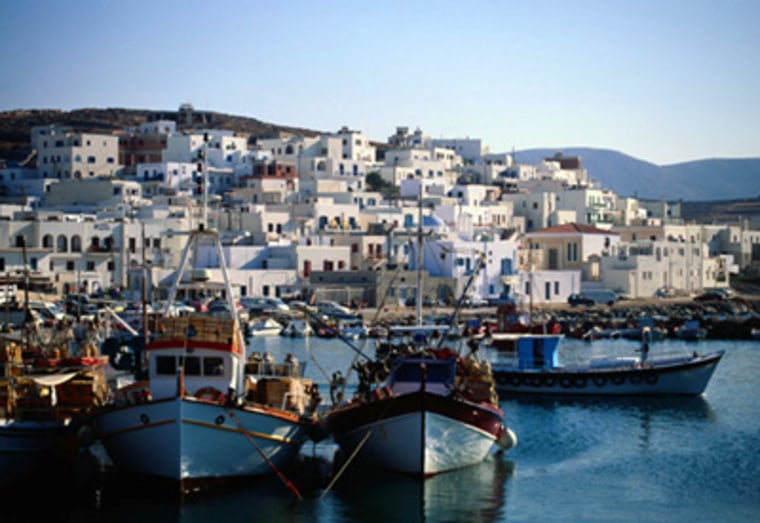 Underrated
The islands in winter. Though it's too cold to swim, the crisp, sunny days are brilliant, and there are no tourists anywhere to be found. Santorini is especially beautiful off-season when all that remains are a few expatriate artists and the locals.
Don't Miss
A glass of local ouzo and a village salad at any taverna on a sandy beach, followed by a sunset swim.
When to Go
May, June and September are the best months, when the weather is ideal and crowds are thin.