/ Source: Forbes Traveler.com
The Draw
• Much more than a pretty beach; a vibrant world of Hindu dance, music and culture
• Take your pick: beach bacchanalia, hilltop Zen, rice-terrace romance
• Twice is nice -- two Aman resorts to choose between (Amandari, Amankila), as well as two Four Seasons (Jimbaran Bay and Sayan)
The Scene
Mass tourism came to Bali in the early 1930s, when roughly a hundred tourists a month came storming through the island. The island now receives thousands of arrivals a day. Yet the bombings of 2002 and 2005 have certainly taken their toll. The tourism industry is still recovering, and the Indonesian government has vowed stricter security measures. Both the Australian and the U.S. state departments have issued travel advisories. But the Balinese people, and their beautiful home, will weather the storm.
To Be Seen
• Ubud. The island's legendary hilltop seat of culture and learning is certainly no stranger to tourism development, but it's still a mandatory visit. Verdant rice terraces cascade around bustling markets, Hindu shrines and luxury bungalows.
• Pura Besakih. If you're going to visit one temple in Bali, this is the one. The island's "mother temple," resting on the slopes of Mount Agung, is an idyllic complex of courtyards, shrines and sacred gardens.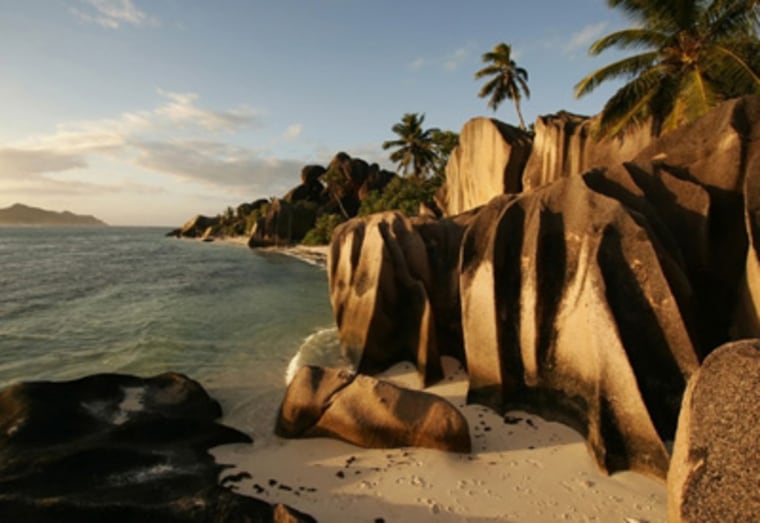 • Munduk Village. This small mountain village on the north side of the island is relatively undeveloped; a few cottages house visiting art students. Surrounded by wandering paths and waterfalls, Munduk offers a snapshot of traditional village life.
For The VIP
• The Spa at Amandari. Just outside of Ubud, this jewel in the crown of the Aman Resorts empire features an open-air spa overlooking the Ayung valley.
• Helicopter island tours. Bali Experience offers day trips to Lombok and surrounding islands that include champagne picnic lunches. Put in a special request and they'll also happily hover you over a volcano crater.
• Cooking school at the Four Seasons. The Jimbaran Bay resort features a poolside school that specializes in Balinese and Asian cuisine. Classes include trips to the local markets accompanied by master chefs.
Overrated
Kuta Beach. Bali's own Copacabana or Waikiki. Might be worth a visit to sample the nightlife, but the island has dozens of far more secluded and beautiful beaches. Try Jimbaran Bay, for starters.
Underrated
Eating at Warungs. Poolside lobster is nice, but you owe it to yourself to sample the local fare the local way -- at one of these small, informal restaurants or roadside stalls.
Don't Miss
The Cliffs of Uluwatu. Just south of Jimbaran Bay, steep bluffs overlook Bali's most famous surfing beach. Get to the temple at sunset to enjoy the views -- but be wary of mischievous monkeys.
When To Go
In Indonesia, there are only two seasons -- wet and dry. April through September is the dry season. The island's busiest months are July and August.