/ Source: Forbes Traveler.com
It used to be that over-the-top self-indulgence was reserved for royalty. Only the upper echelon of society was deemed worthy enough to be doused in fragrant oils, or soak in a bath sprinkled with rose petals as a bevy of servants massaged their noble troubles away.
But the times are changing. "Just as there are restaurants and hotels available at varying prices, there are also spa experiences for every price range," says Lynne Walker McNees, president of the International Spa Association (ISPA), who points out that 57 million adults in the U.S. have visited a spa in their lifetime.
Indeed, spas are becoming a mecca for the masses, with day spas, resort spas and even wannabe street spas springing up left and right — walk the sidewalks of New York City's Soho neighborhood, and you'll find eager vendors beckoning you to their massage chairs for a $10 neck rub.
But every yin has a yang, and for every $10 neck rub, there is a high-class spa. Posh locations, tantalizing treatments and highly trained therapists with magic hands can be found in divine destinations around the country. Spa-goers looking for an indulgent spa experience now have a host of decadent options to consider.
We consulted the experts to come up with a list of the 10 most decadent, luxurious spas on the continent.
For some, luxury is found in the details. The posh Cornelia Day Resort in New York City rules the Manhattan spa scene with its stellar European-style treatments and its elegant, unexpected extras. High-class touches include Italian linens, pure lambswool blankets imported from Scotland, butler and concierge service and imported china and glassware in a light-filled top-floor café.
"Our mission in creating Cornelia Day Resort is to redefine the day spa paradigm," says Ellen Sackoff, creative director. "By this, we mean that we strive to bring together five-star service typically enjoyed at the world's finest hotels."
Spa Eleven Casa Casuarina is equally impressive. Located in the former Versace Mansion in the heart of South Beach in Miami Beach, Fla., the shimmering spa oasis is a sophisticated sanctuary of mosaic tiles, luxe linens, lavish products and over-the-top spa services.
Other times, spectacular spa therapies are at the heart of a divine spa journey. Nestled in the verdant hills of Napa, sophisticated spa-goers enjoy the incomparable valley views and a menu chock-full of luscious local ingredients at Spa du Soleil. Splendid treatments using grapeseed oil, herbs and flowers, local organic olive oil and regional healing muds and minerals allow guests of the posh Auberge du Soleil resort to bask in the pleasures of the acclaimed wine region.
"The Auberge philosophy for creating a luxury spa experience revolves around the following five top criteria: attention to detail, understated but exemplary personal service, the ability to meet and exceed each guest's expectations, excellent body work by therapists who are leaders in the industry and a beautiful setting that is connected to nature and its natural surroundings," says Peggy Francis, spa director.
Still other spa-goers find supreme succor in European style hydrotherapy retreats. The new Qua Baths & Spa at Caesars Palace provides a Vegas-style redux of Ancient Rome with a sexy circuit of Roman baths. The elegant Spa Grande at the stylish Grand Wailea Resort and Spa in Maui, Hawaii, immerses clients in relaxation with its hour-long water therapy experience.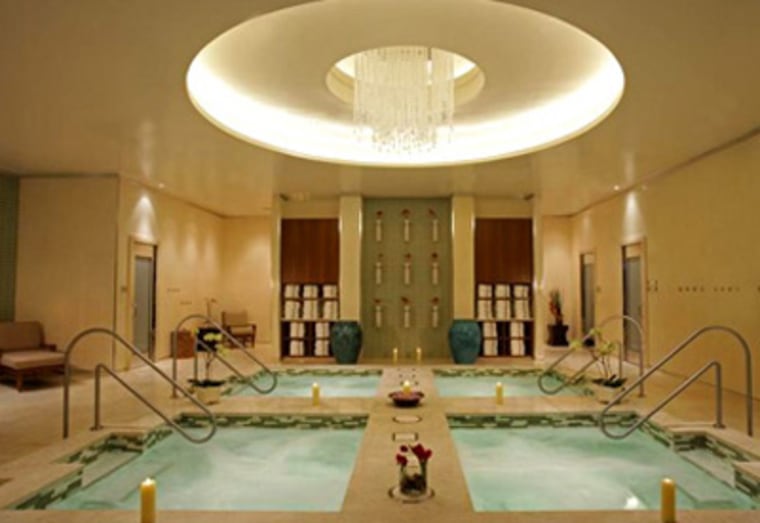 Meanwhile, the bathing rituals at The Spa at the Fairmont Sonoma Mission Inn in Sonoma, Calif., are a heavenly, hydrating experience. "A luxury spa will have an ambiance that is richly appointed and full of hydrotherapy offerings as a prelude to services," says David Erlich, regional director of spa operations for the Fairmont Sonoma Mission Inn.
Luxury doesn't come cheap, but for the most part, spa lovers are willing to pay the price. According to ISPA research, the typical spa-goer has a household income of $100,000 or higher with spa appetites that are becoming more voracious, which means the battle for the best will probably keep growing.
From coast to coast, spectacular spas are making magnificent strides in taking relaxation to the max. Take a gander at some of the most decadent, most divine spa hot spots in America and find out if you have what it takes to get the royal treatment.