/ Source: The Associated Press
The locked gates and barred windows that kept 45 women from escaping a fire early Saturday at a drug treatment center pointed to conditions now common in post-Soviet Russia's state-run institutions.
An official described a scene that hinted at horrific panic as patients struggled to escape the fire — Moscow's deadliest in decades.
"Judging by the placement of the bodies, they really tried to get out," said Deputy Emergency Situations Minister Alexander Chupriyan. He said all 45 victims — reportedly 43 patients and two staffers — were dead by the time firefighters arrived.
Inspectors who visited the hospital in February and March had recommended its temporary closure because of safety violations, said Russia's chief fire inspector Yuri Nenashev.
Experts say fire deaths have skyrocketed in Russia since the collapse of the Soviet Union, in part because a disregard for safety standards. Russia records about 18,000 fire deaths a year — roughly 10 times the rate in the United States.
The fire erupted in a wooden cabinet in a kitchen at one end of a second-floor corridor, officials said. The main exit was blocked by a locked gate that staff members could not open in time, and the only other way out was cut off by smoke, Nenashev said.
Windows couldn't be opened
The barred windows were shut with locks that hospital personnel, who had the keys, did not manage to open, said Maj. Gen. Viktor Klimkin, Moscow's top fire safety oversight official.
Patients blamed tight security measures — meant to keep patients in — for the high death toll. A psychologist at the hospital, Olga Rudakova, said security measures were severe because drug addiction was considered a psychiatric problem.
"There are bars on the windows, and when the fire broke out the lights went out and there was panic — they could not open them," she said.
Emergency response officials ordered all health facilities in Moscow inspected for fire safety compliance, Russian agencies reported.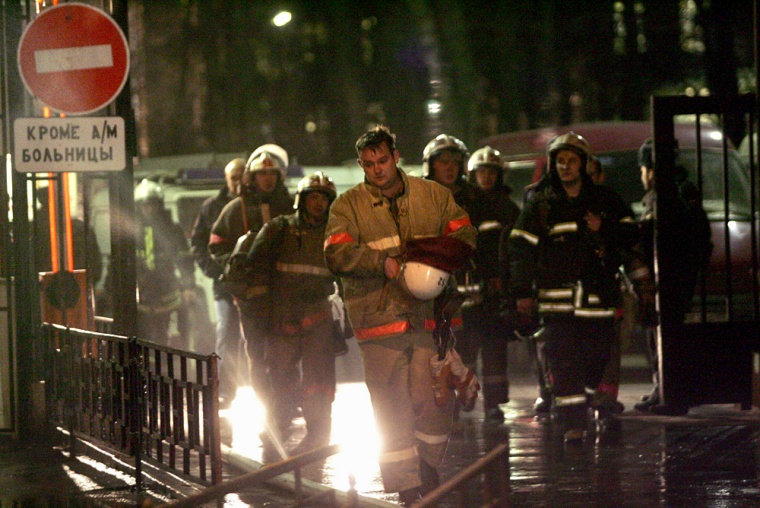 Televised footage showed ravaged, peeling corridor walls, and black ash covering beds and belongings in one room — a teacup and some buns. NTV showed an exhausted, soot-covered survivor sitting outside the building next to the sprawled figures of two women who appeared dead or unconscious.
The prosecutor's office said the fire was small, covering 270 square feet, and Moscow fire department spokesman Yevgeny Bobylyov said most victims had asphyxiated. Some died of burns, Moscow city prosecutor Yuri Syomin said.
Nenashev said he was "90 percent certain" the blaze was deliberately started. Mayor Yuri Luzhkov said it appeared to be arson or extremely careless handling of flammable materials. Syomin said investigators were looking into other possibilities, and that the fire might have started in a pile of discarded materials.
The Russian Prosecutor General's office said repair or refurbishing had been done in the kitchen the day before the fire, and Russian media suggested the blaze could have been caused by flammable substances used for the work.
Fire set by patient?
State-run Channel One television, without citing sources, said there was information the fire could have been set by a patient who was denied drugs while in withdrawal — a scenario that would draw blame away from hospital staff.
Bobylyov, the fire department spokesman, said that "hospital personnel worked very badly, they did not take steps to evacuate people in the early stages of the fire." He said firefighters put out the fire within an hour of the first call for help, but that the 1:30 a.m. call came very late after the fire.
Bobylyov said 160 people were evacuated from the five-story building, and the prosecutor's office said 12 people were hospitalized. A doctor at Moscow's main burn center said doctors were fighting to save the life of a woman with burns on 95 percent of her body.
NTV reported that the ward where the fire broke out had 50 patients, and only seven survived.
Relatives entered through the hospital's staff entrance, well away from reporters. One woman cried out in anguish. A man sobbed softly and wiped tears from his eyes, his head bowed close to the building's brick wall.
The RIA-Novosti news agency cited two patients as saying that security measures had contributed to the death toll. They noted that all wards at the hospital were locked at night. Those two patients left the hospital after the fire, vowing not to return.
Deadliest in decades
The fire was the deadliest in Moscow in decades. In 1977, a blaze at the massive Rossiya Hotel near the Kremlin — torn down this year — killed 42 people according to an official toll that some believe to be significantly higher.
In November 2003, a pre-dawn fire swept though a dormitory for foreign students who had been quarantined for medical checks, killing 43. Many were trapped behind permanently locked exits, causing some to leap from the five-story building.
An October 2005 fire at a home for the mentally ill outside the capital killed seven patients, and a fire in a Moscow city hospital the following month killed four.
In April 2003, a fire in a school for the deaf in the southern region of Dagestan killed 28 children. In the same week, 22 students burned to death in a wooden schoolhouse in Siberia.
Metal gates on a building's stairwells trapped the victims of a fire that killed nine people in January in the Pacific coast city of Vladivostok.