/ Source: msnbc.com news services
Gen. Augusto Pinochet, who terrorized his opponents for 17 years after taking power in a bloody coup, died Sunday, putting an end to a decade of intensifying efforts to bring him to trial for human rights abuses blamed on his regime. He was 91.
Supporters saw Pinochet as a Cold War hero for overthrowing democratically elected President Salvador Allende at a time when the U.S. was working to destabilize his Marxist government and keep Chile from exporting communism in Latin America.
But the world soon reacted in horror as Santiago's main soccer stadium filled with political prisoners to be tortured, shot, disappeared or forced into exile.
Pinochet's dictatorship laid the groundwork for South America's most stable economy, but his crackdown on dissent left a lasting legacy: His name has become a byword for the state terror, in many cases secretly supported by the United States, that retarded democratic change across the hemisphere.
Pinochet died with his family at his side at the Santiago Military Hospital on Sunday, a week after suffering a heart attack.
"This criminal has departed without ever being sentenced for all the acts he was responsible for during his dictatorship," lamented Hugo Gutierrez, a human rights lawyer involved in several lawsuits against Pinochet.
Hundreds of Pinochet supporters gathered outside the hospital, weeping and trading insults with people in passing cars. Some shouted "Long Live Pinochet!" and sang Chile's national anthem.
Street clashes in Santiago
Violent clashes broke out between police and Pinochet opponents who threw rocks at cars and set up fire barricades on the city's main avenue. Police used tear gas and water cannons to disperse the crowd. Authorities said there were a number of arrests, but no immediate reports of injuries.
Many Chileans saw Pinochet's death as reason for celebration. Hundreds of cheering, flag-waving people crowded a major plaza in the capital, drinking champagne and tossing confetti.
The White House on Sunday marked Pinochet's death by calling his rule a "difficult period" and commending the country for establishing a free society.
"Augusto Pinochet's dictatorship in Chile represented one of the most difficult periods in that nation's history," said White House spokesman Tony Fratto. "Our thoughts today are with the victims of his reign and their families. We commend the people of Chile for building a society based on freedom, the rule of law and respect for human rights."
Praised and damned
Pinochet dominated Chile and polarized it until the end of his life — the archetypal dictator reviled by most for his repressive rule but loved by some for his anti-communist crusade.
In his final years, Pinochet was feeble, politically irrelevant and facing charges related to the deaths of thousands of political rivals, but he still aroused strong passions in the country he ruled from 1973 to 1990.
As his lawyers fought off lawsuits filed by relatives of people killed by his secret police in the 1970s, his admirers sang his praises, crediting him for saving the country from Marxism and putting Chile on the road to economic strength.
But even ardent loyalists began to lose faith when it came out in 2004 that Pinochet had stashed millions of dollars in secret bank accounts that he never reported to tax authorities.
Pinochet came to power in a bloody 1973 military coup that ousted elected socialist President Salvador Allende and was encouraged by the United States.
During his regime more than 3,000 people died or disappeared due to political violence in Chile, which had enjoyed a long history of democratic rule.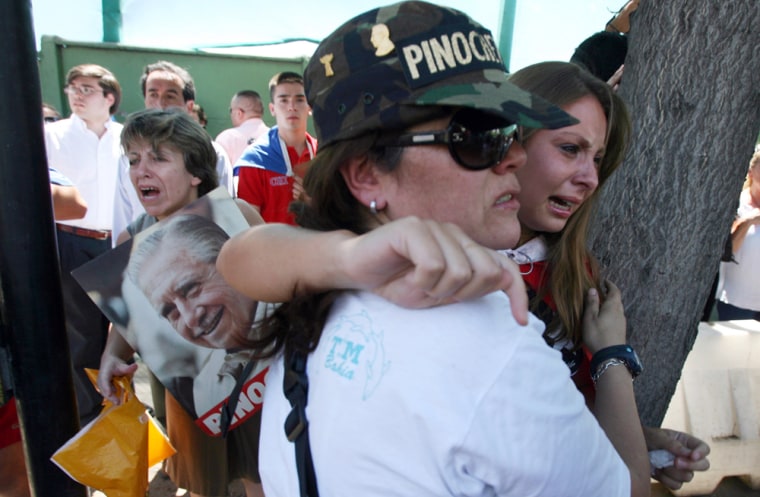 An estimated 200,000 people fled into exile to escape repression, persecution, torture, curfews and censorship, while Pinochet's secret police spearheaded Operation Condor, a coordinated effort by South America dictators to assassinate dissidents in each another's countries.
After surrendering the presidency, Pinochet served as head of the military and then a senator for life. But he grew politically irrelevant as right-wing politicians distanced themselves from their former role model in their search for centrist votes, and the military acknowledged human rights abuses even if it did not apologize for them.
'Tata' remained controversial
In his last years, the white-haired "tata" (grandpa) as his friends called him, stayed out of the public eye, but could not escape controversy. His reputation as a ruthless but corruption-free strongman crumbled in the bank accounts scandal.
At the time of his death, courts were probing whether the wealth was legitimate and going after the general for tax fraud.
Outsiders were often surprised to find that more than a third of Chileans loved the unrepentant patriarch and devout Roman Catholic, who in a rare 2003 television interview said he was a democrat and felt like an angel.
Supporters argue Pinochet put Chile on track to become Latin America's model economy. In the 1980s, he let U.S.-trained economists guide the economy, selling off state companies and cutting government spending, which ushered in a decade of expansion in the 1990s.
"It may take several future generations for people to understand my father and give him the place in history he deserves ... and recognize him as a great man who gave everything for his country," Pinochet's eldest son, also named Augusto, told Reuters in 2003.
Others say future generations will condemn the man who is said to have once boasted that not a leaf stirred in Chile without his knowing it.
"He will go down in history alongside Caligula and Idi Amin as a byword for brutality and ignorance," said Chilean novelist Isabel Allende, niece of Salvador Allende, who killed himself during the Sept. 11, 1973, coup that launched Pinochet's dictatorship.
Never answered in court
Pinochet became the most recognized of the Latin American dictators of the era, such as Nicaragua's Anastasio Somoza and Paraguay's Alfredo Stroessner.
In 1988, he finally bowed to domestic and international pressure and went ahead with a plebiscite he had written into the constitution.
Chileans voted him out of power and he ceded office in 1990 to a center-left government run by returned exiles. After a period as head of the military, he retired from the army in 1998 and took a lifetime seat in the Senate, a post he also put into the constitution.
Later that same year while in London for back surgery, Pinochet grabbed world headlines when Spanish Judge Baltasar Garzon issued an extradition warrant for him in hopes of trying him for crimes against humanity.
British police arrested Pinochet in a London clinic and held him under house arrest for 16 months until the British government released him on grounds of poor health.
Chile argued Pinochet should be tried at home. He returned in 2000 to face an avalanche of criminal suits.
Seclusion, declining health in later years
Since the mid-1990s, Pinochet led a mostly secluded life between his heavily guarded Santiago mansion and his countryside residence. He rarely appeared in public other than for checkups at the Santiago army hospital.
Associates said he lost interest in politics and rarely paid attention to news. During family gatherings he would remain mostly silent, looking frail and tired.
His health declined steadily. In 1992 he received a pacemaker. He suffered from diabetes and arthritis and had at least three mild strokes beginning in 1998.
He is survived by his wife, Lucia, who headed a volunteer women's organization dedicated to helping the poor, two sons and three daughters.