/ Source: The Associated Press
Militiamen on horseback ambushed a refugee convoy in Sudan's western Darfur region, killing some 30 civilians, the United Nations and aid workers said Sunday, and African Union peacekeepers called to investigate were briefly taken hostage by other refugees.
With violence in the region worsening, aid workers in El Geneina, the capital of West Darfur, and the U.N. said pro-government janjaweed militiamen ambushed a truck Saturday outside Sirba on a road near the border with Chad and executed about 30 civilians.
"Some of the passengers were shot by the attackers and others were burnt to death," a U.N. statement said.
The governor of West Darfur denied the attack was carried out by janjaweed, blaming anti-government rebels he claimed are seeking "to make citizens lose confidence in the African Union."
More than 200,000 people have been killed and 2.5 million have been forced from their homes since ethnic African rebels rose up against Sudan's Arab-dominated government in early 2003.
The regime in Khartoum is accused of responding by unleashing the janjaweed militias of Arab nomads, who have been blamed for most of the atrocities. Sudanese officials deny using the janjaweed and oppose replacing African Union peacekeepers with a joint mission of some 20,000 U.N. and African soldiers.
Restrictions on information
Information from Darfur, a vast region nearly the size of Texas, is increasingly hard to come by because the government has prohibited foreign journalists from traveling there and imposed tight restrictions on what aid workers are allowed to say.
But what little news emerges has become increasingly bleak.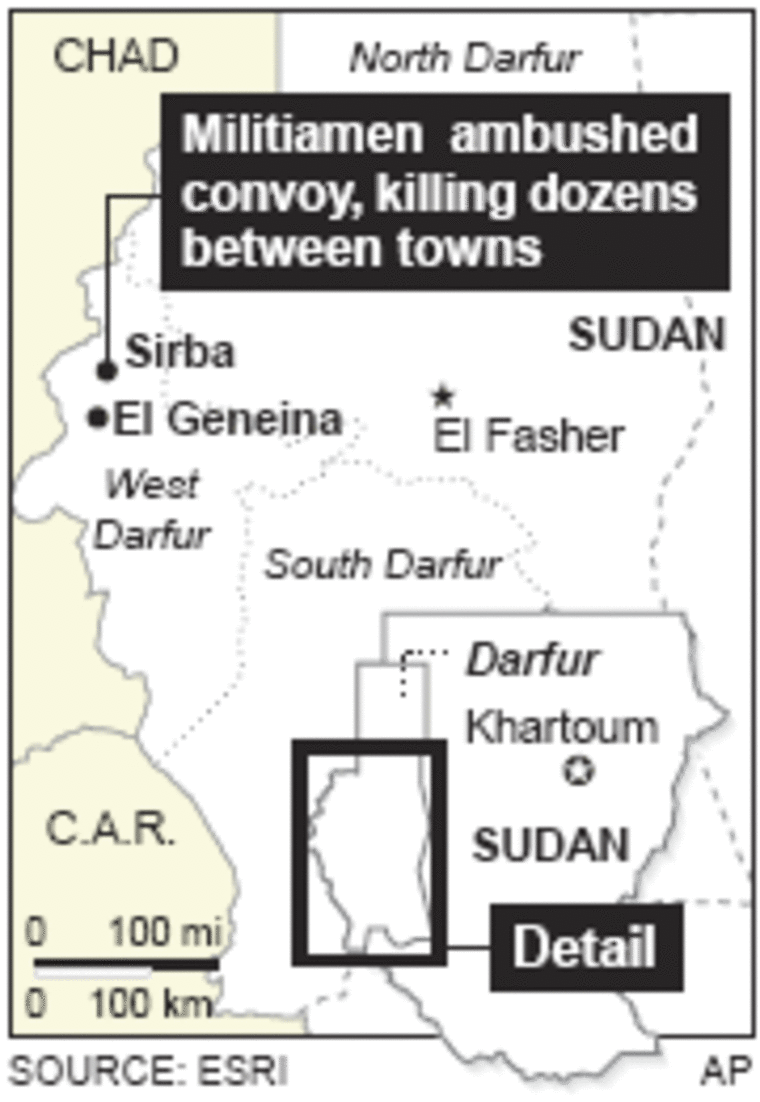 The spokesman for the 7,000-strong African Union force in Darfur, Noureddine Mezni, said a helicopter crew and team of AU peacekeepers sent Sunday to investigate the Sirba killings were detained for several hours by an angry mob of civilians before being released.
Several hundred peacekeepers also were reported attacked in their base in El Geneina.
Peacekeepers returned fire when they saw their attackers were armed with rocket-propelled grenades, an African Union soldier said. It was not clear who the assailants were, said the soldier, who insisted on speaking anonymously because he was not authorized to speak to the media.
In a sign of the African Union's difficulties in Darfur, Sudanese police were deployed around the camp to protect the peacekeepers. The police presence suggested the attack was by civilians frustrated with the peacekeepers and not the janjaweed, a U.N. official said.
"There seems to be an alarming pattern of civilians assaulting the AU," he said, speaking on condition of anonymity because of the sensitivity of the issue.
The incident was the second time in a week that civilians turned on peacekeepers. In the North Darfur capital, El Fasher, refugees and other people rioted Wednesday, saying peacekeepers should leave unless they do better protecting people against the janjaweed.
An aid worker in El Fasher, where at least 10 people have been killed in janjaweed attacks the past week, said militiamen in the town were dressed in government paramilitary uniforms.
Sudan's government has been accused of incorporating janjaweed into paramilitary units, but denies doing that. U.N. officials say the troops have killed hundreds of civilians in recent weeks.
A U.N. official in El Fasher said the governor of North Darfur had submitted his resignation to protest the janjaweed's violence and how little control he had over the militiamen brought into town by the army.
The U.N. official, who spoke on condition of anonymity because of the sensitivity of the issue, said at least one government security guard died Sunday from a wound he suffered a few days earlier when the governor's compound came under janjaweed fire.
'Chaotic'
"That the governor and his staff want to resign shows just how chaotic the situation has become," warned Said Haroun, spokesman for a Darfur rebel group that signed a peace deal with the government.
Authorities did not comment on the governor's reported resignation, but the official SUNA news agency said Sudan's police chief, defense and interior ministers had arrived in El Fasher to "review the situation."
Some 160 U.N. staff and aid workers have left North Darfur towns during the past week, and 41 aid workers have been withdrawn from various spots in South Darfur where an aid group's compound was raided and vehicles stolen by armed men in uniform, the U.N. said.
The U.N. also said the army and militias had clashed with rebels in central Darfur, where two people were reported killed Sunday.
In the West Darfur camp of Zalingei, more than 40 refugees were reported being held hostage by armed men on camels after three Arab nomads were mobbed in the camp. An elderly refugee woman also was raped in retaliation, said an aid worker on condition of anonymity for fear of reprisals.
Small crowds gathered Sunday in various European and American cities on International Human Rights Day to protest rapes and harassment in Darfur.