More Americans have their high blood pressure under control, reducing their risk of heart attack, stroke and other diseases, according to a new study released by the American Heart Association on Monday.
More than a third — 36.8 percent — now have their blood pressure at healthy levels, compared to 29.2 percent in 1999 and 2000, according to the report.
Nonetheless, that means fewer than half have their blood pressure at a desirable level, according to the report.
Researchers said the improvements could be linked to growing public awareness about the problem, although the proportion of Americans with hypertension or high blood pressure remains little changed.
"It is hard to attribute the improvement to any particular factor ... We have tried to see if the explanation lies in better awareness, detection or treatment," said Dr. Bernard Cheung, an associate professor at Hong Kong University, who wrote the report.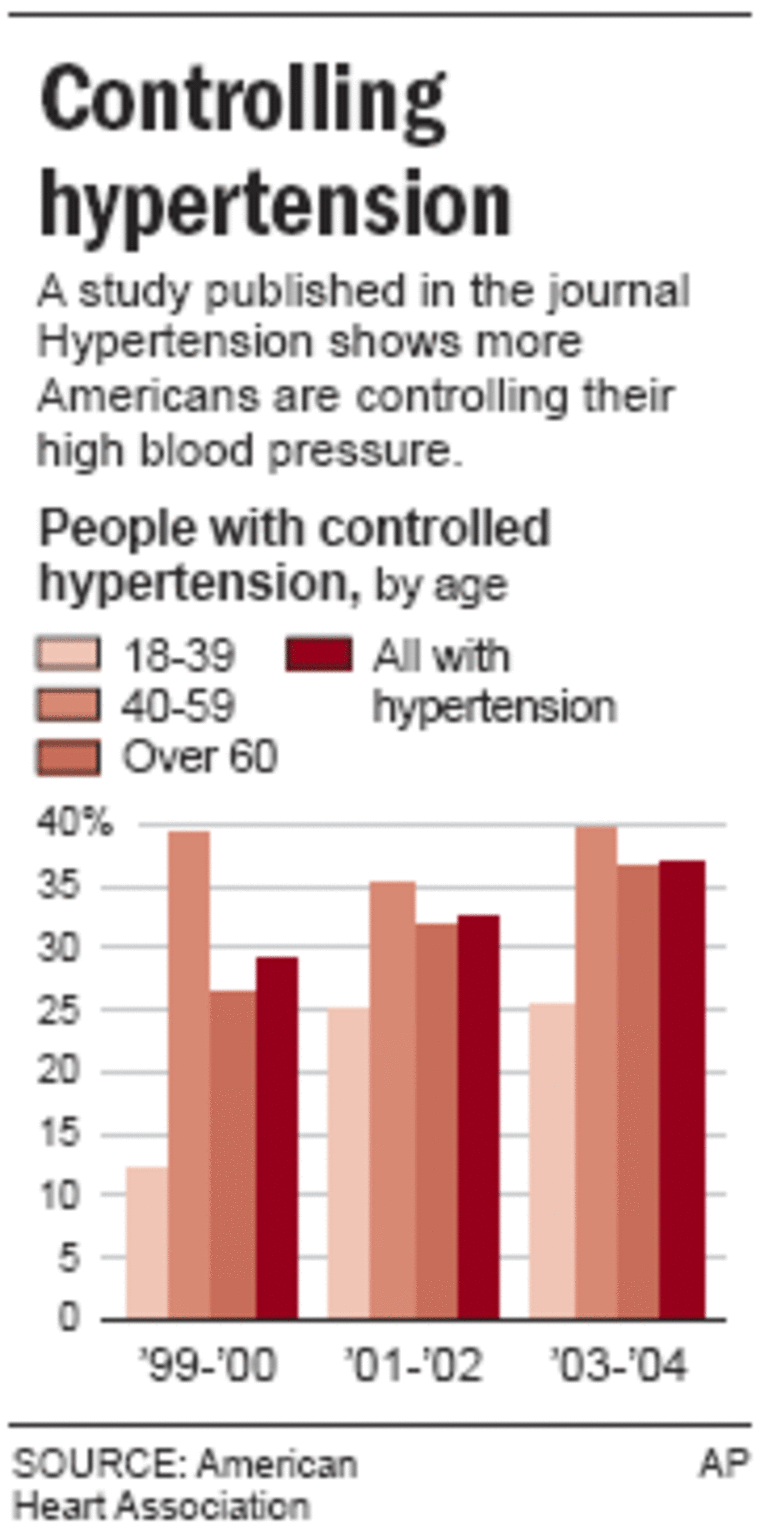 "There is no statistically significant increases in these, so probably all of these contribute in a small way. I think everyone involved in the detection and treatment of high blood pressure can take credit," Cheung said in an e-mail.
He added that the trend did not appear to be related to better drugs, either.
The researchers looked at information on 14,653 people from the National Health and Nutrition Examination Surveys given between 1999 and 2004 for their report.
They found the proportion of Americans with high blood pressure or hypertension remained little changed — it was 26.8 percent in 1999-2000 and 29.3 percent in 2003-04.
But the numbers who had their blood pressure below the desired level of 140/90 jumped from less than 30 percent to 36.8 percent in 2004.
Diabetics with high blood pressure must keep theirs below 130/80 to have it considered controlled.
"This remarkable jump in the control rate has not been seen previously. The increased control rates may help to decrease the incidence of strokes and heart attacks, which is highly encouraging," Cheung said in a statement.
An estimated 60 million U.S. adults have high blood pressure.
Awareness improved from 68.7 percent to 75.7 percent over the study period while the proportion of people with high blood pressure who were being treated rose from 58.2 percent to 65.1 percent, Cheung's team reports in this week's issue of the journal Hypertension.
"Despite these encouraging findings, a quarter of people with hypertension were unaware they had it and about one-third of people with hypertension were not being treated in 2003-04," Cheung said.