/ Source: msnbc.com news services
A suicide bomber targeting poor day laborers killed 70 people in Baghdad on Tuesday. Interior Ministry sources said 236 people were wounded in the Baghdad blast after the suicide bomber lured the crowd of workers to his vehicle with the promise of work.
Meanwhile, the U.S. military announced the deaths of five more U.S. troops, including three Marines killed in combat in volatile Anbar province.
The 7 a.m. bombing took place in Tayaran Square, a popular gathering point for construction workers who frequent the cafes and street vendors while waiting for the chance of some work. Many of the workers who gather in the area are poor Shiites.
"A driver with a pickup truck stopped and asked for laborers. When they gathered around the car it exploded," said a witness, who was helping a stumbling survivor with a blood-stained bandage covering his head.
"They were poor laborers looking for work," he said.
Prime Minister Nouri al-Maliki, a member of Iraq's Shiite majority, condemned the attack and blamed it on Sunni extremists and supporters of Saddam Hussein.
Calling the attack a "horrible massacre," Maliki blamed it on Saddam Hussein sympathizers and operatives of al-Qaida. "Iraq's security forces will chase the criminals and bring them to justice," he said.
"These terrorist groups are trying to spread chaos by killing and fuelling sectarian strife," he said in a statement.
Earlier official estimates put the number of dead as high as 71 with a lower wounded toll of 151. The discrepancy could not immediately be reconciled.
An official said most of the victims were Shiites from poor areas of the capital such as Sadr City.
Minibus driver lured laborers
Iraqis gather on the square early in the morning, soliciting jobs as construction workers, cleaners and painters. They buy breakfast at stands selling tea and egg sandwiches while they wait for potential employers to drive up.
Khalil Ibrahim, 41, who owns a shop in the area, was treated at a hospital for shrapnel wounds to his head and back.
"In the first explosion, I saw people falling over, some of them blown apart. When the other bomb went off seconds later, it slammed me into a wall of my store and I fainted," he said.
Police at a nearby checkpoint fired random shots in several directions. Residents rushed to the devastated area to see if friends or relatives had been killed or wounded.
Mangled bodies were piled up at the side of the road and partially covered with paper. Two men sat on a nearby sidewalk, crying and covering their faces with their hands.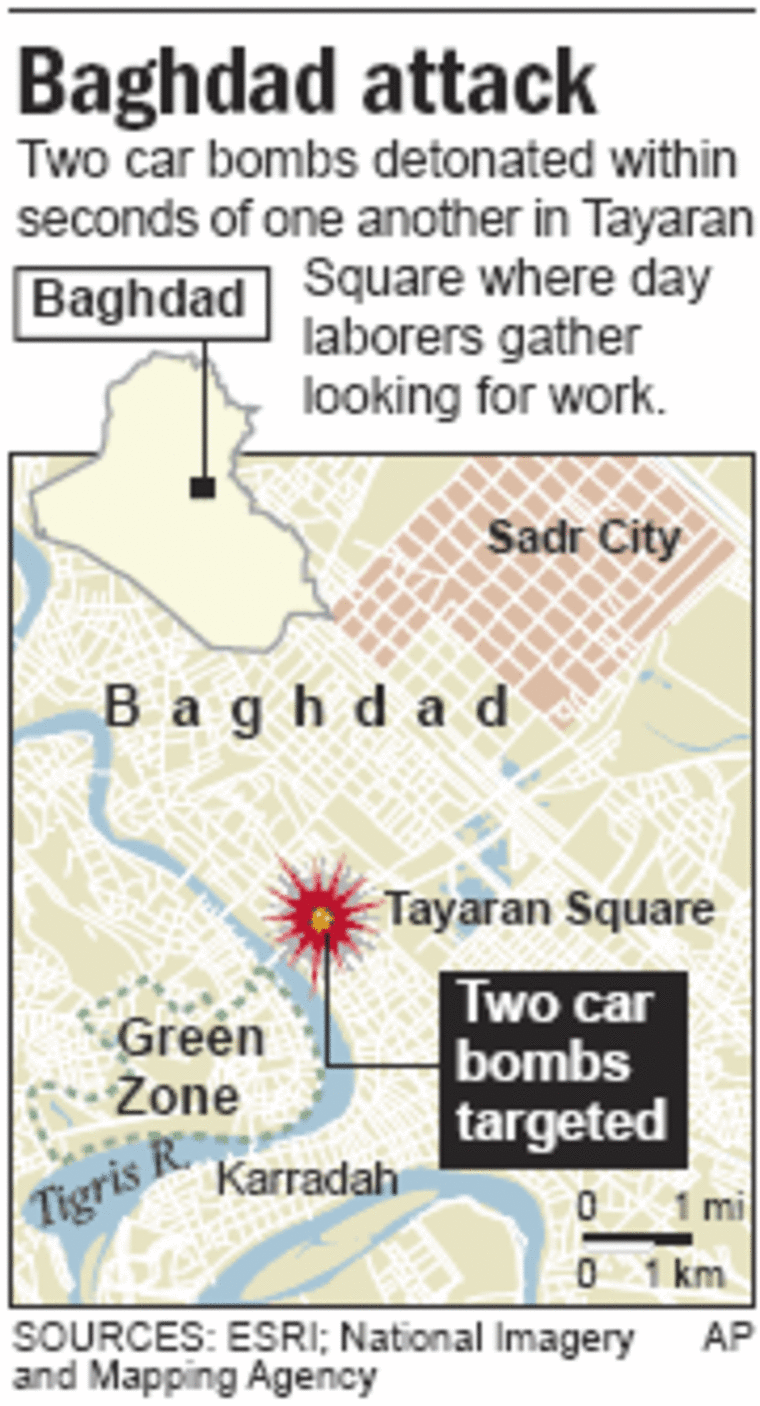 Parliament speaker Mahmoud al-Mashhadani, a Sunni, said the massacre targeted poor people who were trying to feed their families, "turning them into pieces of flesh."
"God's curse upon those who are behind this," he said in a speech to lawmakers.
He urged the deeply divided legislature of Shiites, Sunnis and Kurds "to find a solution" to Iraq's many problems.
Targets of similar attacks
Tayaran Square is located near several government ministries and a bridge that crosses the Tigris River to the heavily fortified Green Zone, where Iraq's parliament and the U.S. and British embassies are located.
Day laborers have been the target of similar attacks before. On Nov. 19, a suicide bomber in a minivan lured day laborers to his vehicle with promises of a job in the mainly Shiite southern city of Hillah, killing 22 people and wounding 44, police said.
Shortly after Monday's Tayaran Square explosions, two roadside bombs targeting Iraqi police patrols also exploded about a mile away, wounding two policemen and seven Iraqi civilians, said police Capt. Mohammed Abdul-Ghani.
AP cameraman slain
In the northern city of Mosul, a television cameraman working for The Associated Press was shot to death by insurgents while covering clashes — the third AP employee killed in the Iraq war.
The cameraman, Aswan Ahmed Lutfallah, 35, was having his car repaired in an industrial area in the eastern part of the city when insurgents and police began fighting nearby and he rushed to cover the clash, police Brig. Abdul-Karim Ahmed Khalaf said.
Insurgents spotted him filming, approached him and shot him to death, Khalaf said. Lutfallah had not reported any prior threats against him. His death brings to 29 the number of those who have lost their lives on assignments for the AP since the news cooperative was founded in 1846.
Lutfallah had been employed by AP Television News as a cameraman in Mosul since 2005. He is survived by his wife, Alyaa Abdul-Karim Salim; a 6-year-old son, Yusof; and an infant daughter, Rafa.
"Our hearts go out to Aswan's family and his Iraqi AP colleagues," said AP President and CEO Tom Curley. "The murder of yet another journalist underscores the particular dangers of this conflict and the sacrifices of those committed to reporting the story."
The New York-based Committee to Protect Journalists called on Iraqi authorities to take action "to apprehend those responsible for the growing number of deadly attacks on the press and stop the cycle of impunity."
The committee said 89 journalists were killed in Iraq before Lutfallah's death was reported. It said 37 media support workers also have been slain.
U.S. death toll climbs
Five more U.S. troops have died in Iraq, including three Marines killed in combat in volatile Anbar province, the U.S. command said Tuesday.
The three Marines assigned to 3rd Marine Aircraft Wing died Monday of wounds sustained fighting insurgents, according to a statement.
The U.S. military said those killed were not linked to a hard landing Monday by a Marine helicopter in Anbar. At least 18 people were injured in that incident but hostile fire did not appear to be the cause, the military said.
Another Marine assigned to Regimental Combat Team 7 also died Monday from non-hostile causes in Anbar, which stretches west from Baghdad to the borders of Syria, Jordan and Saudi Arabia.
The military said a 13th Sustainment Command (Expeditionary) soldier died Monday of apparent natural causes near Diwaniyah, 80 miles south of Baghdad. The soldier lost consciousness and died after being transported to a troop medical clinic.
The deaths raised to 51 the number of troops who have died this month. At least 2,939 members of the U.S. military have died since the war began in 2003, according to an Associated Press count.
Bomb outside mosque found
In Samarra, 60 miles north of Baghdad, police discovered a bomb hidden outside the revered Shiite Golden Mosque on Monday, and it exploded while coalition bomb disposal officials were removing it, damaging the building's front door and entranceway, the U.S. command said.
On Feb. 22, an explosion destroyed the dome of the mosque, leading to the killing of at least 136 Iraqis the next day and setting off a cycle of sectarian violence that continues in much of the country.
On Monday, at least 66 people were killed or found dead in the Baghdad area and northern Iraq. They included 46 men who were bound, blindfolded and shot to death in the capital — the latest apparent victims of sectarian death squads.
A Marine helicopter also made a hard landing in a remote desert area of Anbar province, injuring 18 people, the third U.S. aircraft to go down in the insurgent stronghold in two weeks.