The U.S. trade deficit in October narrowed by the biggest amount in nearly five years, as oil import prices plunged for a second consecutive month and exports edged up to a new record, a Commerce Department report showed on Tuesday.
The trade gap shrank a surprising 8.4 percent in October to $58.9 billion from a revised estimate of $64.3 billion in September. Analysts surveyed before the report had expected a much more modest narrowing to about $63.0 billion.
The monthly decline in the trade gap was the biggest since December 2001, when the deficit contracted 11.2 percent. The monthly trade gap itself was the smallest since August 2005, the last time it totaled less than $60 billion.
U.S. imports fell 2.7 percent during October, also the largest decline since December 2001, aided by an 11.3 percent drop in the price of imported oil to $55.47 per barrel. Oil import volumes also fell for a second consecutive month.
The monthly trade gap with members of the Organization of Petroleum Exporting Countries shrank 18.3 percent during October to $7.5 billion.
Lower oil imports also more than offset record imports of consumer goods, food, feeds and beverages and of advanced technology products.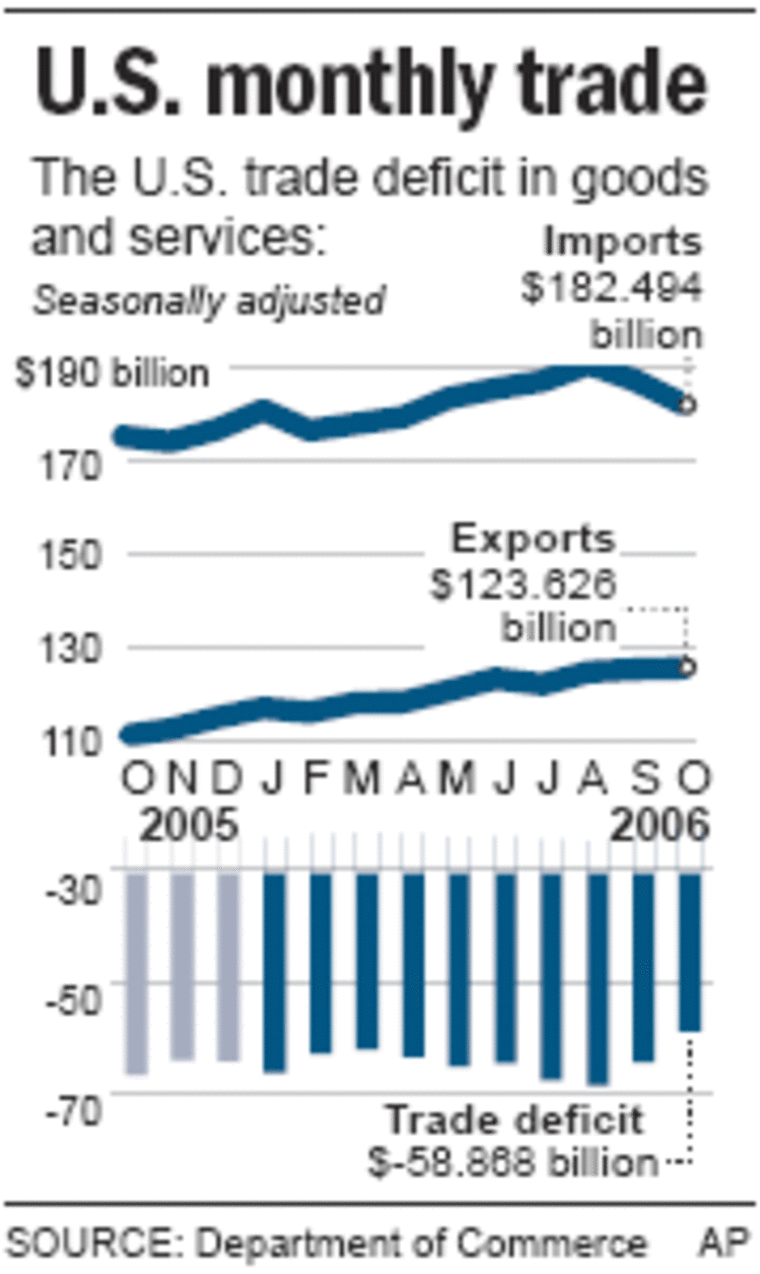 Meanwhile, the politically sensitive trade deficit with China swelled to a record $24.4 billion in October, as imports from that country surged to $29.3 billion, also a record.
The trade gap with China for the first 10 months of the year totaled $190.6 billion, keeping it on track to easily surpass last year's record of $202 billion.
Overall U.S. exports increased a slight 0.2 percent in October to a record $123.6 billion, led by records in services, capital goods and consumer goods.
Exports have been aided by a decline in the value of the American dollar, which has made U.S. products more competitive in world markets.
The trade data is one of the last pieces of economic data the U.S. Federal Reserve will look at before making a decision on interest rates later on Tuesday. The U.S. central bank is expected to make no changes to its benchmark federal funds rate at this meeting.