/ Source: The Associated Press
Ethiopia is a perilous place to be an Abyssinian lion — so perilous that an Italian aid group brought two orphaned cubs to the Italian Embassy, where the wife of a diplomat has been caring for them inside a fenced garden.
The Lion Zoo in the impoverished nation's capital has been killing the endangered animals, poisoning six cubs this year because of lack of funding and space, zoo officials said.
This even though the Abyssinian lion, famed for its black mane, is Ethiopia's national symbol, adorning statues and the local currency. Ethiopians have long been fascinated with the rare creatures.
When the Italian aid group found two orphaned cubs near the Somali border, it took them to the Italian Embassy 500 miles away instead of the zoo. Chantal Benaben, the wife of the Italian deputy ambassador, has been caring for them there.
"They were on the verge of death when I got them, and now they have all of their vaccinations and they are healthy," she said.
Embassy warned
But the cubs' fate was still uncertain. Officials from the government-run Ethiopian Wildlife Association, concerned the embassy's thin chain-link fence would not be strong enough to hold the growing cubs, warned Benaben they would be killed if a permanent home was not found.
Enter the cubs' next savior, President Girma Wolde-Giorgis. He learned about the lions and found them a new home in the country's eastern, fertile Awash Valley, 380 miles from Addis Ababa.
On a recent afternoon, the cubs, nicknamed Janu and Andrea, rolled and leaped on the ground, nipping at each other like puppies. They played, oblivious to Wolde-Giorgis, who watched from the sidelines.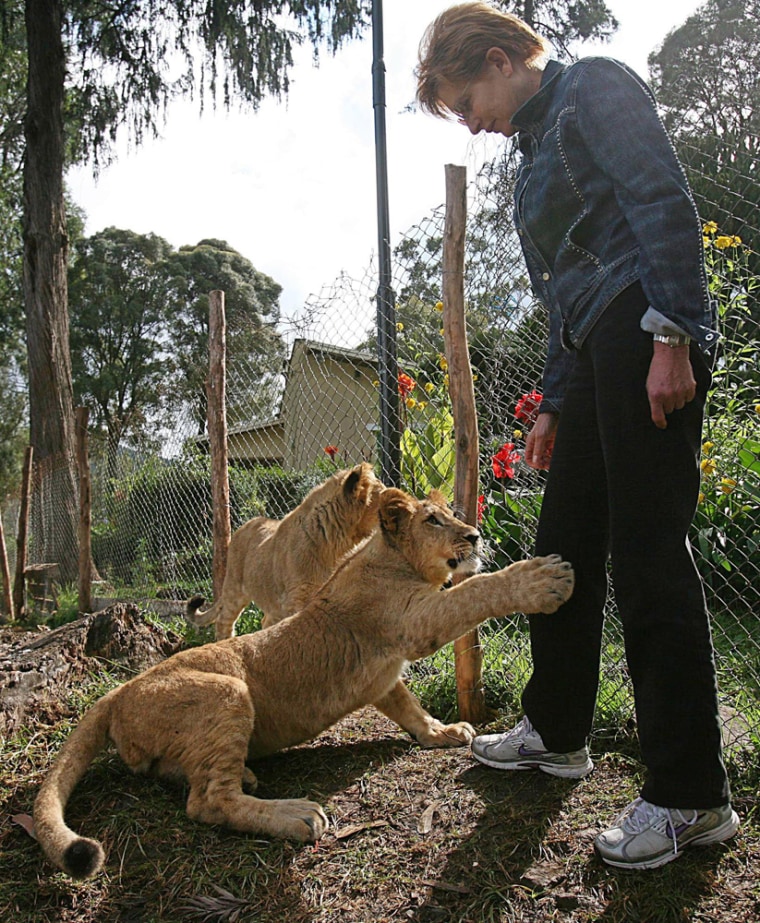 "I have been able to find a home from a private individual who will be able to take the cubs in and give them a good home," the Ethiopian leader told The Associated Press.
Abyssinian lions live only in Ethiopia. Although government wildlife officials say there are 3,000 Abyssinian lions roaming the country, conservationists say the real tally is closer to 1,000. They blame lax enforcement of laws against poachers for the animals' dwindling numbers.
In November, Muhedin Abdulaziz, the administrator of Addis Ababa's Lion Zoo, said the overcrowded, underfunded facility had resorted to killing some of its lions to make ends meet. He said the zoo costs $6,000 to run each month, but gets only $5,000 in entrance fees. Taxidermists pay $170 for a dead cub.
Promotional tool?
Ethiopia, home to 77 million people, has long associated the lion with their monarch, whom they refer to as the lion of Judah.
It's a symbol that merits saving, says Benaben — an effort that could begin with Andrea and Janu.
"I'm really hoping that these cubs are properly taken care of — because if you look at how the zoo treats their lions, you just never know what can happen," she said.
Ethiopia, she added, "could use these lions like the Chinese use the panda bear, or Pakistan has used the snow leopard — to promote their countries."