/ Source: msnbc.com contributor
Is your holiday to-do list stressing you out? Outsource it.
That's what some Americans are choosing to do this year, paying hundreds if not thousands of dollars for other people to hang lights, unpack decorations, stand in line at the post office, even shop and wrap their gifts.
Blame America's longer work hours and more discretionary spending. Just as people got over the guilt of hiring a housekeeper to scrub their floors, so too are people getting accustomed to farming out tasks that inevitably pile up during the holidays, said Carla Mandell, executive director of the International Concierge & Errand Association in Philadelphia, a group that has 560 members in 21 countries.
"It's everything people have to do but don't have time," Mandell said.
While the unwanted chores have created a supplemental income for landscapers, party planners and errand services that advertise with lawn signs and in classified ads on craigslist.org, at least one critic questions why people should turn to the marketplace for things that once were a traditional part of life.
"It's a phenomenon of long working hours, tight schedules and specialization," said John de Graaf, a co-author of "Affluenza: The All-Consuming Epidemic." "It's a competition, be it work, sports or how we decorate. People need to lighten up a little."
For Darla D'Amato, lightening up means letting someone else climb a ladder to hang Christmas lights on her family's new 5,600 square-foot home in Katy, Texas. She paid $2,200 for a crew of people to hang Christmas lights and later take the lights down and store them until next Christmas. She said her new house is too tall for her husband to hang the lights, but having Christmas lights is a tradition in her family.
"Just thinking about getting all the Christmas stuff down every year just gives my husband a heart attack," said D'Amato, an executive at an investment firm. "It is much more time efficient for us to hire someone who knows what they're doing."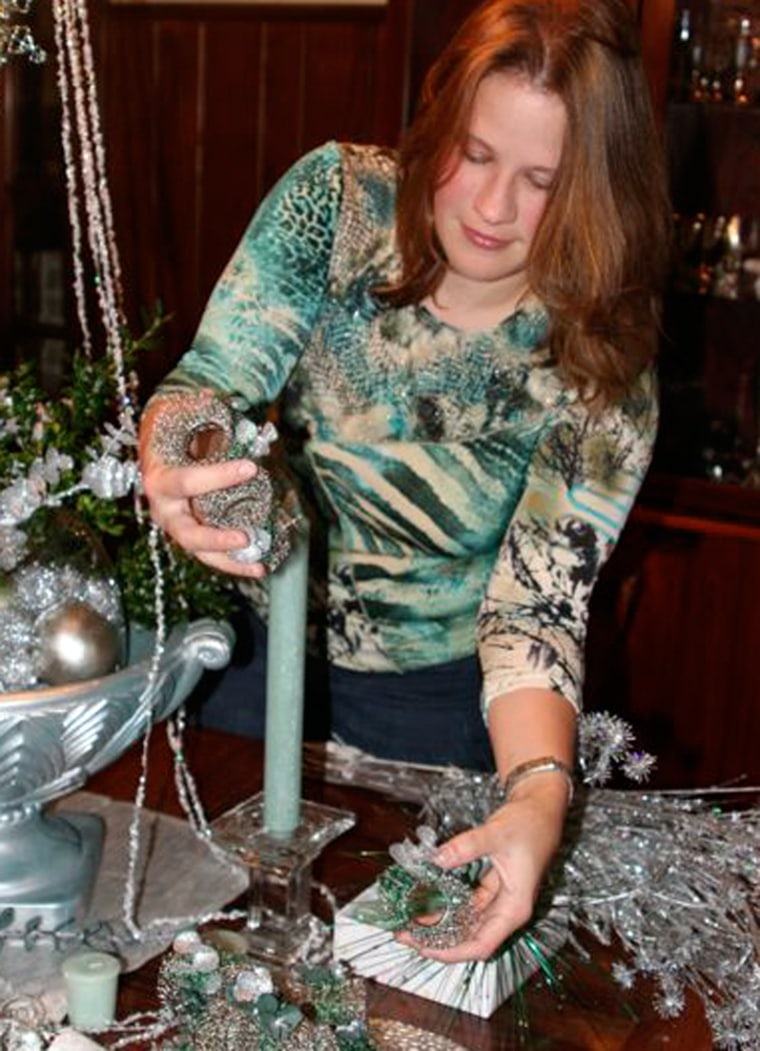 The Perfect Light, the company D'Amato hired, has 1,000 other Houston customers who pay $1,000 to $25,000 for similar services. If a bulb goes out or a line of lights falls down, The Perfect Light will fix them, said owner Mike Wrentz, who operates a landscaping business the rest of the year. He said he has watched business double in the past year.
"If you have the disposable income, then there is not a reason for you to do it yourself," Wrentz said. Wrentz, who also trains other landscapers in how to hang lights, says the holiday business provides plenty of leads for landscaping jobs.
Business is also blossoming for Indra Books, owner of On The Go For You, a concierge company in Leesburg, Va.  Last week, she spent 23 hours decorating people's houses, hanging garland, putting lights on trees and unpacking decorations at $50 an hour. She also has been asked to address holiday cards, shop for gifts, wrap them and ship them at the post office. "This year seems to be busier," Books said.
Most of the clients who hire Books aren't necessarily wealthy families or busy executives, but rather middle-class stay-at-home mothers.  
"It's difficult to take a child to the store to go shopping, and they realize they just can't do it themselves," she said.
Her clients also pay for advice on such issues as decorating, how many bottles of wine to buy for parties or what to get their aunt for Christmas. Books finished her own holiday tasks Nov. 15, and she doesn't mind the traffic, crowds and long hours spent doing the same tasks for clients. She typically works weekends and doubles her monthly income in December.
"I have a strange amount of energy," she added.
In Storrs, Conn., Tamara Kubja, 75, paid $200 to party planner Kia Martinson-Wenzel for help putting up holiday decorations, coordinating napkin rings and wrapping gifts in preparation for holiday visitors.
"I don't think it's excessive by any means," Kubja said.
Wenzel said she has helped other clients set up photo shoots for Christmas cards, buy gifts and even bake Christmas cookies. "People would just like some of the holiday stuff to be gone," Wenzel said.