Her 2-year-old daughter and a bright red shopping bag in tow, Asiya Budden emerged victorious recently from a holiday shopping excursion at Macy's in downtown Seattle.
With an afternoon of shopping under her belt, Budden estimated that she'd saved more than $80 on children's clothing. Her total bill: just $47.64.
"I love Macy's," she said. "Macy's always has the best deals."
Budden is in many ways typical of this year's holiday shopper. As the gift-buying season moves into its frenzied final days, analysts say shoppers are favoring department stores such as Macy's or JCPenney and may be less inclined toward some specialty retailers, including The Gap.
Overall, the nation's retailers got an early holiday gift as sales rose 1 percent in November, the largest amount in four months. Department stores and other general merchandise stores posted a 0.4 percent rise, a rebound after a 0.3 percent fall in October. However, sales at specialty clothing stores were unchanged in November.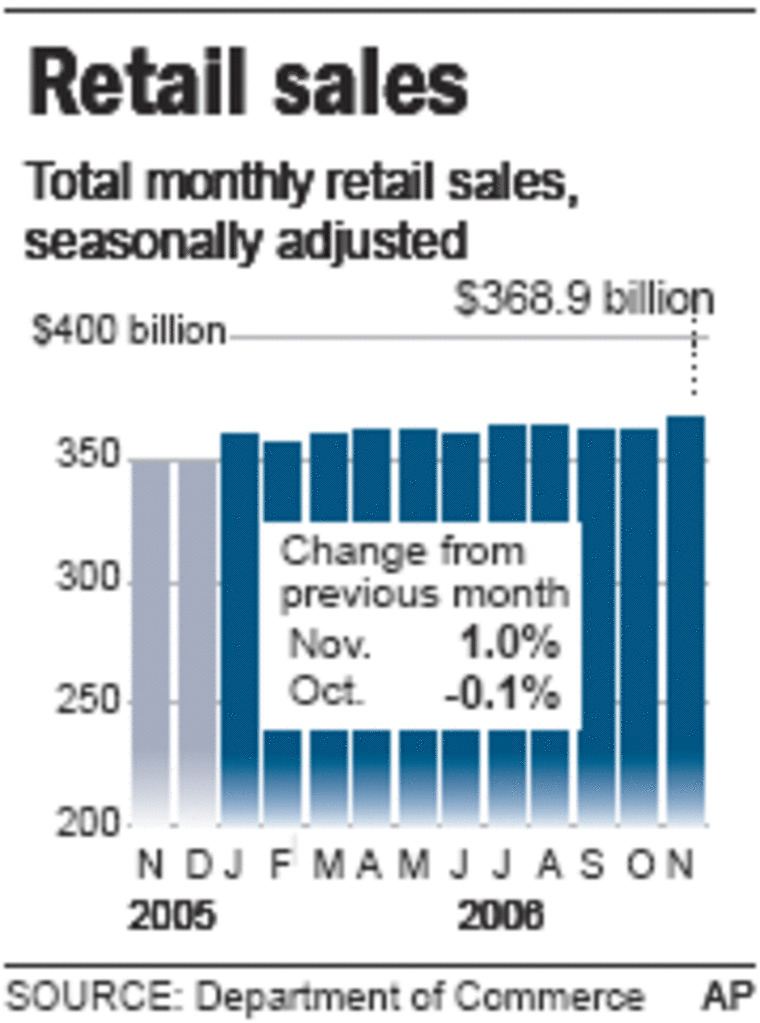 This year's shoppers appear to be relentlessly seeking out the best deal, although that may not translate into a holiday boon for discounting giant Wal-Mart. In general, however, analysts say big discounters such as Target remain a popular shopping choice.
The move toward department stores marks a turnaround from just a couple of years ago, said Michael Niemira, chief economist with the International Council of Shopping Centers.
"(2006) is really just a turning point where you saw a sector that had been struggling for a while really coming to life," he said.
He attributes the change to a number of factors, including consolidation among department store companies, a rise in personal income, and improvements in the quality and mix of products such stores are offering.
Some experts say another reason department stores are doing better this year is that they have been aggressive about offering — and advertising — steep price cuts and special deals.
"Department stores this season are acting like discounters, rolling back items that you typically never see through the year be discounted that much," said Kathy Grannis, spokeswoman for the National Retail Federation.
The strategies appear to be paying off. Macy's parent Federated Department Stores Inc. said same-store sales, or sales for stores open at least a year, rose 8.5 percent in November. The Cincinnati-based company estimates that December same-store sales will rise 5 to 8 percent over the year-ago period.
Federated spokeswoman Sharon Bateman said the company has benefited in part from a decision two years ago to group its regional stores under the Macy's brand name. That's allowed the company to more effectively — and inexpensively — advertise its products nationally.
This year, she said popular gift items include cashmere clothing and accessories, luggage and fashion jewelry.
In contrast to the department stores, Niemira said some specialty retailers have had a tougher time this holiday season. Gap Inc., in particular, has had trouble getting shoppers to its Gap, Old Navy and Banana Republic stores. The San Francisco retailer reported an 8 percent drop in comparable-store sales for November.
Wal-Mart Stores Inc., the big-box retailer whose deep discounting has traditionally been a big draw for price-conscious holiday shoppers, also is struggling to find its foothold this year.
Bentonville, Ark.-based Wal-Mart said same-store sales fell 0.1 percent in November, and the company estimated that December same-store sales will be between zero and 1 percent. Rival Target Corp. said November same-store sales rose 5.9 percent.
Wal-Mart has conceded that it has had some troubles with its apparel and home businesses, although it has said it hopes to see some improvements in those areas by spring.
C. Britt Beemer, chairman and founder of America's Research Group, said his research shows that Wal-Mart remains a very popular destination for holiday shoppers. The problem may be that Wal-Mart isn't making much money off those shoppers.
"You may walk into a store and buy four toys and spend $48, but it's not like someone walking into Target and buying two outfits and spending $90," he said.
Another concern could be that Wal-Mart lowered prices in an effort to get shoppers to buy more items but is instead finding that shoppers are simply buying the same number of items for less money, Beemer said.
Wal-Mart spokeswoman Linda Brown Blakley said being able to provide the best price is key to the company's strategy, and "we're working hard to provide that this shopping season."
As the housing market has slowed, Niemira said stores that sell products for the home, including furniture, also are having a tough time this holiday season.
However, shoppers do appear to be snapping up electronics such as large, flat-panel televisions, digital cameras and global positioning systems. Blakley said televisions and cameras, in particular, have proved popular at Wal-Mart.
But this year, people aren't just buying those items at electronics stores and discounters, said Stephen Baker, vice president of industry analysis for The NPD Group. He's also seen flat-panel televisions and other gadgets on sale at such unlikely retailers as office supply stores and home improvement chain Home Depot.
Baker said Apple Computer Inc.'s iPods also remain a popular gift, although the growth in portable music player sales isn't expected to be as massive as in years past.
Sandi Reikow of Gig Harbor, Wash., shopping recently in Seattle, said three of her four grandchildren will get iPods this year. The other one is getting a portable DVD player. Her shopping companion, Flora Boss, was planning to buy computers for her two older kids, and all three children also were getting jackets.
An increasing number of people have given up trying to guess what their family and friends will want and are instead turning to gift cards. Beemer estimates that about half of all shoppers had purchased some sort of gift card by Dec. 10, and many more are expected to jump on the bandwagon by Dec. 25.
Carol Stewart, of Vashon Island, Wash., said she plans to buy gift cards, mainly for local shopping centers, for most of the people on her gift list.
She reasoned that gift cards are sure to please, while it can be much harder to try to pick just the right gift for nieces, nephews and godchildren whose tastes are constantly changing.
"When you live apart, you have no idea what they want," Stewart said.