Good things may come in small packages, but the greatest things to give the avid traveler in your life this year come in perfectly flat envelopes.
Take brand-new around-the-world cruise. The 131-day voyage is the longest in the cruise line's history, and includes a two-week sail down the Panama Canal, plus stops at 51 ports in 26 countries on five continents. The cruise takes place on the Seven Seas Voyager, Regent Seven Seas Cruises' 700-person, all-suite, all-balcony luxury ship, and departs from San Francisco Jan. 6, 2008, before visiting the Hawaiian ports of Hilo, Maui and Honolulu, French Polynesia and the Cook Islands on the way to New Zealand. Stops from there include Sydney, Shanghai and Athens, with overnight stays everywhere from Tahiti to Dubai.
The per-person cost of this luxurious tour, $394,260, which includes butler service, all beverages and meals, all gratuities, a $2,000 credit onboard the ship, and first-class round-trip airfare.
If you're not convinced a multimonth cruise is for you, consider giving a land-based trip, such as the chance to play some of the world's best greens on a customized golf tour by Wilmington, N.C.-based . This Christmas, it is offering a tour of Scotland and Ireland's classic courses, including Carnoustie in Scotland, where the 2007 British Open was held, and Ireland's Old Head. In addition to green fees, traditional Irish or Scottish breakfasts, ground transportation and hotels, the $21,500-per person trip charge includes ground transportation in an eight-person Mercedes--or a helicopter, where necessary.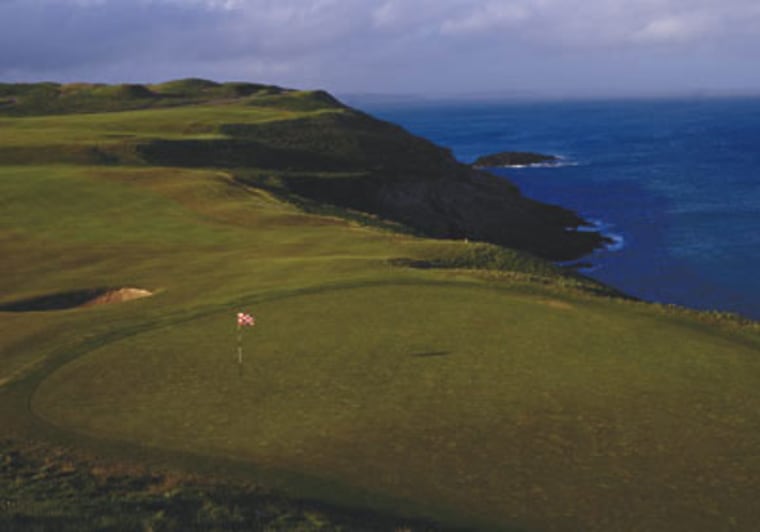 And for a gift that's more adaptable to individual taste and timing, gift cards from are available in a brand new increment--$100,000--redeemable at Four Seasons properties from Boston to Bali.
"We introduced the $100,000 gift card [in November] because information we have collected, from a number of sources, tells us that people who have the means are thinking about gift-giving on a large scale," says Susan Helstab, vice president of corporate marketing for the Four Seasons. "We also know that bonuses on Wall Street this year will reach unprecedented levels. So we know there is a market for high-valued gift cards."
Still stumped? From a dog-carrying bag to portable toiletries, this year's list includes some of the best gifts out there for travelers. Narrowing it down was tough; in addition to high-end trips, we found a slew of swanky accessories we'd love to have ourselves. For plane and train travelers, we recommend the cashmere travel set from , which includes a cashmere throw blanket, neck roll and eye mask. nüvi 660, a wireless compendium of North American road maps, real-time traffic updates and your own personal MP3s, is just the thing for car-based explorers. And for anyone who has trouble keeping their bills organized on the road, stick a money clip, made of sterling silver and with a nifty streamlined shape, in his stocking.
Here's hoping our holiday travel gift list gives you some good ideas--both to give to your family and friends, and to add to your own holiday wish list. After all, some gifts are too good to give away.