/ Source: The Associated Press
OPEC may keep production steady, the organization's president suggested Wednesday, despite renewed calls by some oil ministers on the eve of their year-end meeting for new cuts to shore up prices.
Until recently, OPEC President Edmund Daukoru, who is also Nigeria's oil minister, had been a firm backer of cuts. But on Wednesday he said the Organization of Petroleum Exporting Countries first had to "look at the facts" before making a decision.
The group's top producer Saudi Arabia, whose voice carries proportionate weight, also indicated there was less sentiment to cut than just a few days ago.
Saudi oil minister Ali Naimi said OPEC's decision to reduce output by 1.2 million barrels a day in October was a "good decision" that had led to more of a balance between supply and demand.
"I think the market is moving toward better stability," he told reporters, adding that there was nonetheless "more work to do to make it a better stable market."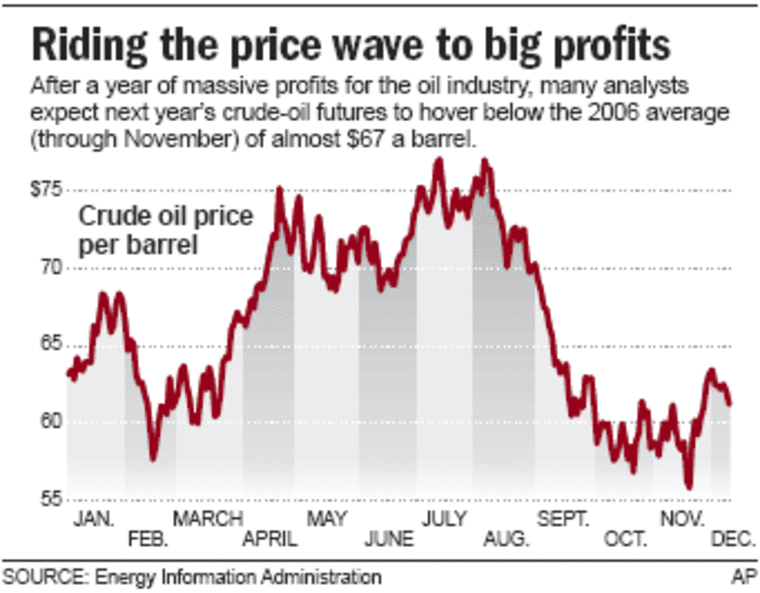 In Paris, a report by the International Energy Agency, the developed world's energy watchdog, indicated some previous OPEC concerns were now out of date, saying that the earlier cuts were already starting to bite into the oversupply on the market.
Just a few days ago, the 11 nations in OPEC had appeared poised to reduce output for the second time in three months at their meeting Thursday in Abuja, the Nigerian capital.
That could yet happen — there still is uncertainty over demand, worries that inventories are too high and concern that the shrinking U.S. dollar makes each barrel of crude worth less than it was a year ago.
Market volatility has also resulted in OPEC jitters — oil prices peaked at $78.40 a barrel in July, then plummeted toward $55 last month before rising to present levels in the low $60s.
But while there is general agreement among members that anything much below those levels would be unsatisfactory, the high-demand Northern Hemisphere winter is still ahead. That, and recent declines in unusually high inventory figures had given ammunition to those in OPEC urging moderation.
Still, more mild weather ahead could again draw prices below $60 — and build inventories. And with the dollar down 10 percent this year against the euro, each barrel of oil buys less European consumer goods now than it did in 2005. Those arguments are used by OPEC members seeking to slash output at Thursday's meeting.
Staking out their positions ahead of the meeting, price hawks called for taking more oil off the market.
Algeria's Oil Minister Chakib Khelil said Wednesday the group faced a "very dangerous situation" in the next few months because of weak demand, high global stocks and increased competition from non-OPEC suppliers.
"It is highly probable that we need to go for another cut to be able to stabilize the market for next year," he said.
Iran — second only to the Saudis in OPEC output — also called for cutbacks, along with Venezuela.
But Daukoru said the world inventory picture was less gloomy than in October.
The report by the International Energy Agency boosted sentiment for the status quo.
The IEA report said that the previous OPEC production cutbacks now amounted to 780,000 barrels a day and have sliced deeply into global oil inventories.
"Without doubt ... (the) output cuts have the potential to tighten the oil market this winter, and offer little prospect...of a recovery in stock cover," the report said.
A major factor at the meeting will be the level of oil inventories in the U.S. and other large consuming nations. Combined crude oil and petroleum products held by U.S. oil companies fell by 53.5 million barrels since the end of September to 1.045 billion barrels at the end of November, preliminary data from the Energy Information Administration showed.
Still, because of lower than expected refinery operations, crude oil inventories stand at a 12-year high for this time of year, at near 340 million barrels.
Crude oil futures have fallen this week as forecasts for warm December weather damped demand expectations. Light sweet crude for January was off 8 cents at US$60.94 a barrel on the New York Mercantile Exchange on Wednesday.