Every weekend, some 44,230 Americans tie the knot. About 85% of those couples go on to take a honeymoon. But a question most likely to be on the minds of brides and grooms everywhere is: What will that cost?
Although engaged couples can often count on their parents to help pay for the wedding, newlywed couples traditionally fund the honeymoon themselves. And with a weakening dollar, high energy prices, and creeping inflation, couples planning a honeymoon would do well to start saving--now.
The U.S. honeymoon market is currently worth $10 billion annually, up from $7 billion in 2004, according to the Condé Nast Bridal Group, the market research division of Condé Nast Publications' bridal magazines, which include Bride's and Modern Bride, the two largest bridal magazines in the U.S. While that number translates to fat profits for hotels and resorts worldwide, honeymooners themselves are left footing a bill that's skyrocketed over 50% in the past two years, to an average cost of $5,111 per honeymoon in 2006--and that's only an average. For couples who plan extensive round-the-world tours or even spend a few exotic weeks languishing on a beach in the Maldives, the cost can be much higher.
Fear not, newlyweds: there are still plenty of lower-priced, though still luxurious, alternatives. According to Howard Green, chief executive of MoonRings, an upscale Chicago-based travel company specializing in honeymoons, many of his clients want to combine a beach vacation with other activities--such as sightseeing and soft adventure sports, like rock climbing or going off-roading in a 4x4. "One of our hottest destinations is Costa Rica, because you have the beaches, but you also have the jungle, rainforest tours, and monkeys hanging out your window."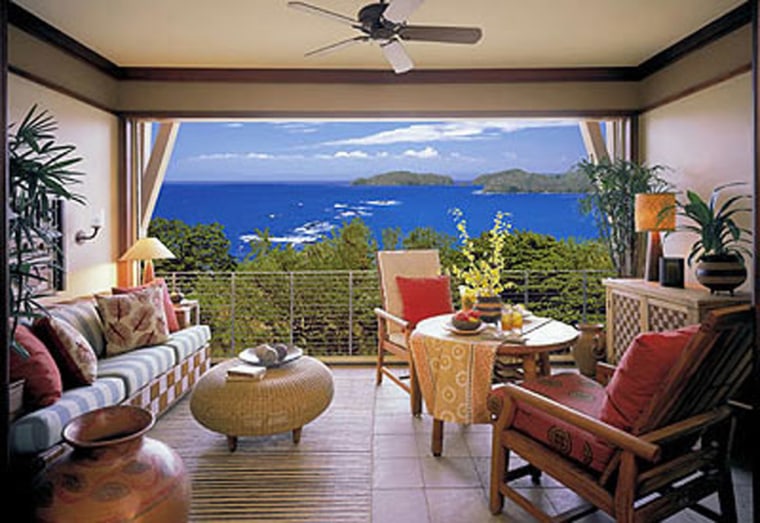 Another trend that Green says he's seeing is couples country-hopping to exotic destinations, such as Thailand, Cambodia and Vietnam. Those that can't afford to spend that kind of time and money usually choose an all-inclusive resort, but that market is no longer dominated by chains such as Club Med and Sandals. "There is a demand for an upscale, all-inclusive resort experience and more and more are opening up," says Green.
Each year, Condé Nast polls U.S. travel agents to determine the top honeymoon spots, and warm weather destinations always dominate the list. This year, the Caribbean topped the list, with 33% of honeymooners heading South; 19% chose Hawaii and Mexico, respectively.


Modern Bride editor-in-chief Antonia van der Meer agrees that warm-weather destinations are the most popular, and concurs with Green that more couples are looking to add soft adventure elements to their vacation, and doing more than just sitting on beach. She's also seeing a big rise in spa treatments as well as cruises. "Programs like couples' massage or learning massage techniques are very popular on a honeymoon," she says. Cruises account for 20% of honeymoons, says van der Meer, and usually offer good value.

Still, a report from the Travel Industry Association of America, a Washington D.C.-based travel industry lobbyist, says that honeymooners outspend the average traveler by more than three times as much. Besides its symbolic and restorative roles for happy but tired newlyweds, a honeymoon is often a once-in-a-lifetime trip, a chance to splash out before settling down to the responsibilities and realities of married life.

While many of the world's most popular honeymoon destinations can be pricey, there are also plenty of less expensive alternatives that can be just as much fun and, even more important, relaxing and romantic. Bearing in mind that many people may not want to sacrifice their down payment on a home or jeopardize repaying graduate school loans, we have come up with a list of potential honeymoon destinations where couples can choose to leave a few bucks in their money market accounts.