/ Source: The Associated Press
The toll of war is measured here on an acre of Pacific sand, where each Sunday volunteers array handmade wooden crosses in regimental columns to honor U.S. service members lost in Iraq.
The white crosses — each with a small American flag at its base, some decorated with photographs of the fallen — recall the gravestones of Arlington National Cemetery in a place usually reserved for sunbathers and tourists.
Now, as the nation approaches the grim milestone of 3,000 war fatalities, the seaside memorial in one of California's most popular coastal destinations has reached a crossroads of its own. The group of veterans that organizes the weekly tribute has decided to stop adding crosses because it is struggling to keep pace with the tally of death.
"It's getting out of hand," said Stephen Sherrill, who builds and paints each cross in his garage. "I wish I could keep going, but I'd need a lot more help."
The display has grown as the national mood has soured on the war. The first crosses went into the sand on Nov. 2, 2003, when they numbered 340.
The display started as more protest than commemoration, when the public and the media appeared to pay little attention to the dead. In time, organizers sought to emphasize respect for fallen soldiers and bring attention to the cost of war, while veering around overt political statements.
'It's a lost generation'
Now the crosses, which numbered 2,928 as of last weekend, weigh more than a ton.
"It's a lost generation," said Melida Arredondo of Boston, after kneeling beside a cross dedicated to her stepson, a Marine killed by a sniper in 2004.
A trailer used by Veterans for Peace to store and transport the crosses is full, and it takes much of the morning for about two dozen volunteers to arrange them and rake the sand smooth. At the end of the day, the crosses are carefully stacked back in the trailer and stored in a parking lot nearby.
A carpenter by trade, Sherrill said repetition has let him perfect his technique for building crosses. They cost about $1 each in materials — wood, screws, paint and long nails extending from the base to help hold them in the sand.
It's a job he never imagined he would have for so long.
One cross, one life, one family
Each cross "represents a human life, not just a person but a whole family," he said.
Like many American cities and towns, there is little in regular public view in Santa Barbara that speaks to the ongoing violence in Iraq.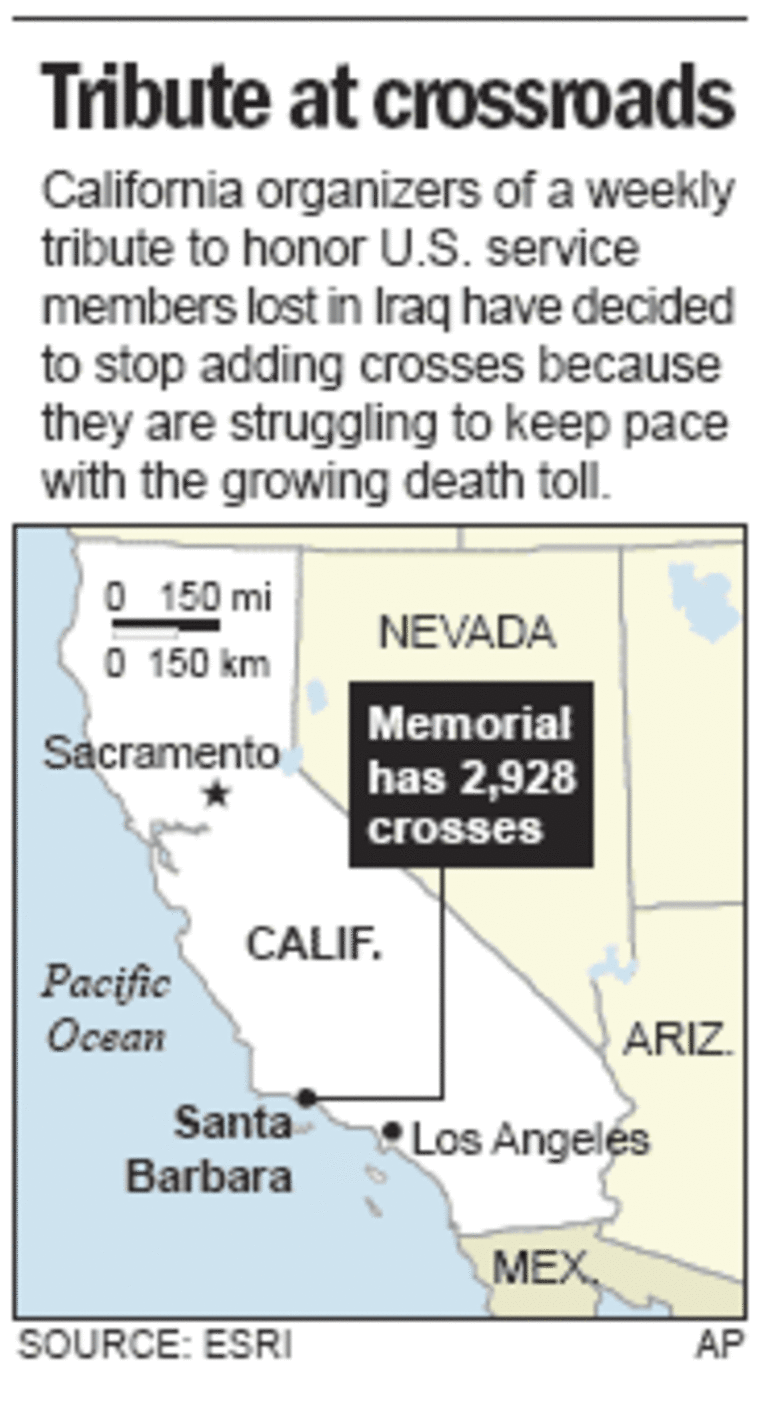 This is a place of striking beauty — wide beaches and a sailboat-filled harbor, rimmed by rugged hills with million-dollar views. On Sunday afternoons, waterfront restaurants and cafes bustle with patrons. Bikers and joggers fill beachside pathways. Tourists cram trendy shops nearby.
A stop at the makeshift memorial can be a powerful experience. Some of the crosses are decorated with notes from family members, newspaper clippings or dog tags.
"We love you so much, Mom," was written on the cross for Sgt. Patrick R. McCaffrey of Palo Alto, who died in June 2004.
Will Giusti, 64, a home remodeler from Napa, choked up while trying to express his emotions. "If more people would do things like this, maybe we wouldn't be at war," he said. His wife, Jo, also 64, was in tears beside him.
Not all are moved to participate
Not everyone has been moved by the display. The mother of one officer demanded that her son's name be removed, saying she considered the crosses an anti-war statement. The group consented.
Similar displays have popped up around the country, including down the coast in Santa Monica. A display of 450 crosses on a hillside in the San Francisco Bay area suburb of Lafayette has resulted in a First Amendment squabble.
The Santa Barbara memorial will continue as long as the war continues — albeit frozen at 3,000 crosses, group members said.
"I can hardly stand to look at those crosses," said Daniel Seidenberg, a Vietnam veteran who is president of the local Veterans for Peace chapter. "These crosses will be down there until our guys come home."