/ Source: msnbc.com news services
Outside a meatpacking plant fence, a frustrated Tony Garcia watched as Immigration and Customs Enforcement agents swarmed inside to arrest illegal immigrants suspected in an identity-theft scheme.
"We need help," he yelled. "We need answers."
But most of his questions Tuesday had to wait. Federal officials said on Wednesday there had been nearly 1,300 arrests of illegal immigrants as agents swept through Swift & Co. plants in six states. No names were released although they included individuals from Mexico, Guatemala, Honduras, El Salvador, Peru, Laos, Sudan and Ethiopia.
At the Swift plant in Grand Island, Neb., as many as 250 workers from a shift of more than 600 were detained, local union spokesman Mike Mary told The Washington Post.
In Colorado, Garcia worried about the schoolchildren whose parents were arrested at the Swift plant in Greeley.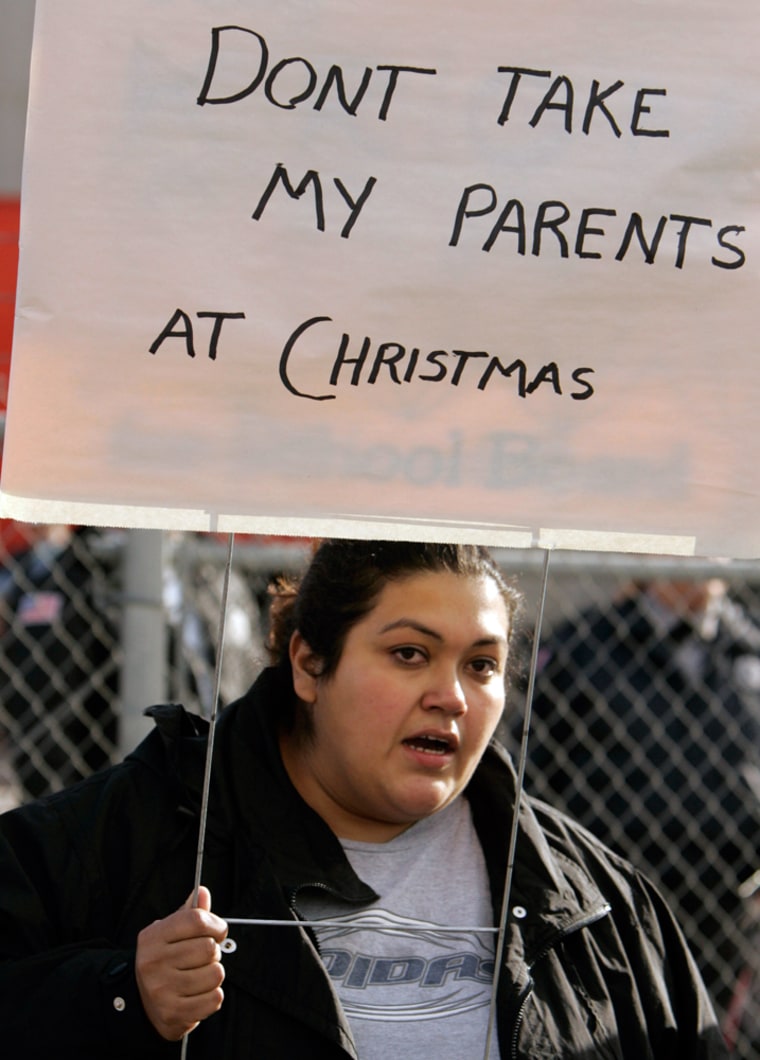 "Who is going to pick them up?" he asked.
The raids followed a 10-month investigation into illegal immigrants suspected of buying or stealing other people's identities to secure U.S. jobs. The scheme may have had hundreds of victims, officials said.
Immigration officials last month informed Swift that it would remove unauthorized workers on Dec. 4, but Swift asked a federal judge to prevent agents from conducting the raid, arguing it would cause "substantial and irreparable injury" to its business.
High percentage of illegal immigrants
The company had estimated a raid would remove up to 40 percent of its 13,000 workers. Greeley-based Swift describes itself as the world's second-largest meat processor with sales of about $9 billion.
After a closed hearing, a judge on Thursday rejected Swift's request, clearing the way for Tuesday's raids at the plants in Greeley; Grand Island; Cactus, Texas; Hyrum, Utah; Marshalltown, Iowa; and Worthington, Minn.
The six plants represent all of Swift's domestic beef processing capacity and 77 percent of its pork processing capacity.
Advocates of stricter immigration control praised the raids and pointed out that they targeted people suspected of committing other crimes in addition to being in the U.S. illegally.
"I'm glad that ICE is enforcing our immigration laws in light of the illegal immigration crisis we face across the country," Sen. Wayne Allard, R-Colo., said in a statement.
Others called the raids heavy-handed and criticized the effect on families.
"They are taking mothers and fathers, and we're really concerned about the children," said the Rev. Clarence Sandoval of St. Thomas Aquinas Roman Catholic Church in Logan, Utah. "I'm getting calls from mothers saying they don't know where their husband was taken."
United Food and Commercial International Workers union spokeswoman Jill Cashen told the Post workers taken from the Worthington, Minn., plant were bused to South Dakota.
She said Tuesday that attorneys for the union would ask federal judges in all six states for injunctions to halt the raids.
Support from Mexico
Mexico's Foreign Relations Department also pledged to ensure that any Mexicans caught up in the raids have "their human rights fully respected, and are given all the necessary assistance, orientation and consular protection."
No charges were filed against Swift.
In a written statement, President and CEO Sam Rovit said the company has never knowingly hired illegal workers and does not condone the practice.
Swift uses a government pilot program to confirm whether Social Security numbers are valid. Company officials have raised questions about the program's ability to detect when two people are using the same number.
Immigration agents have also staged immigration raids at poultry plants in the South. In July 2005, nearly 120 people were arrested at an Arkadelphia, Ark., facility. Three months ago, agents raided a poultry plant in Stillmore, Ga., arresting a similar number who worked there or lived in surrounding counties and busing them to immigration courts in Atlanta, 189 miles away.