/ Source: The Associated Press
More Americans than ever will crowd onto roads and into airplanes over the Christmas holiday, thanks to affordable if higher airfares and gasoline prices.
About 65 million people will journey between Dec. 23 and Jan. 2, more than the record 63.5 million who traveled last year, according to a survey by the Travel Industry Association and the AAA.
"Hotel rates, air fares and gas prices have risen only slightly from this time last year," said AAA President Robert Darbelnet. "This Christmas-New Year's holiday we will see a healthy growth in travelers, following relatively flat travel seasons earlier in the year."
Winter holiday travel — journeys of at least 50 miles from home — has been on a steady upswing since 2002, when 60 million people took to the road and the air.
Crowded roads and airplanes cut both ways, discouraging some people from venturing very far over the holidays, said Doug Shifflet, whose Fall Church, Va.-based company tracks 50,000 American households each month to assess their travel patterns.
"The hassle thing is a big deal for people," Shifflet said. "Some folks are going to go no matter what, but about 10 percent will back away because of the hassle."
Shifflet said people are turned off by jammed airline passenger cabins and long security lines, as well as by a general anxiety about everything from gas prices to the war in Iraq.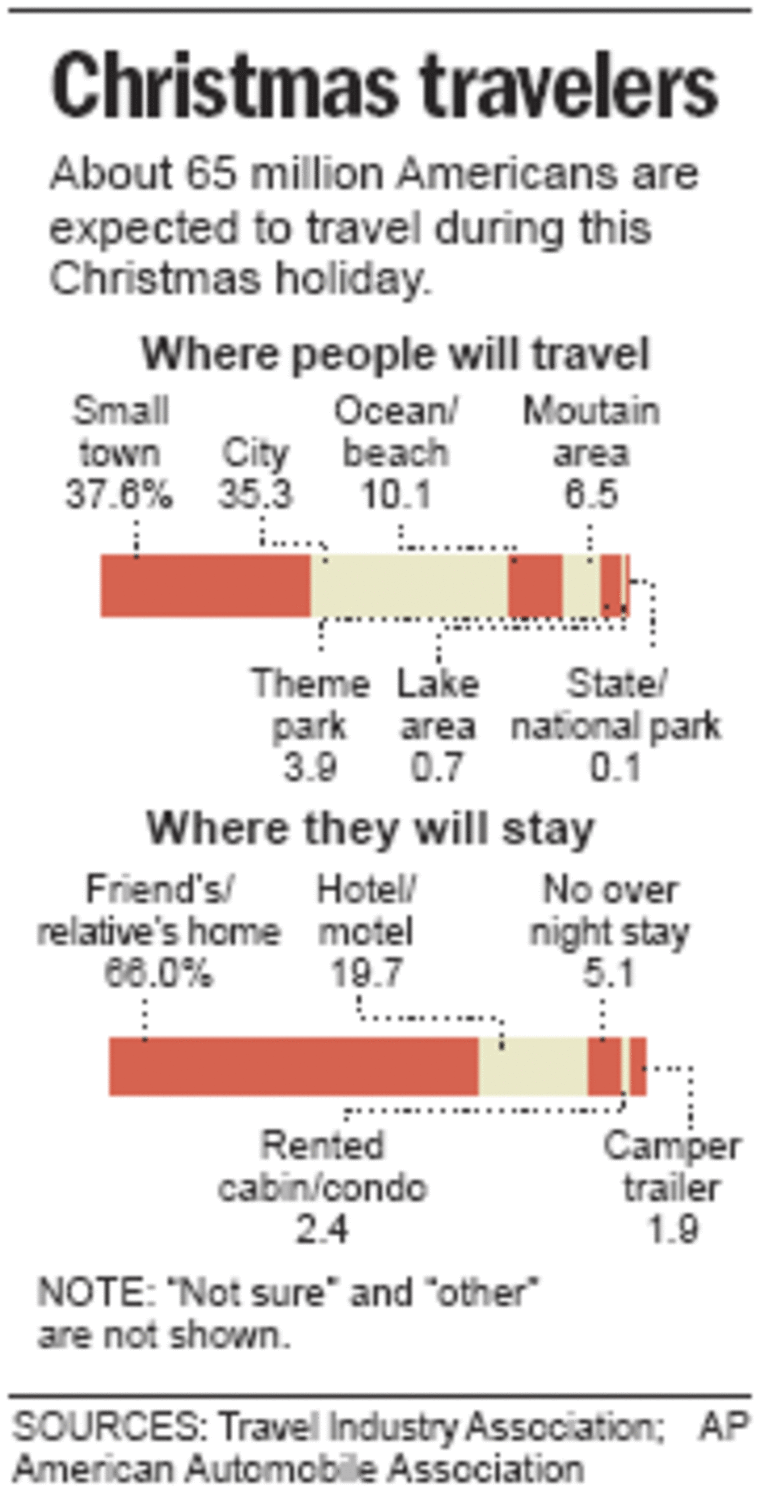 Most travelers — 53 million — will journey by car, truck or RV, while 9 million will fly, according to the AAA/TIA survey. Another 3 million will take buses or trains.
Though air travel has gotten more expensive this year, Christmas fares are about the same as they were last year, according to AAA.
During the first 10 months this year, the average domestic airline fare for a thousand-mile trip was $128, about $12 more than last year, according to the Air Transport Association.
Other travel costs include:
Gasoline prices, which are creeping up. A gallon of self-serve regular gas averages $2.29, up 7 cents from November and 12 cents higher than a year ago. Still, gas prices are lower than they were in July, when they peaked at $2.98 a gallon.
Hotel rates, which are up 4 percent this Christmas but will drop over the New Year's holiday to about what they were a year ago, according to AAA.
Rental car rates, which at Christmas will have dropped an average of 3 percent since last year but by New Year's will be 5 percent higher than at the same time a year ago.
According to the survey, two-thirds of all travelers will stay with friends or relatives. One in five will stay at a hotel or motel.
For many people, the holidays are a time for year-end vacations. About 10 percent will go to the ocean or beach, 6.5 percent will go to a mountain area, and 3.9 percent will visit a theme or amusement park.