/ Source: msnbc.com contributors
The holidays are here and that means wish lists have been made, double-checked and distributed. And whether your husband is asking for "Call of Duty 3" or your niece is asking for "Viva Pinata," it's a sure bet someone you know is hoping to unwrap a video game in the next few weeks.
But ho-ho-holy purchasing dilemma, Santa! Selecting the right game for the right person can be a dicey proposition – especially if you don't know your RPG from your RTS (that's "role-playing game" and "real-time strategy" game for those not in the know).
And so for those of you hoping to give the gift of game this holiday season, we have some helpful hints to get you started.
First, find out what kind of machine the person you're buying for plays. A PlayStation? An Xbox? A Wii or GameCube? Or maybe the gamer in your life prefers to play on their PC or Mac. Maybe they have a handheld gaming device such as a Nintendo DS or a PlayStation Portable (a.k.a. PSP).
Also, what genre of game does your giftee prefer? Shooters? Role playing games? Do they dig adventure titles or are they a strategy enthusiast? Don't be afraid to ask and be sure to have them clarify any TLAs (that's Three Letter Acronyms).
Most importantly, keep in mind that not all games are meant for all ages. Many of the most sought-after games this holiday season are for grownups only. "Gears of War," "Dead Rising," "F.E.A.R." – if the titles don't reveal just how gruesome these games might be, be sure to check the rating on the box. Anything labeled Mature is for players 17 or older.
Finally, we've taken a look at the many hundreds of games offered up this year and selected some of the very best to help you find the perfect gift for the gamer on your list.
Games for people who like to kick butt and take names:
These games are not for the faint of heart or for the young of age. Shooting. Fighting. Killing. Aggressive fare is what we have here, games made for adults (and a few for teens) who enjoy a bit of digitized blood sport now and again.
"Gears of War" (Xbox 360, $59.99, Rated: Mature, Microsoft) Blood and gore has never looked so good. This stunning, action-packed third-person shooter puts gamers in the midst of a beautifully rendered post-apocolyptic Earth where an unholy race of monsters called The Locust has risen to wreak havoc on human kind. Though shootin' and killin' is the name of the game, "Gears" requires players to do so with some intelligence. Only the strong…and the smart…survive.
"Resistance: Fall of Man" (PS3, $59.99, Rated: Mature, Sony) This first-person shooter puts players into the combat boots of an American soldier in the midst of an alternate history circa WWII. This time around, it isn't the Nazis you have to fight, but a plague of hideous monsters known as the Chimera who have infected Russia and Europe. Not only does "Resistance" have a strong single-player campaign, it offers a plethora of excellent online multiplayer options as well.
"Dead Rising" (Xbox 360, $59.99, Rated: Mature, Capcom) This third-person action game is as close as it gets to living out a role in George A. Romero's iconic zombie movie "Dawn of the Dead." Here the gamer plays the part of a photojournalist who's landed in the midst of a mall infested with zombies. Your job: brain as many zombies as you can, shoot photographs of the carnage and save your fellow humans all while unraveling the mystery behind what caused this spread of the undead .
Here are some other good games in this genre:
"Saints Row" (Xbox 360, $59.99, Rated: Mature, THQ)
"Prey" (Xbox 360, PC, $29.99-$39.99, Rated: Mature, 2K Games)
"F.E.A.R" (Xbox 360, PC, $29.99-$59.99, Rated: Mature, Vivendi)
"Tom Clancy's Ghost Recon: Advanced Warfighter" (PS2, PC, Xbox 360, Xbox, $29.99-$49.99, Rated: Teen, Ubisoft)
"Call of Duty 3" (PS3, PS2, Xbox 360, Xbox, Wii, $49.99-$59.99, Rated: Teen, Activision)
"Metal Gear Solid: Portable Ops" (PSP, $39.99, Rated: Mature, Konami)
Games for the young…and the young at heart:
Looking for a video game appropriate for the young player on your list? Kids will love these titles with their simple controls and bright colors. Meanwhile, the solid gameplay means Mom and Dad might enjoy picking up a controller.
"Lego Star Wars II: The Original Trilogy" (PC, Xbox 360, Xbox, PS2, GameCube, $29.99-$39.99, Rated: Everyone 10+, LucasArts) You got your Legos in my "Star Wars!" No, you got your "Star Wars" in my Legos! The strange combination of these two well loved franchises results in one fun game. Here you play out the classic "Star Wars" trilogy in a world built entirely of little plastic bricks; a world where characters don't die, they just break apart.
"Sid Meier's Railroads!" (PC, $39.99, Rated: Everyone, 2K Games) This is essentially a re-release of "Railroad Tycoon" with updated graphics and sound, but still with the same easy and fun game play. The aim of the game is to become a railroad baron by building your empire track-by-track. Beat the competition and you'll be rich; fail and leave penniless.
"New Super Mario Bros" (DS, $34.99, Rated: Everyone, Nintendo) This game may have "new" in the title, but the fun is vintage Nintendo. The action is exactly what fans have come to expect in a side-scrolling "Mario" game: lots of secrets to uncover and lots of gold coins to collect as you again set out to rescue Princess Peach from harm.
Here are some other kid-appropriate games to consider:
"Viva Pinata" (Xbox 360, $49.99, Rated: Everyone, Microsoft)
"Nancy Drew: The Creature of Kapu Cave" (PC, $19.99, Rated: Everyone, Her Interactive)
"Clubhouse Games" (DS, $29.99, Rated: Everyone, Nintendo)
Games for the adventurer:
The great thing about video games is the way they allow the player to live out epic adventures in faraway places and explore alternate lives and worlds. Here are a few gift ideas for the gamer who longs to embark on a grand quest or fantastical journey:
"The Legend of Zelda: Twilight Princess" (Wii, $49.99, Rated: Teen, Nintendo) This excellent new installment in Nintendo's beloved "Legend of Zelda" series takes our hero Link on a grand and dark adventure across the land of Hyrule and the mysterious alternate realm of The Twilight. The game is not only lovely to behold, but also makes excellent use of the Wii's motion-sensing controllers.
"Okami" (PS2, $39.99, Rated: Teen, Capcom) This unusual title is not just a game but a beautiful piece of artwork, an epic adventure brought to life in the look and feel of a traditional Japanese watercolor painting. Here, players control a white wolf who must vanquish her enemies using a "Celestial Brush." Learning to "paint" on the game canvas is an integral part to puzzle solving and fighting.
"Bully" (PS2, $39.99, Rated: Teen, Rockstar Games) This year's most controversial game is not — no matter what anyone says — designed to inspire bullying. Rather, "Bully" puts players in the midst of one boy's epic adventure through the trials and tribulations of adolescence. Here, you play the role of Jimmy, a kid dropped off at Bullworth Academy, a prep school rife with cliques and bullies.

Some other great adventurer games to consider:
"Tomb Raider: Legend" (Xbox 360, Xbox, PS2, GameCube, PC, $29.99-$39.99, Rated: Teen, Eidos Interactive)
"Castlevania: Portrait of Ruin" (DS, $34.99, Rated: Teen, Konami)
Games to pick up and play:
Brain teasers and stress relievers, these games are easy to learn but challenging to master. They're instant distractions that can take mere minutes to play or much longer if you choose. If you have someone on your list who likes puzzle and word games, this is stuff for them:
"Bookworm Adventures Deluxe" (PC, $29.95, Rated: Everyone, PopCap.com) This sequel to PopCap's first "Bookworm" title takes a word game and mates it with a simple role-playing game. Here you must make words out of a grid of random letters to help a little bookworm named Lex fight off various enemies. (Gift certificates available at the website.)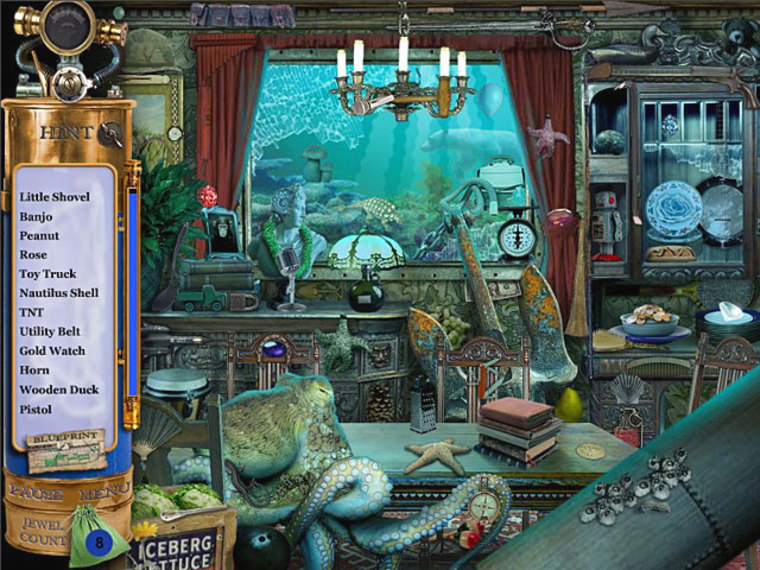 "Hidden Expeditions: Titanic" (PC, $19.95, Rated: Everyone, BigFishGames.com) Play this downloadable casual game and you'll quickly find out that we can't always see what's right before our very eyes. Here, you're a scuba diver searching the wreckage of the Titanic. You must find a list of objects hidden in various rooms before you run out of air. (Gift certificates available at the web site.)
"Elite Beat Agents" (DS, $29.99, Rated: Everyone 10+, Nintendo) This rhythm-based game provides just the right blend of quirky comic-book humor and addictive musical game play. Part of a squad of secret agents, you use the power of song and dance to save those in trouble. Triumph over each song by using the DS's stylus to tap targets on the screen to the beat of the music.
Some other pick-up-and-play games to check out:
"Cooking Mama" (DS, $19.99, Rated: Everyone, Majesco)
"Diner Dash 2: Restaurant Rescue" (PC/Mac, $19.95, Rated: Everyone, PlayFirst.com)
"Cake Mania" (PC, $19.99, Rated: Everyone, SandlotGames.com) 
Games that give the brain a workout:
Got a thinker on your holiday list? You're in luck: Not all video games involve mind-numbing button mashing. Some of the best games of 2006 require thoughtful maneuvering and careful strategy — and a well-exercised brain.
"Company of Heroes" (PC, $49.99, Rated: Mature, THQ) It's "Saving Private Ryan" in game form, combining the much-loved toy-soldier aspect of the real-time strategy genre with an authentic, World War II setting. The game play is solid (fans of the genre will love the squad-based unit selection), the graphics are slick and the sound is top-notch.
"Medieval II: Total War" (PC, $49.99, Rated: Teen, SEGA) The best of the revered "Total War" franchise, this latest installment is, in a word, epic. In your empire-building quest, you'll guide massive armies across three continents and through nearly five centuries of brutal European history, including the Crusades, the Inquisition and the Renaissance.
"Brain Age" (DS, $19.99, Rated: Everyone, Nintendo) Though not a war game, Nintendo's Brain Age is, indeed, a mind game. Or to be more specific, a series of reading and math exercises designed to stimulate the brain, and, by extension, keep it young and healthy. Giving your brain a workout has never been so much fun.
Other games for the brainiac in your life:
"Rise of Nations: Rise of Legends" (PC, $49.99, Rated: Teen, Microsoft)
"Civilization IV: Warlords" (PC, $29.99, Rated: Everyone, 2K Games)
"Big Brain Academy" (DS, $19.99, Rated: Everyone, Nintendo)
Games to party with:
These are the games to buy for the social butterfly on your list – that is, games best played when friends are over for a visit. The best part is, the bigger the fool you make of yourself while playing, the more fun the games are.
"Wii Sports" (Wii, free with purchase of a Wii, Rated: Everyone, Nintendo)
This has to be the best party game of the year. It's really five games in one — tennis, golf, boxing, baseball and bowling — all utilizing the Wii's revolutionary wireless two-piece controllers. When boxing, you actually jab at the screen while holding the controllers, for golf you physically swing the controller as if it were a club.
"Guitar Hero II" (PS2, $49.99 for game, $79.99 for game and guitar, Rated: Teen, Red Octane) If you know someone who's always wanted to be rock star but never learned to play an instrument, then it's time to get them "Guitar Hero II" and let them live out their rock 'n' roll fantasies. Game play consists of strumming a guitar along to songs like "War Pigs," "Strutter," "Heart-Shaped Box" and many more.
"Dance Dance Revolution: SuperNOVA" (PS2, $39.99 for game, $59.99 game plus mat, Everyone 10+, Konami) Get ready for a workout. This game will have you dancing, moving and sweating to the beat of the music. In theory, it's simple: Stand on a specially design mat and step when and where the symbols on the screen tell you to while the music plays. The hard part is keeping up with how fast the symbols change.
Some other party-worthy games:
"SingStar Rocks!" (PS2, $49.99, Rated: Everyone 10+, Sony)
"Rayman Raving Rabbids" (Wii, $49.99, Rated: Everyone, Ubisoft)
Games for the sports nut:
Know someone who eats and breathes sports? Check out these games.
"Excite Truck" (Wii, $49.99, Rated: Everyone, Nintendo) Down-and-dirty off-road racing is what this title is all about. The control mechanism is at least half the fun — you hold the Wii's remote in your hands and physically move it as if it were a steering wheel. If you're no good at steering, don't worry. The game rewards you with points for how well you crash.
"Fight Night Round 3" (PS3, PS2, Xbox, Xbox 360, $29.95-$59.95, Rated: Teen, EA Sports) For those who are into boxing, it doesn't get much better than "Fight Night Round 3." The fighters look so real you almost feel bad hitting them. The game features boxers of different styles and eras (among them: Holyfield, Pacquiao, and the legend himself, Ali).
"Rockstar Games Presents: Table Tennis" (Xbox 360, $39.99, Rated: Everyone, Rockstar Games) Remember how much fun "Pong" was? Graphically it was just two lines and a circle bouncing between them, but you played it for hours. This game features life-like players swinging the paddles — good for hours of fast-paced fun.
More sports games for your sports fan:
"Madden NFL '07" (PC, Xbox 360, Xbox, PS3, PS2, Wii, $39.95-$59.95, Rated: Everyone, EA Sports)
"Tony Hawk's Project 8" (Xbox 360, Xbox, PS3, PS2, $49.99-$59.99, Rated: Teen, Activision)
Games to lose yourself in:
For the gamer that enjoys checking out for hours on end, stepping into a life of either literal or figurative fantasy, consider these titles:
"World of Warcraft" (PC/Mac, $19.99 plus monthly fee, Rated: Teen, Blizzard) Though it wasn't released in 2006, this massively-multiplayer online role-playing game (MMORPG) has become a full-fledged pop culture phenomenon that's now entertaining seven million subscribers. And this holiday is the ideal time for a new player to start, because next year, Blizzard releases "The Burning Crusade," the first expansion pack for this already gigantic digital realm.
"Elder Scrolls IV: Oblivion" (Xbox 360, PC, $39.99, Rated: Mature, 2K Games) This is one of the first next-gen titles that actually felt "next-gen." Players set out on a quest to close the doors to Oblivion, a hellish realm full of demons and the monsters that desperately want into the normal world of Tamriel. Player customization is enormous, with dozens of skills, traits, and costumes to wear. The sheer size of Tamriel is astounding, and an explorative player can easily burn 100+ hours in "Oblivion."
"Final Fantasy XII" (PS2, $49.99, Rated: Teen, Square Enix) Square Enix's long-running role-playing fantasy franchise shows no signs of slowing – or aging – as it enters its twelfth installment. While this game features many familiar sights for fans, such as flying airships and feathered Chocobos, this chapter replaces the slower-paced, turn-based battles with active combat. 
Kristin Kalning contributed to this report.