/ Source: Forbes Traveler.com
From iconic urban hotels to luxurious country inns, from pristine beachside resorts to remote mountain hideouts, from sea to shining sea, America has a plethora of accommodations that are clearly some of the world's best.
That's the judgment of the expert panelists who chose the best hotels in the U.S. for Forbes Traveler.
Which of America's hotels selected by our experts is #1? Forbes Traveler didn't rank them; instead, we had our panel choose the overall best places, based on factors such as room quality, service, décor and location. We wanted to make our compilation much more than a list--we wanted it to be a real resource, a place travelers could turn to find the absolute best places to stay. So not only did we choose them, but we also had professional travel writers who have stayed in these hotels review them, offering an in-depth look at the rooms, service, and other highlights. And since these writers didn't accept a complimentary rate, they could provide an honest assessment.
What did they find? America's cities, of course, are supremely well covered with upscale properties, and brand loyalists aren't lacking for options. New York grabs the title for the city with the most picks (12), and the St. Regis in has been a classic there since John Jacob Astor built it in 1904. The Mandarin Oriental in San Francisco, set in a high-rise downtown, is newer but no less luxe; oversize windows take advantage of the Bay view. And the flagship Park Hyatt in Chicago overlooks Michigan Avenue and some of Chicago's classic architecture.
But it's still possible to stand out in urban areas with an independent property, like the Watermark Hotel in San Antonio, with its 17,000-square-foot spa (one of only two Mobil Four Star spas in Texas). There's also the formal Rittenhouse in Philadelphia, where rooms are stocked with freebies like CDs of the Philadelphia Academy of Music.
Of course, Forbes Traveler's panel didn't overlook hip hotels built around what has become known as "contemporary chic." The swank rooms in Boston's 60-room XV Beacon, for example, are laden with high-tech toys. America's vortex of chic--South Beach, Miami--has The Setai, decked out in Asian art, teak flooring, and silk-draped walls. And of course, over-the-top Las Vegas outdoes itself (again) with Steve Wynn's new hotel, which comes with a Daniel Boulud restaurant and Manolo Blahnik store.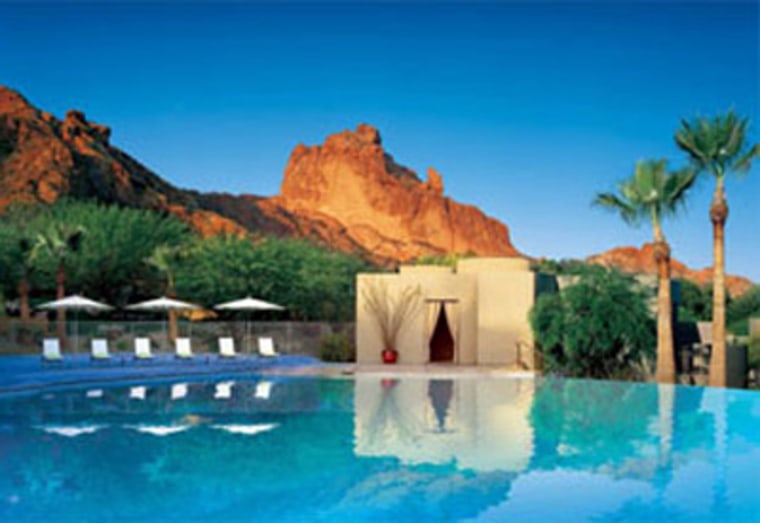 Our experts chose plenty of options outside the cities as well. With amazing beaches and coastline, some resorts are perfectly poised to take advantage of the views and the water. The Four Seasons Aviara north of San Diego, is one, sitting on a bluff overlooking the Pacific with a surf concierge for thrill-seekers. And the JW Marriott Ihilani in Oahu lies at the foot of lush mountains on a crescent of white sand, just waiting to fulfill Hawaiian fantasies.
Small inns make themselves heard as well, with charming options like the 48-room Keswick Hall at Monticello, in Virgina. And America's mountains are replete with Forbes Traveler selections. The panel deemed Stein Eriksen Lodge, at Deer Valley Resort in Utah, as one of America's best ski resort lodges. It's hard to dislike a place where valets warm ski boots and serve hot cocoa as soon as skiers reach the lodge's property.
The panel also gives The Point, in New York's Adirondacks, very high marks. Each of the 11 rooms comes with a massive stone fireplace and custom-made bed, but this mountain inn is so exclusive they don't even publish an address--guests only get directions after they make a reservation. That's not just luxury--it's luxurious discretion. And it's priceless.