/ Source: The Associated Press
A top Palestinian security official said Tuesday that Hamas and Fatah officials had agreed to pull their armed men off the streets of Gaza after more than a week of rampant street violence.
The two sides also agreed to form a joint operations room with the Fatah-led security forces to respond quickly to any outbreaks of violence, the official said, speaking on condition of anonymity because he was not authorized to speak to the media.
The agreement was reached after intense mediation by Egypt, the official said.
Under the deal, only Palestinian police would be allowed to patrol the streets with weapons, the official said.
In the past week, 14 Palestinians have been killed and dozens of others injured as rampant street fighting raged across Gaza.
5 killed in Gaza gunbattle

Earlier Tuesday, a fierce gunbattle between rival Fatah and Hamas forces erupted outside Gaza's main hospital, sparking a day of factional violence that sent students diving for cover in their classrooms and brought life in much of Gaza to a standstill.
Five people were killed and at least 18 were wounded in the violence, which swept away the remains of a tattered truce meant to end a week of fighting that has turned the Gaza Strip into a war zone.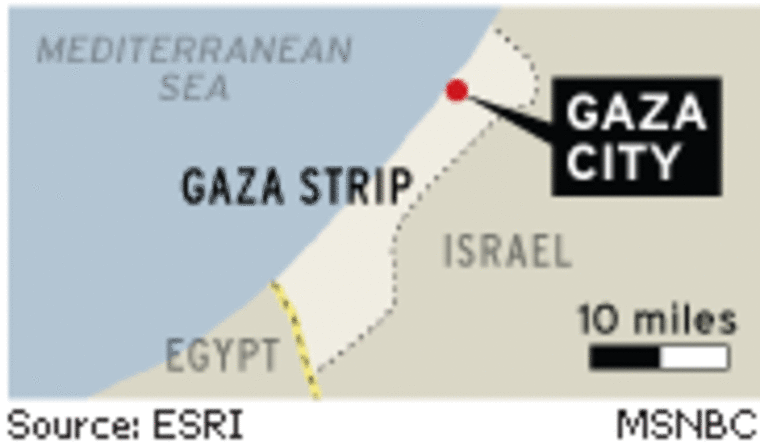 Automatic gunfire echoed throughout the nearly empty streets of Gaza City, and a Fatah security installation was attacked with mortar fire. Masked Hamas gunmen set up makeshift checkpoints on main roads, forces from both sides took up strategic positions and terrified residents shut themselves indoors.
"It's a real war. Since the morning, I've been praying to God that this is going to end," said Suleiman Tuman, a 53-year-old shopkeeper who was trapped in his Gaza City grocery store by the fighting.
"Both sides used to fight the Israelis together. Now they are directing their weapons toward each other and we're in the middle," he said. "Both sides are responsible for this war."
In a televised speech, Palestinian Prime Minister Ismail Haniyeh called for an end to Palestinian infighting and urged warring factions to unite in the struggle against Israel.
Haniyeh accused the U.S., which has led the international efforts to isolate Hamas, of trying to overthrow his government.
"There was a direct decision to bring down this government and make it collapse, and the Americans are behind this policy," he said. "There is an undeclared decision to bring down the government .. and the Americans are leading this effort."
Haniyeh also reiterated a call for formation of a temporary Palestinian state alongside the Jewish state. He said a truce with Israel could last as long as 20 years, after an independent Palestinian state is established in territories captured by Israel in the 1967 Mideast war.
Israel rejects a full withdrawal to the pre-1967 borders.
Hamas officials have proposed a long-term truce in the past, but Israel and the international community insist that the militant group fully recognize Israel's right to exist.
Hamas, which is committed to Israel's destruction, has repeatedly rejected the demand, despite Western sanctions that have caused widespread hardship in the Palestinian territories.
Abbas, Olmert set for parley
Meanwhile Tuesday, Chief Palestinian negotiator Saeb Erekat said Tuesday that Abbas and Israeli Prime Minister Ehud Olmert were making preparations to meet.
Both leaders have called for a meeting with the other as a way to reignite long-stalled peace talks. "Once the preparations are concluded, the meeting will take place immediately," Erekat said.

Hamas and Fatah have been locked in a power struggle since the Islamic militant group defeated Fatah in legislative elections last January. Abbas' Fatah party, which seeks peace with Israel, controls the presidency, while Hamas, which is committed to Israel's destruction, controls parliament and the Palestinian Cabinet.
The latest wave of fighting broke out last week, and worsened after Abbas announced plans Saturday to call early elections. Hamas has condemned the plan as a coup, and Haniyeh has said the Islamic group would boycott any new vote.