/ Source: The Associated Press
A moderate earthquake killed at least seven people and injured 100 early Monday, spreading panic across a large swath of the Indonesian island worst hit by the 2004 Asian tsunami, witnesses and officials said.
The 5.5-magnitude tremor hit just before dawn and was centered about 670 miles northwest of the capital, Jakarta, the U.S. Geological Survey said on its Web site. It triggered landslides that hampered emergency efforts, and destroyed or damaged more than 680 homes. Frightened residents of Sumatra fled into the streets.
The quake was followed by several aftershocks that kept people on edge in the worst-hit region.
"Our rescue teams are facing difficulties reaching the affected areas because landslides are blocking roads," said Josikar Tanjung, an employee at the north Sumatra governor's office, adding that some heavy equipment had gotten through.
Six people, including two children, were killed by falling debris, while an elderly person died from a heart attack, Tanjung said.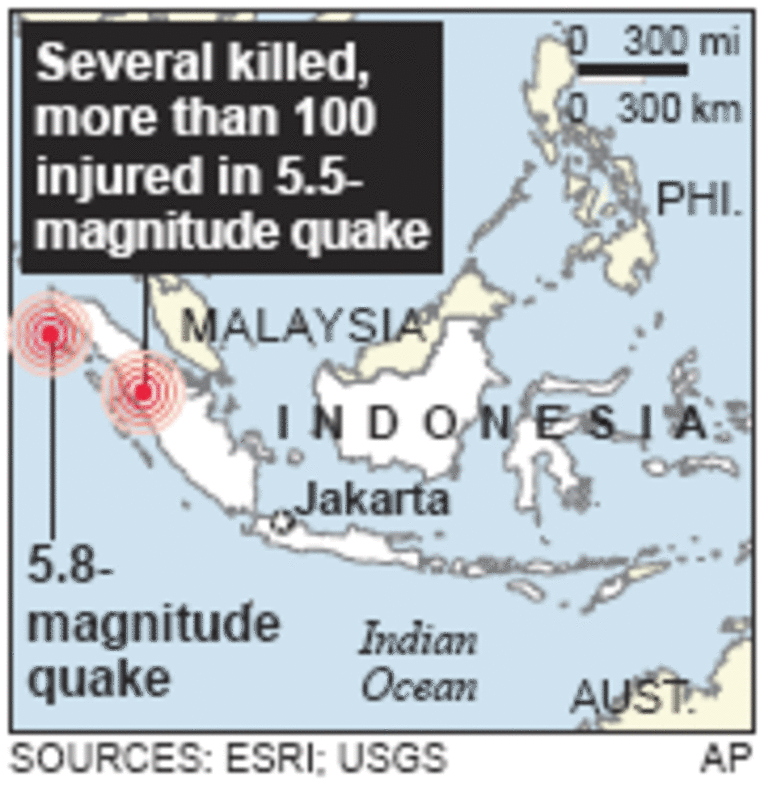 At least 1,000 people whose homes were destroyed took shelter under tents or in local government buildings, said government spokesman Edy Sofyan.
About 30 minutes before the quake, a 5.8-magnitude tremor struck off Sumatra's coast, the USGS said. No tsunami warning was issued as a result of that quake.
On Dec. 26, 2004, a massive quake spawned a tsunami that killed or left missing an estimated 230,000 people in 12 Indian Ocean nations, with more than half of the dead in Aceh province on the northern tip of Sumatra.
Indonesia, the world's largest archipelago, is prone to seismic upheaval due to its location on the so-called "Ring of Fire," an arc of volcanoes and fault lines encircling the Pacific Basin.