/ Source: Forbes Traveler.com
Selecting the 25 sexiest beaches in the world is a lot harder than it sounds (though, by any measure, the assignment is not onerous).
Whether carved into the earth by a volcanic cataclysm, formed by an ancient glacial migration, or simply stamped onto the planet by some prehistoric shifting of tectonic plates, the world's most alluring beaches are more than just the sum of their topographical parts. They are also about the people who routinely swarm to their aquamarine waters and pristine shores in search of beauty.
The millions who escape annually to Ipanema, for example, are frequently seeking passion — and more often than not, they find it: in the pulsing rhythms of the bossa nova that spill out of the bars and onto the sand; in the sensual crashing of the South Atlantic waves; in the color and vibrancy of Carnival.
And yet this is a decidedly different crew from those who flock to the tiny islets of the Caribbean or the South Pacific. There you'll find an insatiably curious crowd — adventurers who are as captivated by the cultural trappings of the island paradise they're visiting as they are by the blissful solitude of an hour-long snorkel, or the majesty of a perfect sunset.
Given the task at hand, our methodology in making our selections was extensive. To determine which 25 beaches on earth had that special combination of sensuality, sassiness and scenic beauty (both geographic and human), we consulted with our own personal specialists — a well-heeled, well-traveled bunch who have been there, done that, and were so enchanted by what they saw, they never even bothered to buy the T-shirt.
But in the pursuit of journalistic integrity, we also checked in with a sizable panel of experts: travel writers, tour planners, globetrotters, hotel owners, beach aficionados, marine biologists, meteorologists, cultural essayists, map makers, list makers, and an assortment of personal diarists devoted to covering the beach scene. Yes, there was also some Googling involved.
Most of the usual suspects are included on our list: Copacabana, Playa Del Carmen, Saint-Tropez, South Beach. Some of the bigger names (Bondi, Waikiki) have been left out, mostly because of overcrowding. You'll probably find several surprises here; Byron Bay on the eastern shore of Australia, say, or Santorini's legendary Red Beach.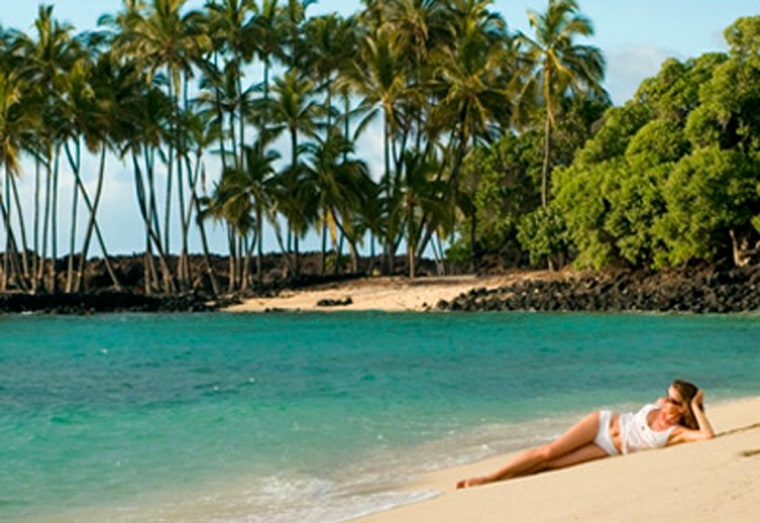 Some of these spots are unabashed party scenes, like Ibiza's Playa d'en Bossa or Paradise Beach on Mykonos. Other locations, like Anguilla's Shoal Bay, attract a more relaxed clientele. Getting to Kauapea Beach, Kauai's legendary "secret beach," requires some effort, but it's definitely worth the hike.
So pour yourself a rum, sit back and prepare to speed-dial your travel agent, as you take our virtual stroll down the 25 Sexiest Beaches in the World.