/ Source: The Associated Press
This is a boomtown, but it is also scattered with signs of bust — namely, homeless people. And the city is taking a hard line against them.
With mixed success in the courts and on the streets, Las Vegas has tried sweeping away their encampments, closing a park where they hang out, making it a crime to feed them, even passing a ban on sleeping within 500 feet of feces.
Mayor Oscar Goodman has been leading the charge in his effort to clean up and revitalize the city's aging downtown, north of the world-famous Las Vegas Strip.
The booming Las Vegas area of 1.8 million people expands by more than 5,000 a month but also counts 14,500 homeless people.
Goodman, a former lawyer for the mob with a flair for the dramatic, said many of the homeless are ruining things for their neighbors by breaking the law while on drugs and alcohol, and "that's intolerable to me." He said the goal is to get homeless people to use shelters and other services available to the poor.
Homeless advocates up in arms
The crackdown has alarmed the homeless and their defenders.
Goodman "has the idea that every homeless person is public enemy No. 1," said Greg Malm, a 58-year-old homeless man. "He wants this city to be lily-white, for the tourists."
Over the years, the mayor has also proposed moving the homeless to an abandoned prison 30 miles outside the city and once accused Salt Lake City officials of busing the homeless to Las Vegas.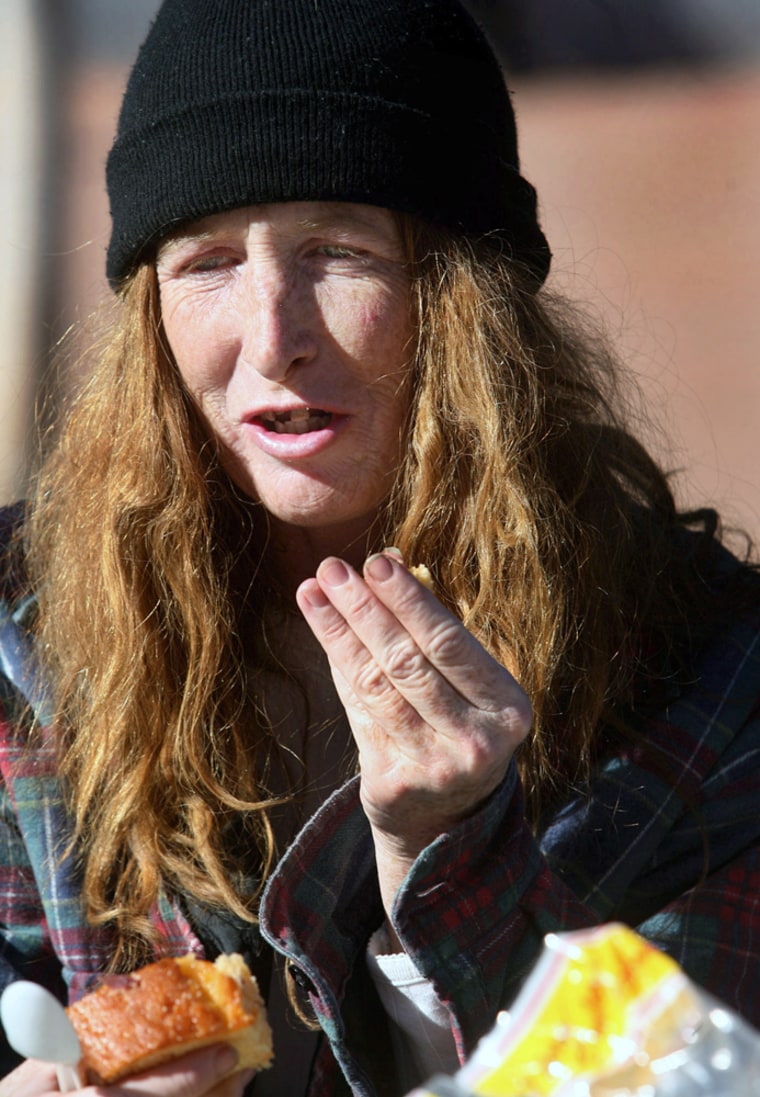 "The sense that to be human is to help each other out, it's under siege," said Julia Occhiogrosso, an advocate for the poor with Catholic Worker.
The current battleground is the city's public parks. Officials recently closed Huntridge Circle Park after a homeless man was killed there in a fight.
Witnesses told police the scuffle started after a man broke sprinkler heads in the park because his belongings got drenched. Another homeless man told him the damage would make the homeless look bad, witnesses said. A fight broke out and the man who objected to the vandalism was stabbed to death.
Four days later, officials declared the park a safety hazard and closed it.
Sleeping ordinance dies
In August, the City Council banned sleeping within 500 feet of feces not deposited in an appropriate sanitary facility. Officials said the ordinance was an administrative blunder and acknowledged that the distance between sleeper and deposit was unworkable. The law has since been repealed.
In July, Las Vegas made it illegal to feed the poor in parks — a reaction to homeless advocate Gail Sacco's practice of bringing homemade spaghetti, vegetable soup, sandwiches and water to Huntridge Circle Park.
Before it was closed, the park had received a $1.5 million facelift. After residents complained that Sacco's free food was drawing the poor away from a neighborhood three miles away where most social services and shelters are concentrated, the City Council made it a misdemeanor punishable by a fine of up to $1,000 to feed anyone "who a reasonable ordinary person" would believe to be entitled to public assistance.
The American Civil Liberties Union challenged the ordinance, and a federal judge ruled it unconstitutional. City officials promised to rewrite the law.
Sacco now brings food to the homeless in another park — this one across the street from City Hall. On a recent afternoon, a dozen people huddled around a bucket of soup, sending steam toward the mayor's 10th-floor offices.
"Nobody wants it their backyard," Sacco said. "Obviously, there are people there who are dangerous, but they don't have to be homeless to be dangerous. And being homeless does not make you a criminal."
Mayor takes hard line
The mayor shows little patience for Sacco's work. "To give a sandwich in the park doesn't do anything," Goodman said. He called advocates like Sacco "enablers crying like bleating sheep."
"I'm trying to get these people to a shelter, that's where the services take place, not in a park," he said. "I won't coddle them."
As for the park, the mayor plans to keep it closed until someone comes up with a way to curb the problems. He is not alone in his frustration.
"There's a lot of bluster, enacting policies and laws that really do nothing to solve problems," said ACLU Executive Director Gary Peck. The real problem is "a reluctance to dedicate the resources and time necessary to fixing these problems."
Goodman insisted more money and services are not necessary. He noted that the city's 400 emergency shelter beds are often not full.
"No one is turned away," he said.