/ Source: The Associated Press
Merger Monday is back, and if the weekly announcements of multibillion dollar deals remind you of 2000, it's no coincidence: Private equity hasn't been this important since right before the stock bubble burst.
A flurry of deals announced Monday at auto parts maker Delphi Corp., gaming company Harrah's Entertainment Inc. and medical devices maker Biomet Inc. hammered home private equity's starring role for the year.
"This is an unprecedented time," said William S. Kirsch, global chairman of private equity group at law firm Paul Hastings Janofsky & Walker LLP. "We're seeing a significant privatization of the American capital system."
Private equity mania has hit the point where giant companies can get a bounce if they're even rumored to be targets, as happened earlier this month to both Home Depot Inc. and Deere & Co.
Mergers are on track to have a record year, and that would have been impossible without private equity, which was behind some of the largest U.S. acquisitions announced in 2006.
At the top of the private equity tower was Hospital chain HCA Inc.'s $21.3 billion deal to go private.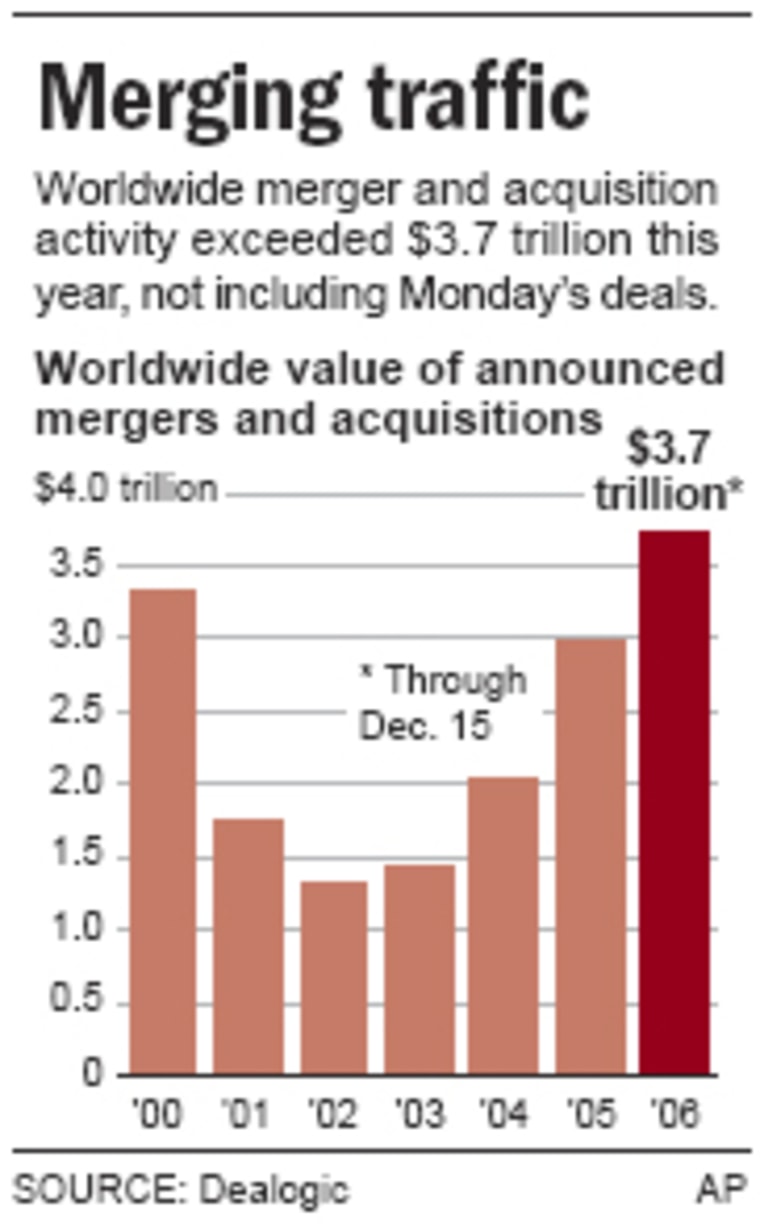 The next four: The $19 billion deal by private equity firm The Blackstone Group for Equity Office Properties Trust, the nation's largest publicly traded office-building owner and manager; radio company Clear Channel Communications Inc.'s $18.7 billion deal and the $15 billion deal for natural gas pipeline company Kinder Morgan Inc.
(If it feels like most of the deals come out on Monday, they do, after investment bankers and deal lawyers work through the weekend.)
Private equity was also involved in 34 percent of initial public offerings in 2006, according to Greg Peterson, a partner in PricewaterhouseCoopers' transaction services practice.
"That's off the charts," Peterson said.
Private equity firms are on track to raise $146 billion by the end of the year, according to Merrill Lynch & Co. The last peak was in 2000, when private equity firms raised $182 billion.
The deals keep coming because when private equity firms raise money, they promise they'll buy companies, run them leaner and smarter than before, and earn outsize returns. Private equity funds aren't built to sit on the money they raise, and they don't.
"They have to put the money to work to earn a return on it," said Steven Bernard, director of mergers and acquisitions market analysis at investment bank Robert W. Baird. "There's a lot of pressure to get the money invested quickly."
High valuations for companies are also luring sellers, especially those who missed the window in the last M&A run up during the tech boom, Bernard said. Banks are also making heftier loans, which also boosts private equity. Interest rates are also low, by historic standards. And private investors are teaming up in "club" or "syndicate" deals, pooling their money to tackle ever larger targets.
The deals could screech to a halt if valuations get too high, Bernard said.
But one aspect of the deals may signal a permanent change. Back in the last round of privatization, the leveraged buyouts of the 1980s, private investors were called raiders; now they're called shareholder activists.
"Carl Icahn wears a white hat now, not a black hat," said Howard Horowitz, director of research at The Arbitrage Fund, a merger arbitrage mutual fund.
In Monday's deals:
Biomet, which makes hip and knee replacement products, agreed to be acquired by a private equity consortium for about $10.9 billion in cash.
A private equity group offered to pump up to $3.4 billion into Delphi Corp. for a stake of up to 72 percent in the company after it emerges from bankruptcy protection.
Harrah's agreed to be acquired in a $16.7 billion private equity deal, according to a person with knowledge of the negotiations.
Realogy Corp., which owns the Coldwell Banker real estate franchise, said it agreed to be acquired by private equity firm Apollo Group for about $6.65 billion in cash.