/ Source: The Associated Press
Foreign investors bailed out of the Thai stock market in droves Tuesday, forcing Thailand's military government to abandon just-announced measures aimed at stemming the country's surging currency.
The Thai government said it would lift controls — announced a day earlier — on foreign investment in stocks after the market plunged nearly 15 percent, rattling regional bourses amid worries about a repeat of the 1997 Asian financial crisis.
Jittery investors dumped stocks in Hong Kong, India, Indonesia, Malaysia, South Korea and the Philippines.
By late Tuesday, Thai authorities capitulated on controls on stock investments. Finance Minister Pridiyathorn Devakula said the measures would remain on foreign investments in bonds and commercial paper, however, as part of the central bank's measures weaken the Thai baht, which hit a nine-year high versus the dollar Monday.
Pridiyathorn, a respected economist who helped steer Thailand's economy out of the Asian financial crisis ten years ago, chalked it up to a learning experience.
"This is a lesson that measures which were successful in other countries must be considered more thoroughly," said Pridiyathorn, who has an MBA from the Wharton School of Business at the University of Pennsylvania. Before the Sept. 19 military coup, he was the central bank governor.
"Since we changed it a day after it was implemented, it has yet to cause damage and it is not too late," he said. "The stock market will go back to normal as the overall economy is still in good shape."
Analysts said the government's reversal was expected to bring some relief to the markets Wednesday.
On Tuesday, the Thai stock market had its worst day ever.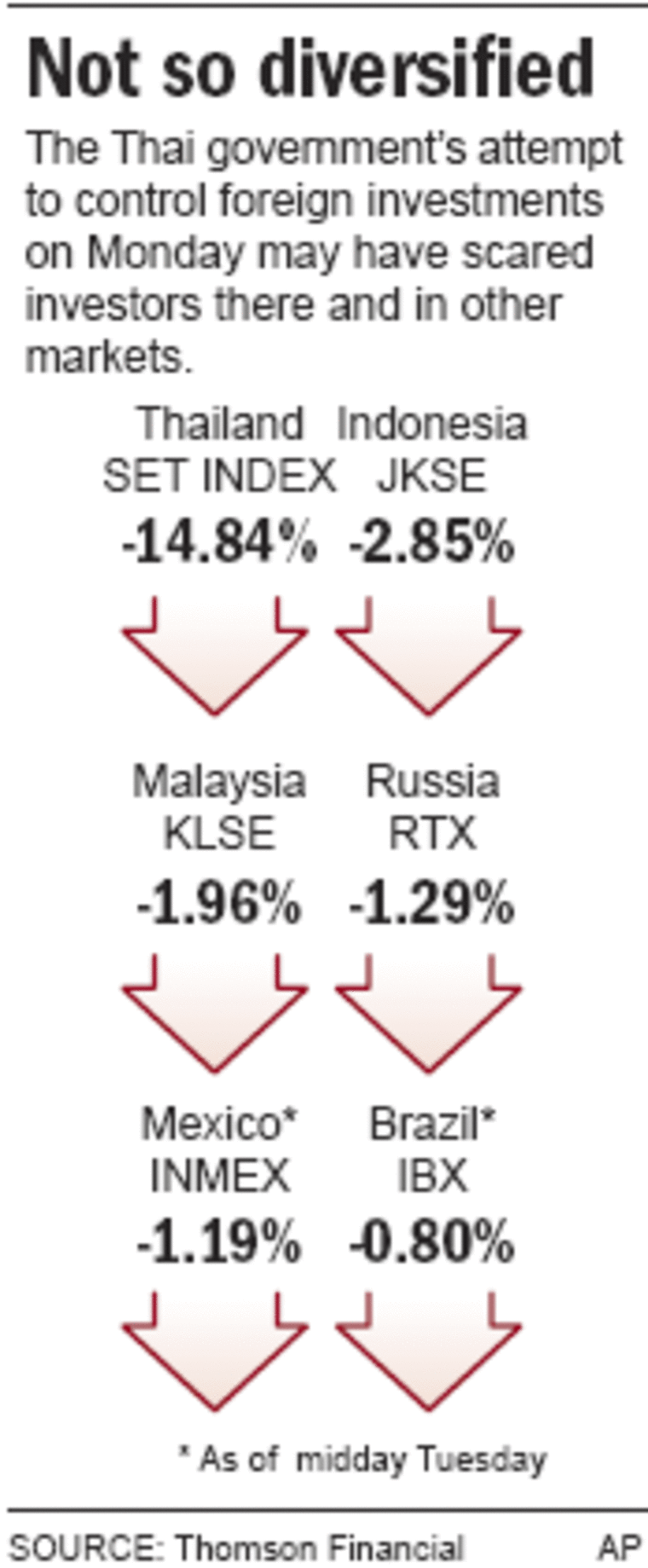 The Stock Exchange of Thailand's benchmark SET Index plunged as much 19.5 percent before recovering to close at 622.14, down 14.8 percent, and the lowest since October 2004.
Around Asia, markets took a beating. Indonesia's Jakarta Composite Index fell by 2.9 percent, while the Kuala Lumpur Composite Index lost 2 percent.
Hong Kong's Hang Seng Index fell 1.2 percent and the Bombay Stock Exchange's 30-stock Sensitive Index, or Sensex, dropped 2.5 percent.
The ripples even touched Wall Street, where the Dow Jones industrial average fell for most of the session — partly because of concerns about the decline in emerging markets — but ended the day up 30.05, or 0.24 percent, to 12,471.32 after shaking off its worries.
The tumultuous day evoked memories of the financial crisis that started in Thailand in July 1997 with the baht's plunge, which spread to other regional currencies and markets, dragging the whole region into a recession.
This time, however, Thailand has the opposite problem: The baht is too strong, thanks to foreign speculators pumping billions of dollars into the country.
To curb those inflows, the Bank of Thailand announced late Monday that banks would be required to hold in reserve for one year 30 percent of capital inflows that aren't trade- or services-related or those that aren't a repatriation of Thai residents' investments abroad.
If investors want to withdraw the money in less than a year, only two-thirds of the amount withheld would be returned, resulting in an effective tax of 10 percent on the total initial investment.
The Bank of Thailand said the drastic measures were necessary because the pace of net investment inflows had increased to $950 million in the first week of December from $300 million per week in November and a total of $13 billion in the first 10 months of the year, as hot money flowed in for a one-way bet on the direction of the baht against a fading dollar.
The moves seemed to have some effect on the currency: on Tuesday, the baht weakened to 35.93 per dollar from 35.09 Monday, a nine-year high.
Analysts downplayed worries about another regional crisis, arguing that the region's economic health is much better than it was in 1997.
"Ten years ago, a small capital outflow could trigger a crisis, that is no longer true," said Nagesh Kumar, director of Research and Information Systems, a New Delhi-based think tank. "Asian countries have built very strong foreign exchanges reserves."
The 1997 turmoil began with a huge and sudden withdrawal of foreign investment from countries such as Thailand and their fast-growing economies, setting off a banking and currency crisis that caused mass layoffs and a spike in poverty rates.
The baht nose-dived, and the Thai financial system quickly collapsed. Meltdowns followed across Asia, eventually spreading to emerging markets from Russia to Latin America. Even Wall Street suffered some big losses as investors worried whether the strong U.S. economy could withstand a global crisis.
"I would emphasize the contrast to the situation in '97 and '98," said David Cohen, chief of Asian economic forecasting for Action Economics in Singapore. "The measures the Bank of Thailand felt obliged to impose were to resist the appreciation of their currency."
Malaysian Deputy Prime Minister Najib Razak told national news agency Bernama that Malaysia's economy was strong and would not be hurt by Thailand's move. He dismissed suggestions that another financial crisis was brewing in the region.
"We have learnt our lessons. Our (economic) fundamentals are strong," he said.
The long-term impact on Thailand is unclear, since authorities have insisted they have no plans to lift controls on the bond market, which has attracted much of the recent investment coming into the country — to the tune of nearly $1 billion a week this month.
"This will prevent the flow of U.S. dollars into bond market," Pridiyathorn said. "It will reduce the total amount of capital inflow and reduce pressure on the Thai baht."